1 min ago
UN says it has "increasing information" corroborating existence of mass graves in Mariupol 
From CNN's Niamh Kennedy
The United Nations has received "increasing information" corroborating the existence of mass graves in the besieged Ukrainian city of Mariupol, and it has been able to get "satellite information" on one such grave, said Matilda Bogner, head of the UN Human Rights Monitoring Mission in Ukraine.
"We estimate that one of those mass graves holds about 200 people," she said at a press briefing on Friday.
She added one caveat: It is not guaranteed that all of the people buried in the graves "are civilian casualties, because when we document civilian casualties, we do not include both military casualties and we do not include people who die for other reasons apart from direct hostilities."
Bogner made this note as she painted a stark picture of a city where "the ordinary rate of mortality has increased" due to a lack of basic utilities such as food, electricity, and water. 
"People are dying in the city who are not just civilian casualties," she stressed.
5 min ago
Russian cruise missiles strike Ukrainian Air Force command center, according to Ukraine's military
From Yulia Kesaieva in Lviv 
The Ukrainian military said in a statement Friday that Russian forces launched cruise-missile strikes on the Ukrainian Air Force command center in west-central Ukraine, causing "significant destruction" to infrastructure.
"Today, March 25, around 4:30 pm, Russian occupiers launched a missile strike on the territory of the Air Force Command of the Armed Forces of Ukraine in Vinnytsia," according to the statement.
"A total of six cruise missiles were released by the Russians. Some of them were hit by air defense. The rest struck several structures, causing significant destruction to the infrastructure," it continued.
The statement said the consequences of the missile strike were being examined.
25 min ago
About 600 people believed to have survived Mariupol theater attack, city official says
From CNN's Yulia Kesaieva and Andrew Carey in Lviv
An adviser to Mariupol's mayor said about 600 people are believed to have survived a Russian bomb attack on a theater in the city nine days ago.
Information about casualties and survivors has been slow to emerge since the attack on March 16, and the absence of a functioning police force and emergency responders' network had made compilation of an official count impossible, Petro Andriushchenko said on his Telegram channel.
Instead, he unveiled details of what he called "almost official" numbers and explained how the council had reached the figure of around 300 fatalities, which was announced earlier in the day. CNN has not independently verified the casualty figures.
He said council officials had started with information about the number of people using the theater as a shelter, which changed day by day as new people arrived while others left. 
They had also gathered data from people who lived near the theater or had gone to the site after the attack. 
Finally, city officials had been helped by a local journalist who had specific information about people who had escaped and had left the city.
"This is not just the testimony of one person. It is the result of great and careful work," Andriushchenko said.
As a result, he concluded, the city's "almost official" figures put about 900 people in the theater on the day of the bombing. 
The estimated 300 people who died were on the upper floors of the building and in the back of the theater. 
Many of the 600 who survived were in the process of making their way out of Mariupol to Zaporizhzhia, he said.
22 min ago
It's just past 8 p.m. in Kyiv. Catch up on the latest developments
From CNN staff
These are the biggest updates so far on Friday as the war in Ukraine gets into its fifth week:
Fighting on the ground: Ukrainian forces have retaken towns and defensive positions on the eastern outskirts of Kyiv, Britain's Ministry of Defence said Friday in its latest intelligence update.
Meanwhile, Russian defense ministry spokesman Igor Konashenkov claimed Friday that Russian forces destroyed "the largest of the remaining fuel depots" near Kyiv, with a strike carried out with sea-launched Kalibr cruise missiles.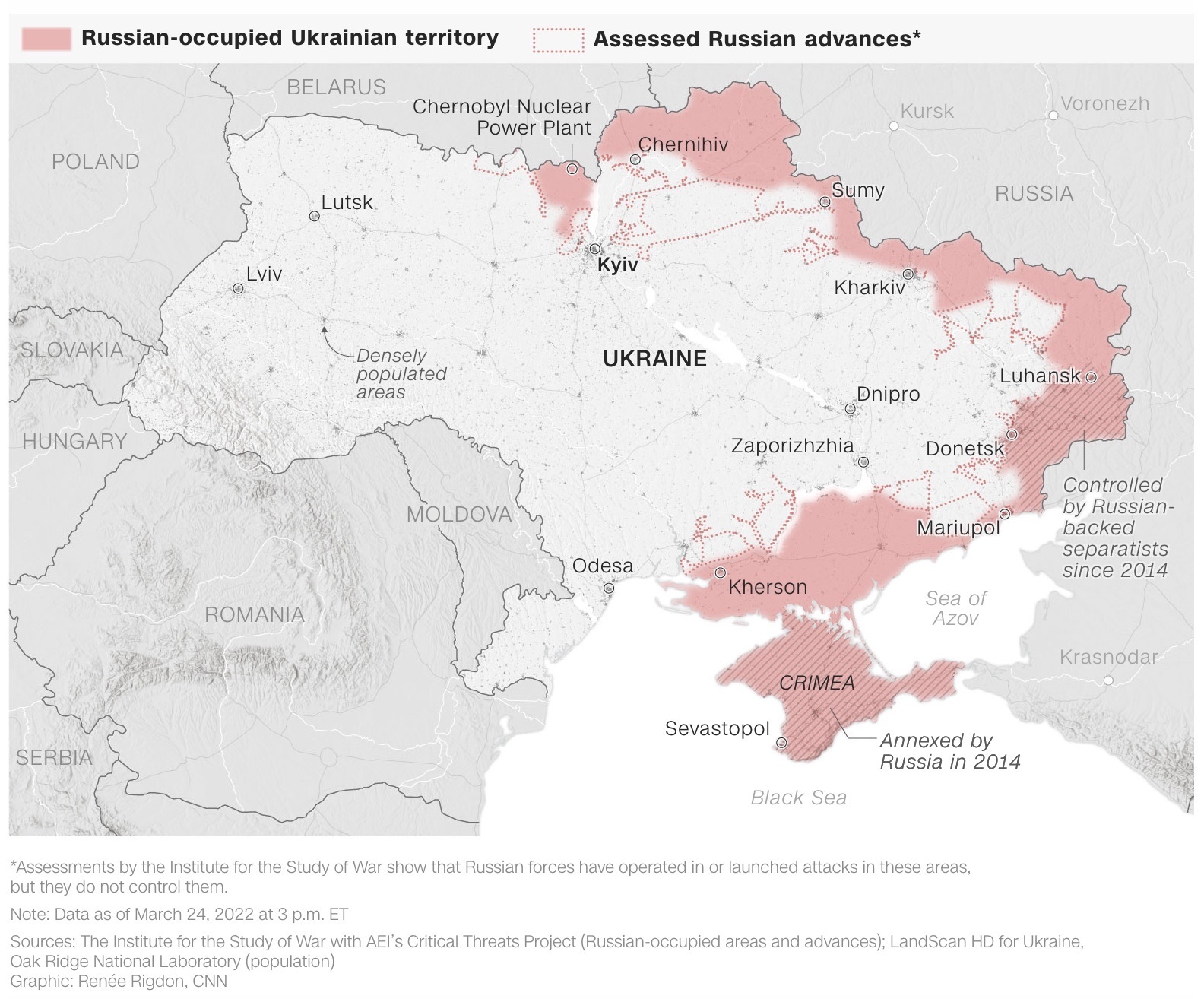 Mariupol theater survivors: An adviser to Mariupol's mayor said about 600 people are believed to have survived a Russian airstrike on a theater in the city on March 16.
The Mariupol city council said earlier that based on eyewitness reports, it now believes around 300 people died in the strike. CNN has not independently verified the casualty figures. New footage has emerged on social media showing people making their escape from the theater.
Biden in Poland: US President Joe Biden lauded the bravery of Ukrainian civilians while speaking to US troops in Poland, saying they "have a lot of backbone." He also addressed the growing refugee crisis, thanking humanitarian organizations in Poland for sending aid to Ukraine and assisting refugees. One in every two Ukrainian children has been displaced since Russia began its invasion on Feb. 24, according to a statement from the UN Children's Fund on Thursday.
He is set to meet with Polish President Andrzej Duda and deliver a "major address" on Saturday, according to the White House. Read more about Biden's events in Poland here.
Russia gives update on military deaths: The Russian military said in a briefing on Friday that more than 1,300 military personnel had been killed in Ukraine and over 3,800 had been wounded, in the first major casualty update since March 2. US, Ukrainian and NATO estimates put Russian troop losses drastically higher. 
Two senior NATO military officials on Wednesday estimated the number of Russian soldiers killed in action in Ukraine to be between 7,000 and 15,000. Other US officials have put Russian losses in a similar range — between 7,000 and 14,000 Russian soldiers killed — but they have expressed "low confidence" in those estimates. 
Ukrainian forces also said they had killed a Russian general in the Kherson region.
Putin claims "cancel culture:" Russian President Vladimir Putin issued a complaint about so-called "cancel culture" in a videoconference Friday, saying the West was trying to "cancel" Russia.
He compared his country's treatment to a public backlash against "Harry Potter" creator JK Rowling, who has come under criticism in the past for views that have been called transphobic. Putin, who casts himself as a flag-bearer for conservative cultural values, has railed against transgender and gay rights. Rowling responded, saying that critiques of cancel culture are "not best made" by those "slaughtering civilians" in Ukraine and posting a link to a news article on jailed Kremlin critique Alexey Navalny.
In his remarks, Putin went on to compare the current situation with Russian culture in the West to censorship in Nazi Germany. Putin has cast his invasion of Ukraine — a country with a Jewish president — as a campaign of "denazification," a description roundly dismissed by historians and political observers. 
46 min ago
Russia is moving troops into Ukraine from Georgia as reinforcements, senior US defense official says
From CNN's Jeremy Herb and Ellie Kaufma
The Russian military is moving troops stationed in the country of Georgia into Ukraine as reinforcements, according to a senior US defense official.
The US had seen "movement of some number of troops from Georgia," the defense official told reporters, adding that the Pentagon could not provide a number for how many troops Moscow was moving or the timeline that they were on. 
"We now have indications that they are drawing on forces from Georgia to Ukraine," the official said, adding they were not tracking their movements from the air.
Russian troops have been stationed in Georgia after Russia invaded the country in 2008. Georgia is on Russia's southwestern border. 
The Pentagon did not know where the troops from Georgia would be going in Ukraine, the official said, while noting that the Kremlin has said it is prioritizing its activity in the Donbas region in eastern Ukraine.
Meanwhile, the US assesses Russian forces have 22 ships in the Black Sea and while 15 of them are "surface combatants," the official said that "most of the rest are amphibious ships."
"We've seen them move into the Sea of Azov to conduct an amphibious assault, to try to resupply their efforts on Mariupol, we have not seen them move on Odesa," the official added.
The Russians could use those ships to strike Ukraine with missiles, but the US has not seen them do so yet, the official told reporters Friday. 
38 min ago
Russia has stopped ground movements toward Kyiv and moved in defensive positions, US official says
From Michael Conte and Ellie Kaufman
Russian forces around Ukraine's capital of Kyiv are now in defensive positions and have stopped "any interest in terms of ground movements" towards the capital city, though air attacks and long-range strikes still continue, according to a senior US defense official.
The US estimates that Ukrainian forces are still holding where they had pushed the Russians back further east of the city, adding that there are indications that Ukrainian forces are pushing back the Russians around the northern city of Chernihiv as well.
The nearby town of Makariv is "at the very least contested" and may be in Ukrainian control, the official said.
The US cannot confirm the Russian claim to have destroyed a military fuel depot near Kyiv, the official added.
Meanwhile, 1,250 missiles have been launched by Russia against Ukraine since the start of the invasion, according to the official.
1 hr 5 min ago
Finland will discontinue European Union's last direct train link with Russia on Monday due to sanctions
From CNN's Abby Baggini and Arnaud Siad
Finland will cease to provide the European Union's last direct train link with Russia on Monday due to sanctions, according to a statement from VR Group which operates the "Allegro" line between Helsinki and St. Petersburg.
In their statement posted on Friday, VR Group, which is Finland's government-owned railway company, said: "VR will discontinue the Allegro train service until further notice, starting form March 28th, 2022."
"On Sunday, March 27th, only the morning train from Helsinki to St Petersburg will be operated and the afternoon train, AE786, will be cancelled. Both services from St. Petersburg, on Sunday, will be operated," it added.
Topi Simola, SVP for Passenger Services at VR Group, noted that the service is being discontinued "for now."
"Thus far we have been continuing the Allegro train services, according to the instructions by the relevant authorities and hence making sure that we can provide a safe passage to the Finnish citizens. During these weeks, the people, who have wanted to depart from Russia, have had adequate time to leave. Now, due to the sanctions we will discontinue the service for now," Simola said.
"According to VR, Allegro is the only rail passenger connection between the European Union and Russia at present," Taina Kuitunen, VR Group Communications Manager told CNN.
On Feb. 27, the EU imposed a blanket flight ban on Russian planes in response to Russia's invasion of Ukraine.
2 hr 2 min ago
Biden expresses "disappointment" that he can't see the humanitarian crisis in Ukraine firsthand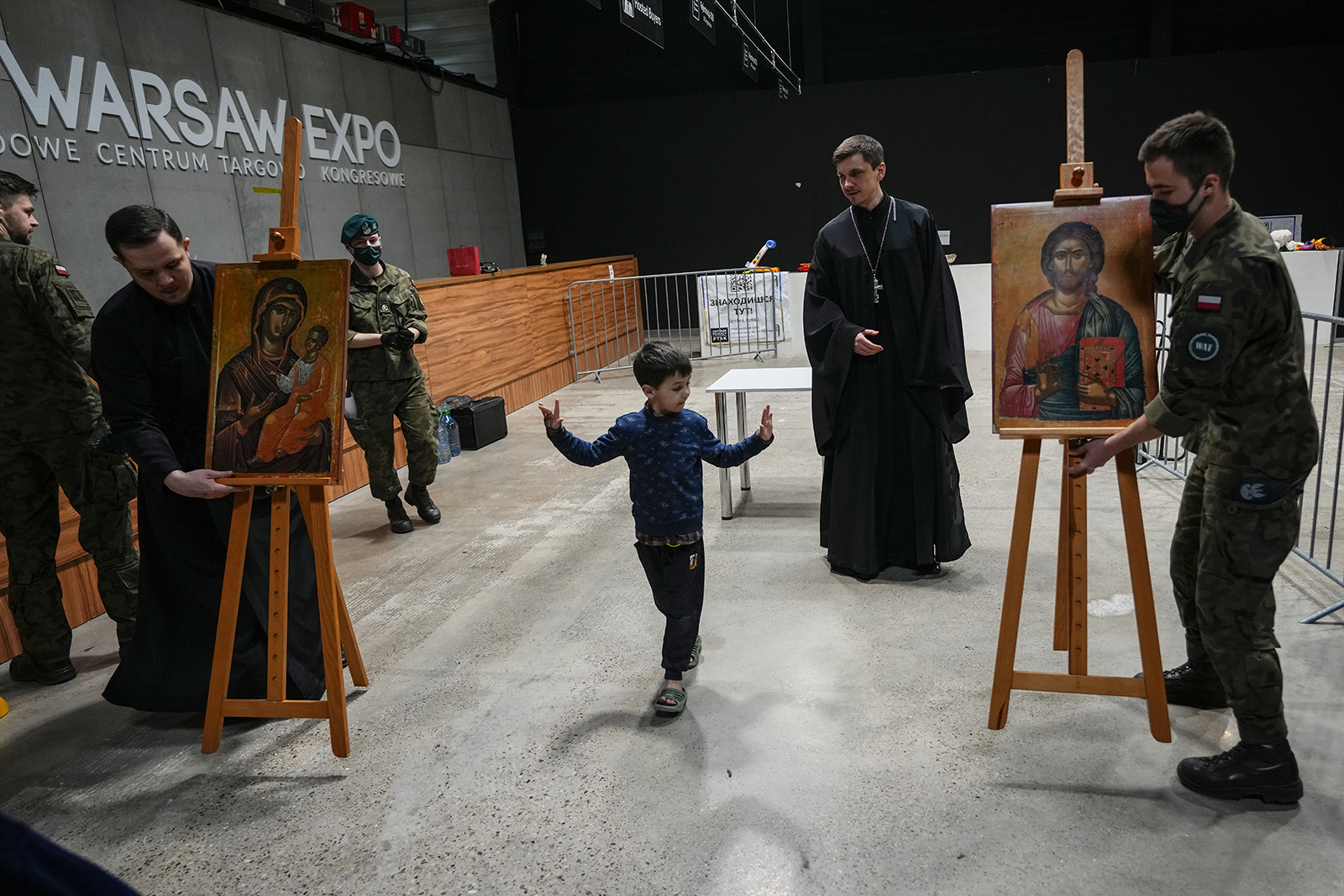 US President Joe Biden thanked humanitarian organizations in Poland for sending aid to Ukraine and assisting refugees while he is set to receive a briefing on the situation.
"I'm here in Poland to see firsthand the humanitarian crisis and, quite frankly, part of my disappointment is that I can't see it firsthand like I have in other places. They will not let me," he said. "Understandably, I'm guessing, cross the border and take a look at what's going on in Ukraine, but I'm eager to hear from you in the humanitarian community about what you see, what you're doing and where you think we go from here."
The humanitarian response is of "enormous consequence," Biden said, adding that Ukrainians immediately need vital goods like food, blankets, cash and medicine.
The Biden administration yesterday announced the US is committing more than $1 billion in humanitarian assistance to Ukrainians affected by the war.
About 3.6 million refugees have fled Ukraine, according to estimates from the United Nations, with the majority of them arriving in Poland.
"The suffering that's taking place now is at your doorstep. You are the ones risking, in some cases your lives … and the American people are proud to support your efforts," he said.
2 hr 28 min ago
Ukrainian army says Russian general has been killed in Kherson fighting
From CNN's Yulia Kesaieva in Lviv
The Ukrainian army says its forces have killed Russian Lt. Gen. Yakov Rezantsev during fighting in Chornobaiivka, in the Kherson region in Ukraine's south. 
The army said Rezantsez was commander of the 49th Combined Arms Army of the Southern Military District of the Russian Federation. 
Russia's defense ministry has not commented on the Ukrainian claim.
So far, some six Russian generals are believed to have been killed since the start of Russia's assault on Ukraine, as well as a deputy commander of the Black Sea fleet.