7 min ago
Biden says he believes Russia should be removed from the G20 
From CNN's Maegan Vazquez
US President Joe Biden said on Thursday that he believes Russia should be removed from the Group of 20, and that it's up to Ukraine to decide whether it's necessary to cede some of its territory in order to reach a ceasefire. 
"My answer is yes," Biden said during a news conference when asked about whether Russia should be removed. "It depends on the G20. That was raised today, and I raised the possibility that, if that can't be done – if Indonesia and others do not agree – then we should, in my view, ask to have both Ukraine be able to attend the meetings as well as … basically (having) Ukraine being able to attend the G20 meeting and observe." 
The White House had previously declined to weigh in publicly on reports that the US and allies want Russia removed from the group, but left the door open to the possibility. And following reports this week suggesting Russia may be removed, Russia's ambassador in Jakarta said on Wednesday that Russian President Vladimir Putin "wants to go" to the G20 summit in Indonesia in November. 
Also, when asked during Thursday's news conference about whether Ukrainian President Zelensky needs to cede any territory in order gain a ceasefire with Russia, Biden said it was up to the Ukrainians to decide. 
"That is a total judgment based on Ukraine. Nothing about Ukraine without Ukraine. I don't believe that they're going to have to do that, but there is a judgment," Biden said, adding that there are discussions taking place that he's not been part of on the matter. 
"It's their judgment to make," he added.
12 min ago
Biden: "Sanctions never deter" but the maintaining of them is "what will stop" Putin
US President Joe Biden said that "sanctions never deter" during a news conferences at the NATO headquarters in Brussels, Belgium following high stakes emergency meetings with world leaders.
"Sir, deterrence didn't work. What makes you think Vladimir Putin will alter course based on the action you've taken today?" the US President was asked by a reporter.
"I did not say that," Biden said. "Sanctions never deter. You keep talking about that. Sanctions never deter."
The President continued: "The maintenance of sanctions — the maintenance of sanctions, the increasing the pain and the demonstration of why I asked for this NATO meeting today is to be sure that after a month, we will sustain what we're doing, not just next month, the following month, but for the remainder of this entire year. That's what will stop him."
12 min ago
Biden says he hopes to visit Ukrainian refugees on trip to Europe
From CNN's Kevin Liptak
US President Joe Biden says he hopes to see Ukrainian refugees when he visits Poland on Friday, though he said he doubted witnessing the crisis first-hand would alter his approach.
"I plan on attempting to see those folks, as well as I hope I'm going to be able to see — guess I'm not supposed to say where I'm going, am I. I hope I get to see a lot of people," Biden said at a news conference in Brussels. 
Biden is expected to visit Poland on Friday, where millions of refugees have fled amid the war in Ukraine. Precise details of his visit there are being closely held for security reasons.
Biden, noting he'd visited "many, many war zones," said he understood the plight of migrants. 
"I've been in refugee camps. I've been in war zones for the last 15 years. And it's — it's devastating," he said. "The thing you look at the most is you see these young children that are in those camps."
Biden said visiting with refugees would reinforce his view that the US must act in a major way to assist in the relocation of those displaced by war.
"The United States is the leader of — one of the leaders in the international community. Has an obligation to be engaged," he said.
At least 10 million people have been forced to flee their homes in Ukraine following Russia's invasion less than a month ago, the head of the United Nations' refugee agency said Sunday.
Of those who have left their homes, the majority — 6.48 million as of March 16, according to figures provided by the International Organization for Migration on Friday — have been internally displaced since the conflict began on Feb 24.
Others have sought refuge in neighboring countries, including Poland, Romania, Moldova, Hungary, Slovakia, Russia and Belarus.
2 min ago
Biden says Western leaders discussed food shortages, which he says will be "real"
US President Joe Biden said leaders discussed the possibilities of food shortages triggered by the Russian invasion of Ukraine.
Biden said food shortages will be "real," and he called Ukraine and Russia the "breadbasket" for Europe.
Supplies from the two countries together account for almost 30% of global wheat trade.
"The price of the sanctions is not just imposed upon Russia. It's imposed upon an awful lot of countries as well, including European countries and our country as well," Biden said in remarks after an emergency NATO meeting in Brussels.
"We had a long discussion in the G7 with … both the United States, which has a significant — the third largest producer of wheat in the world — as well as Canada, which is also a major, major producer. And we both talked about how we could increase and disseminate more rapidly food … In addition to that, we talked about urging all the European countries and everyone else to end trade restrictions on sending, limitations on sending food abroad. So we are in the process of working out with our European friends what it would be, what it would take to help alleviate the concerns relative to food shortages," he said.
Biden also mentioned a "significant" US investment model for humanitarian assistance, which would include food.
Separately, French President Emmanuel Macron laid out the details of a proposed EU-led food security initiative designed to alleviate the risk of food shortages caused by the war.
"This situation will create a food crisis, extremely serious humanitarian situations in several countries and are sure to have massive political consequences in several countries," Macron said at a news conference in Brussels on Thursday.
According to a document circulated by the Elysée, Russia is the top exporter of wheat worldwide (33 million tons in 2021) with Ukraine not far behind (fourth largest exporter, with 20 million tons in 2021).
The document estimates 27 mostly African and Middle Eastern countries source over 50% of their wheat from Russia or Ukraine.
The three-pronged initiative spelled out in the document would rely on measures, such as making crisis stockpiles of grain available to "avoid any shortages and keep prices down," raising production thresholds, and stepping up investments in sustainable agriculture in the most-affected countries.
CNN's Simon Bouvier contributed reporting to this post.
24 min ago
Biden says China understands economic consequences of aiding Russia in war
From CNN's Kevin Liptak
US President Joe Biden said he believes China understands the potentially dire economic consequences that would ensue should the country provide assistance to Russia in its war in Ukraine.
Biden said he had a "very straightforward conversation" with Chinese President Xi Jinping last week on the topic.
He said he "made no threats," but did make clear that Xi "understood the consequences of him helping Russia."
He said he pointed out the consequences of Russia's behavior, and pointed out that China had sought to develop stronger economic ties with the West. He said he told Xi "he'd be putting himself at significant jeopardy in those aims, if, in fact, he were to move forward."
"I think that China understands that its economic future is much more closely tied to the west than it is to Russia. And so I am hopeful that he does not get engaged," Biden said.
25 min ago
Putin "was banking on NATO being split," Biden says
From CNN's Sam Fossum
US President Joe Biden said Russian President Vladimir Putin had indicated to him in their early conversations that he believed the NATO alliance would not remain united.
"Putin was banking on NATO being split. My early conversation with him in December and early January — was clear to me he didn't think that we could sustain this cohesion," Biden told reporters in Brussels, Belgium, on Thursday. "NATO has never been more united than it is today. Putin is getting exactly the opposite what he intended to have, as a consequence of going into Ukraine."
33 min ago
Biden: "We would respond" if Putin used chemical weapons
US President Joe Biden said that the US would respond if Russian President Vladimir Putin used weapons of mass destruction, but that the response would depend on the situation.
"So you've warned about the real threat of chemical weapons being used. Have you gathered specific intelligence that suggests that President Putin is deploying these weapons, moving them into position or considering their use? And would the US or NATO respond with military action if he did use chemical weapons?" the Associated Press asked the US President during his news conference.
Biden responded that he could not provide information on intelligence, but added on the issue of chemical weapons, "We would respond if he uses it. The nature of the response would depend on the nature of use."
Earlier today, NATO Secretary General Jens Stoltenberg said the alliance will reinforce its chemical, biological and nuclear defense systems on fears Russia is planning to use such weapons against the people of Ukraine.
31 min ago
Biden says NATO has "never been more united than it has today" in response to Russian invasion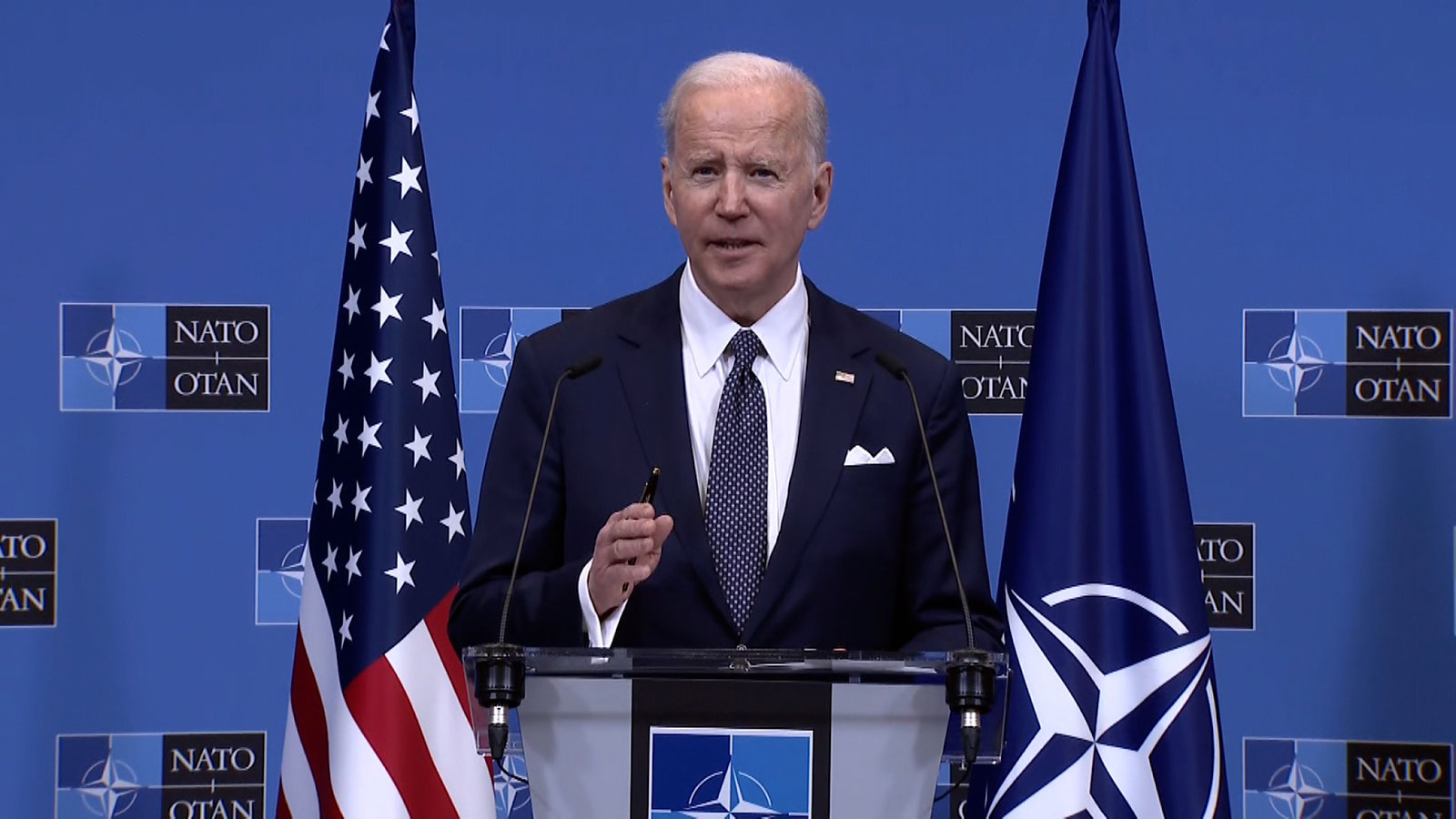 In remarks after meeting with NATO leaders in Brussels, US President Joe Biden said "we're determined to sustain" efforts outlined during the emergency NATO meeting right after Russia's invasion of Ukraine and "to build on them." 
"The United States is committed to provide over $2 billion in military equipment to Ukraine since I became president. Anti-air systems, anti-armor systems, , ammunition and our weapons are flowing into Ukraine as I speak. And today, I am announcing the United States is prepared to commit more than $1 billion in humanitarian assistance to help get relief to millions of Ukrainians affected by the war in Ukraine," Biden said.
Biden said the US is ready to welcome 100,000 Ukrainian refugees in to the country. The President also confirmed new sanctions on hundreds of Russian individuals and members of government.
"NATO has never, never been more united than it is today. Putin is getting exactly the opposite what he intended to have as a consequence of going into Ukraine," he said.
1 min ago
NOW: Biden holds news conference after emergency summits
US President Joe Biden is speaking at a news conference at the NATO headquarters in Brussels, Belgium, after meeting with other world leaders of NATO, the European Council and the G7 as they seek to align their responses to Russia's invasion.