20 min ago
Ukraine among countries formally invited to first meeting of new European nations' club 
From CNN's James Frater in Brussels and Jorge Engels in London 
Ukraine and the United Kingdom — as well other European countries — have been formally invited to attend the first meeting of the "European Political Community" in the Czech capital Prague on Oct. 6, a senior European Union official told journalists in Brussels Thursday.   
"The European Political Community constitutes a platform for political coordination for European countries across the continent," the senior official said. 
The aim of the high-level meeting is to foster "political dialogue and cooperation to address issues of common interest so as to strengthen the security, stability and prosperity of the European continent," the official said. 
At the summit, a series of roundtable discussions are planned to cover "peace and security, energy and climate, the economic situation, migration and mobility." 
"The EPC meeting will bring together leaders from European countries on an equal footing and in a spirit of unity, ideally once or twice a year," according to the senior official. 
All of the EU's 27 member states and the European Free Trade Association countries of Norway, Lichtenstein, Iceland and Switzerland have been invited, alongside neighboring non-EU countries, including Albania, Armenia, Azerbaijan, Bosnia and Herzegovina, North Macedonia, Turkey, Serbia, Ukraine and the UK. 
The EPC will not replace current institutions and doesn't plan to create new ones for now, the official added. 
3 min ago
Russian foreign minister dismisses Western condemnation and blames Ukraine for the war
From CNN's Jonny Hallam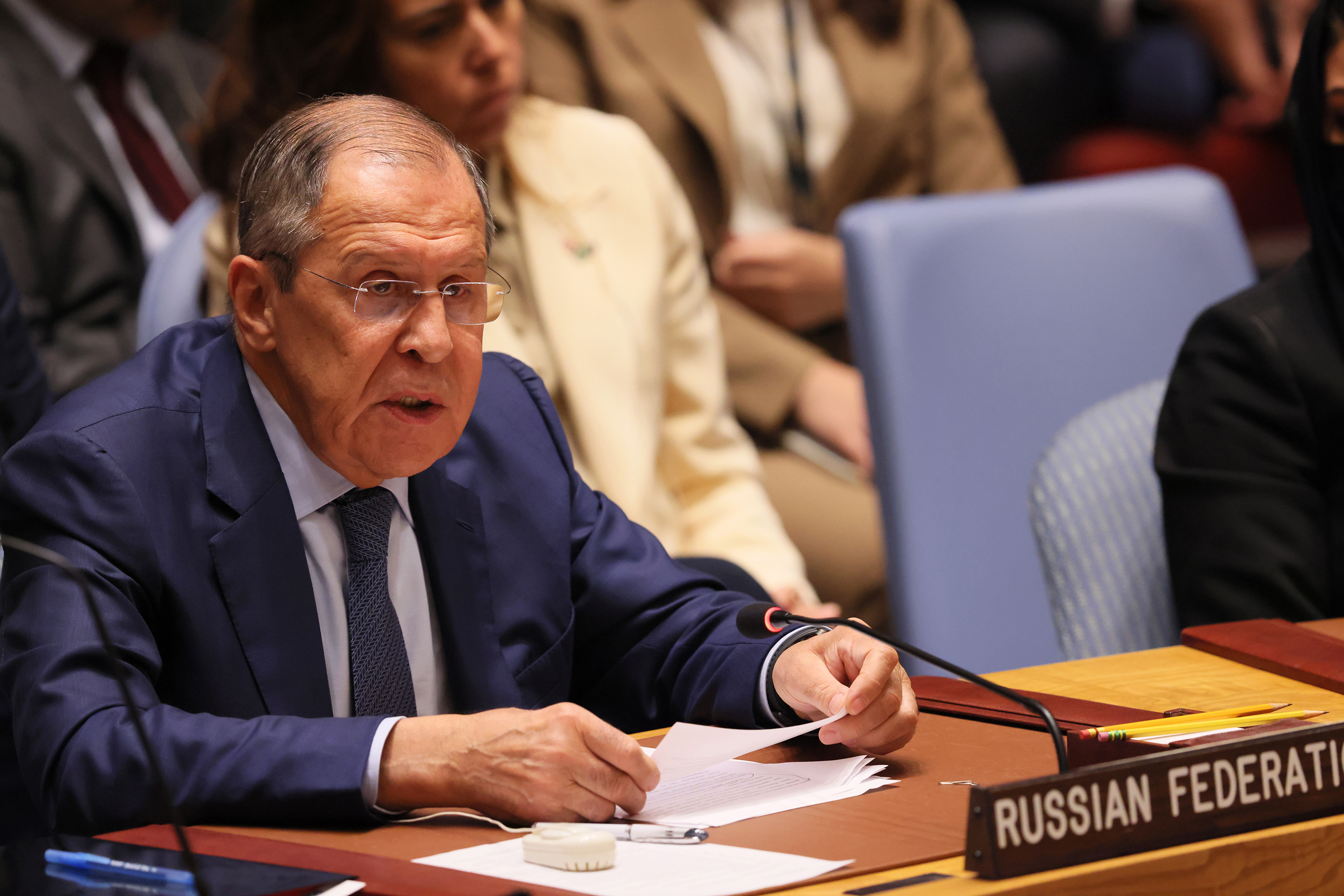 Russian Foreign Minister Sergey Lavrov on Thursday dismissed Western condemnation of Russia's invasion of Ukraine, instead accusing Ukraine of being the country violating international law.
Speaking to the United Nations Security Council session on Ukraine, Lavrov claimed Ukrainian forces made "illegal" attacks on the "peaceful citizens of Donbas."
He also accused Ukrainian President Volodymyr Zelensky and the "Kyiv regime" of "racist" and "anti-Russian" motivated aggression.
Lavrov claimed Zelensky made "Russo-phobic" comments in an August interview and that they motivated people living in Russian occupied areas of Ukraine to hold referendums on the prospect of joining Russia.
"I think the decisions that have been adopted by a whole range of the regions of Ukraine about conducting referendums are the result of his [Zelensky's] comments," Lavrov said.
Lavrov also condemned the "cynical" way Western nations are supplying weapons to Ukraine and said the "policy means the direct involvement of the West in the conflict and makes them a party to the conflict."  
In his speech, Lavrov claimed the West was primarily motivated to supplying weapons to Ukraine in order to "drag out the fighting as long as possible in spite of the victims and destruction in order to wear down and weaken Russia." 
Lavrov ended his speech by dismissing the legitimacy of the International Criminal Court, "We have no confidence in the work of his body," he said, adding, "and we don't expect anything more from this institution or a whole range of other international institutions." 
"Everything I've said today simply confirms that the decision to conduct the 'special military operation' was inevitable," Lavrov added.
Some context on those referendums: This week, Russian-appointed leaders in the occupied regions of Kherson and Zaporizhzhia and the self-declared Luhansk People's Republic and Donetsk People's Republic all said they planned to hold "votes" beginning Friday.
The expected referendums run counter to international law upholding Ukraine's sovereignty. Ukrainian officials dismissed the announcement as a "sham" stemming from the "fear of defeat."
US ambassador to Ukraine Bridget A. Brink echoed that sentiment on Twitter Wednesday.
35 min ago
US official criticizes Russian foreign minister for short stay during UN meeting about Ukraine
From CNN's Kylie Atwood
A US official criticized Russian Foreign Minister Sergey Lavrov for only being at the United Nations Security Council meeting on Ukraine for a short time and skipping the Russian criticism from Western diplomats.
"Lavrov apparently couldn't bear to hear the clear and repeated messages of condemnation of Russia's war against Ukraine. He walked into the chamber just before his speaking slot and left shortly after," the US official said. 
The official said it was a sign of Russian weakness. 
"It's another sign of weakness and a testament to the fact that Russians recognize they are increasingly isolated on the world stage," the official said.
CNN has reached out to Russian officials to explain why Lavrov was only in the chamber for his own remarks.
12 min ago
Finnish prime minister says country ready to take action to put "an end" to Russian tourism 
From CNN's Sugam Pokharel in London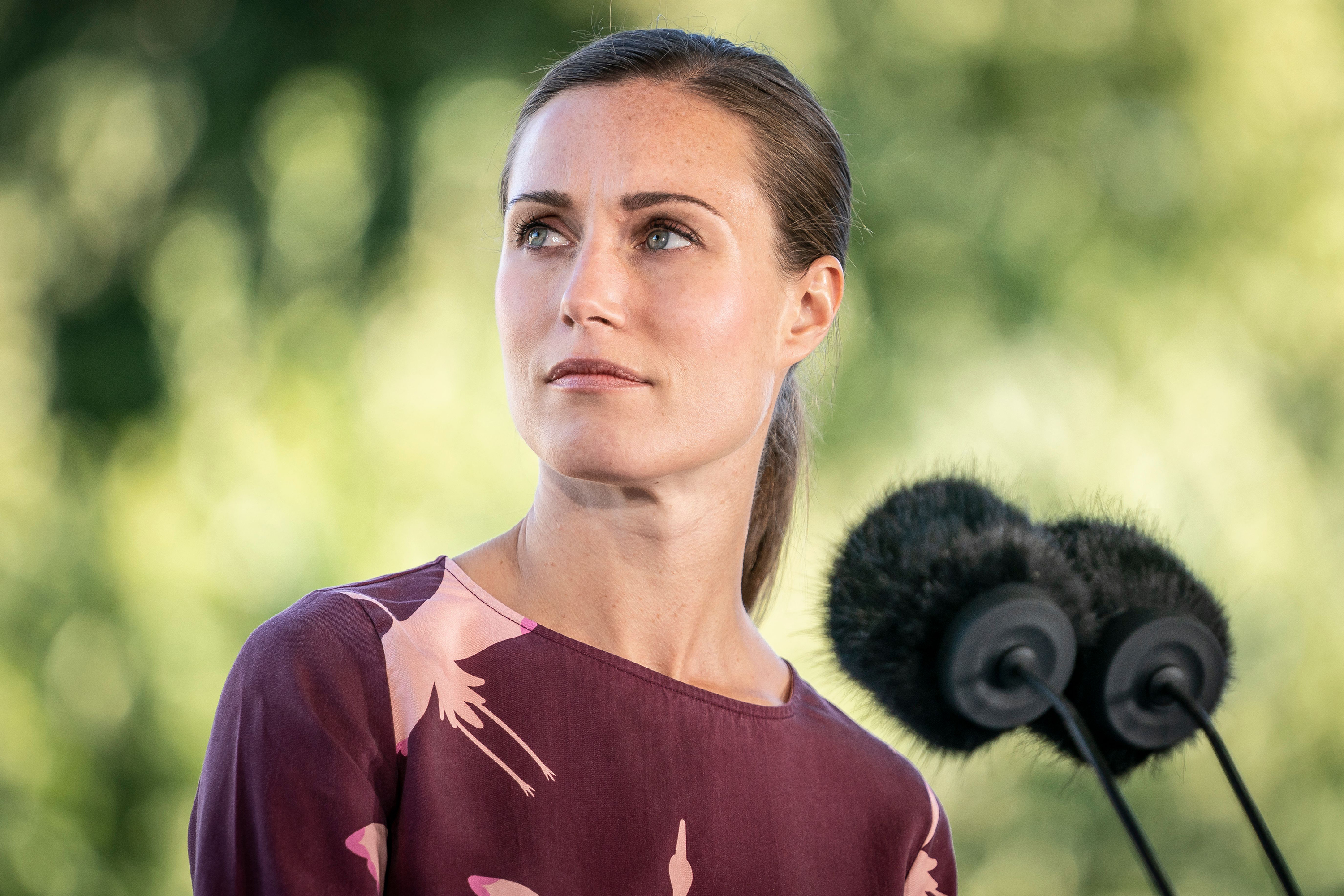 Finland's Prime Minister Sanna Marin told parliament Thursday that her government is ready to take action to put "an end" to Russian tourism and transit through Finland, according to Finnish public broadcaster Yle. 
"We have to put an end to Russian travel and tourism, how to do this is a more complicated question," Marin told reporters after the parliament session, Yle reported. 
"The assessment has to be done very quickly," Marin said. 
This comes as traffic on Finland's eastern border with Russia intensified overnight on Thursday after Russian President Vladimir Putin announced a "partial mobilization."
Social media video from Russia's land borders with several countries shows long lines of traffic trying to leave the country. 
"If the security situation at border crossings is assessed to have deteriorated, new solutions are possible to limit visas, for example restricting border crossings from Russia to Finland," Marin said, according to Yle. 
Family visits will still be allowed under any new restrictions, the broadcaster reported. 
14 min ago
China refuses to place blame on war in Ukraine and calls for "neutrality" in war crimes probe
From CNN's Caitlin Hu
Chinese Foreign Minister Wang Yi spoke more vaguely than his counterparts at the United Nations Security Council Thursday, calling for "neutrality" from UN agencies and adding that any investigation into war crimes in Ukraine be "based on facts, not assumption of guilt."
He laid out several proposals, calling for Russia and Ukraine to commit to "dialogue without preconditions," and for all parties to prevent attacks on civilians and civilian facilities (an accusation levied by Russia, as well as by Ukraine and the West).
Wang Yi also said that China supports the International Atomic Energy Agency amid concerns over nuclear posturing in the conflict and over the safety of the Ukraine's Zaporizhzhia Nuclear Power Plant.
"There is no room for trial and error" when it comes to nuclear issues, he said.
Some context: In recent months, China has offered Russia tacit support and stepped up economic assistance to its neighbor, boosting bilateral trade to a record high.
But Russian President Vladimir Putin conceded last week that Beijing had "questions and concerns" over the invasion, in what appeared to be a veiled admission of their diverging views on the military assault.
1 hr 21 min ago
Blinken says Russia "shredded" international order and the world "can't let President Putin get away with it"
From CNN's Jennifer Hansler
At a United Nations Security Council meeting Thursday, US Secretary of State Antony Blinken said "the very international order we've gathered here to uphold is being shredded before our eyes" by Russia's war on Ukraine.
The world "can't let President (Vladimir) Putin get away with it," Blinken told his fellow diplomats.
His remarks came amid a week of escalatory actions by Moscow, including the mobilization of tens of thousands of troops and planned "sham referenda" in Russian-occupied parts of Ukraine.
"That President Putin picked this week, as most of the world gathers at the United Nations, to add fuel to the fire he started shows his utter contempt and disdain for the UN Charter, the UN General Assembly, and this Council," Blinken said.
"President Putin is making his choice. Now it's up to all of our countries to make ours. Tell President Putin to stop the horror he started," Blinken continued. "Tell him to stop putting his interests above the interests of the rest of the world, including his own people. Tell him to stop debasing this Council and everything it stands for."
Blinken said the areas of Ukraine that were occupied by Russia offered a view into that "less peaceful world," noting, "wherever the Russian tide recedes, we've discovered the horror that's left in its wake" — Bucha, Irpin, Izyum, where mass graves have been discovered, survivors have recounted acts of torture.
The top US diplomat called on Russia to cease its nuclear saber rattling, calling Putin's threat to use "all weapon systems available" to Russia "all the more menacing given Russia's intention to annex large swaths of Ukraine in the days ahead."
Blinken also stressed the impact the war was having globally on food security, and called out Russian disinformation on WHO-approved vaccine effectiveness.
1 min ago
Lavrov arrives to Security Council meeting about Ukraine nearly 1.5 hours after it started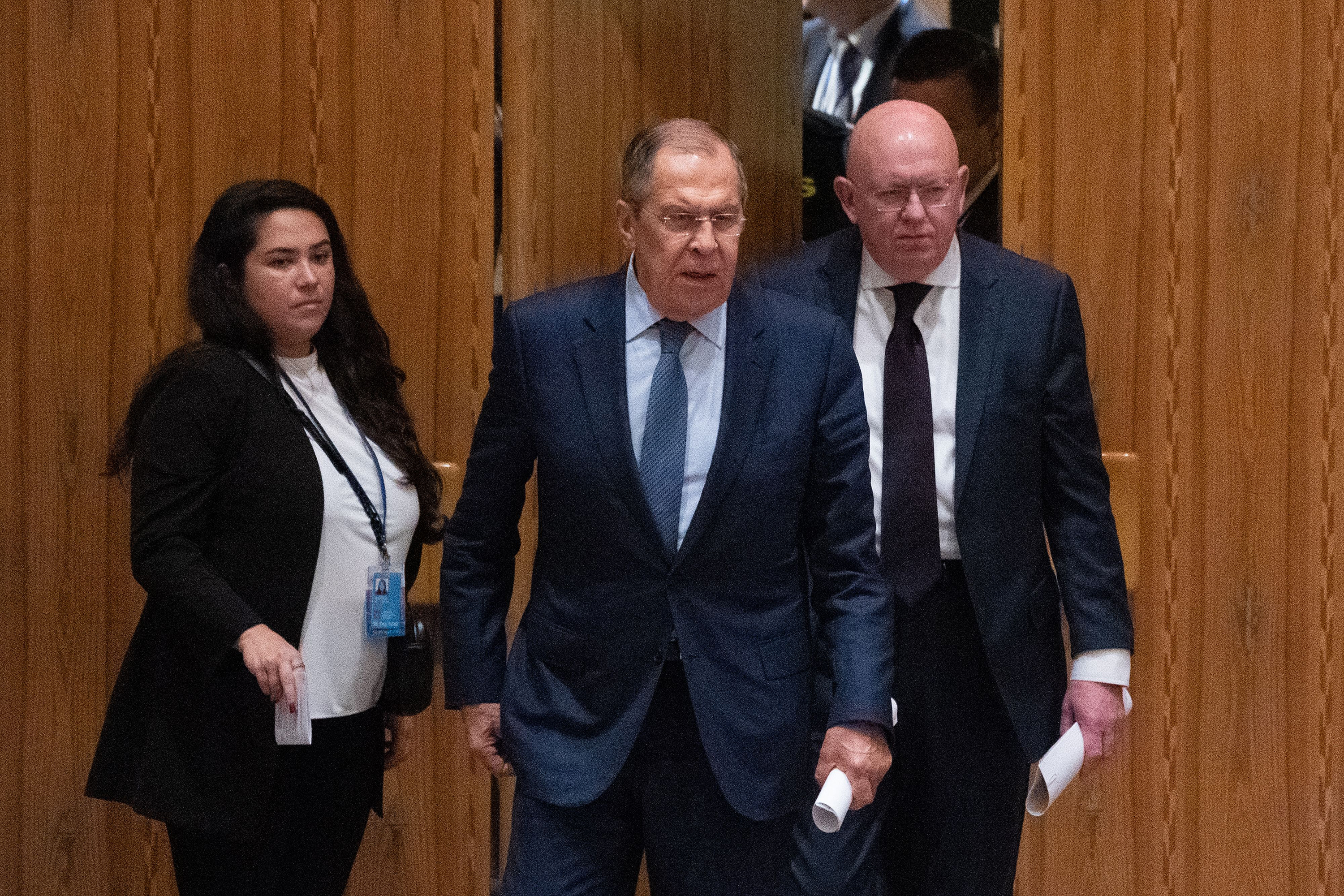 Russian Foreign Minister Sergey Lavrov walked into the UN Security Council meeting at approximately 11:30 a.m. ET and took his seat at the table, nearly 1.5 hours late.
The council is discussing the maintenance of peace and security in Ukraine.
1 hr 27 min ago
"The echoes of Nuremberg should be heard today," ICC prosecutor for Ukraine tells UN Security Council 
From CNN's Jonny Hallam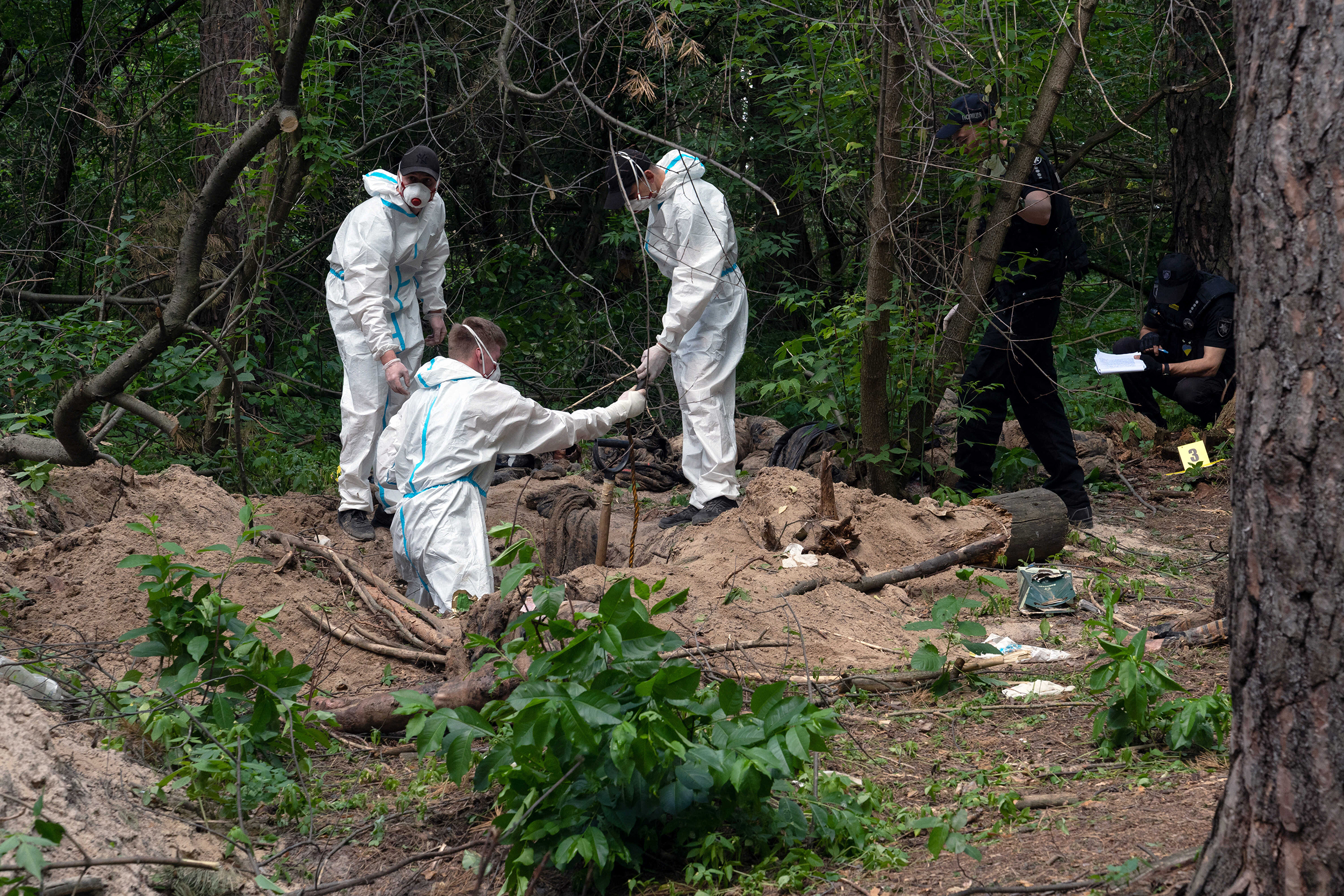 International Criminal Court Prosecutor Karim Khan on Thursday said that he believes alleged war crimes have been committed in Ukraine after he visited the country three times to investigate the war.
"One has seen a variety of destruction of suffering, and that fortifies my determination. And my previous finding that there are reasonable grounds to believe the crimes within the jurisdiction of the court have been committed," Khan said to members of the United Nations Security Council during their meeting Thursday.
During his update to the Security Council, Khan spoke candidly of the brutal horrors he had seen in Ukraine.
"When I went to Bucha and went behind St. Andrew's Church, the bodies I saw were not fake. When I walked the streets of Borodyanka, the destruction that I saw of buildings and schools was all too real," Khan said. "When I left Kharkiv, the bombs I heard land, gave a somber insight and a very small insight into the awful reality that is faced by well many of our brothers and sisters and children that are in a war zone."
Making reference to the Nuremberg trials that prosecuted defeated Nazis after World War II, Khan said, "The echoes of Nuremberg should be heard today." 
"Failure to uphold the promises of Nuremberg, we have seen over the last many decades to act as a reproach on all of us as leaders, not to despair or to despondency, but acts as a catalyst for further action to galvanize us as a council as international organizations and as humanity." he said.
2 hr 19 min ago
EU entry for people leaving Russia will be up to individual member states, commission says
From CNN's Lauren Kent in London
The European Union is planning to establish a joint position on requests for entry made by Russian citizens fleeing their own country, a spokesperson for the European Commission said during a news conference Thursday.
The European Commission also noted that for now, each member state will need to assess entry requests on a case-by-case basis, adding that external border management of the EU must be carried out in line with EU law and comply with "fundamental rights and all of the legislation in place for asylum procedures."
Another spokesperson, the EU's lead for external affairs Peter Stano, said the EU is watching what is happening right now in Russia following Putin's announcement of so-called "partial mobilization."
"There have been protests in a number of cities across Russia. During these protests, more than 1,300 people have been detained," Stano told reporters, according to EU monitoring. "And this is showing that the Russians are voting with their feet, basically, on Putin's regime and on Putin's actions."
"We take also note of the reports that are indicating that a lot of Russians are leaving the country in a legal pathway, in a legal way. They go on train on car, and they leave through the borders, or they take flights to Turkey to Serbia to Emirates. This is what we are seeing is happening," Stano said.
"We as European Union, in principle, we stand in solidarity with the Russian citizens who have the courage and bravery to show their opposition to what the regime is doing, especially when it comes to this illegal war in Ukraine," he said, adding that concrete decisions when it comes to visa policy is in the hands of individual members states.
Asked about the numerous requests for entry from Russia, another European Commission spokesperson Eric Mamer said, "We will need to have a joint position at the EU level."