1 min ago
US and European officials held "intense back and forth" on Russian energy dependence
From CNN's Kevin Liptak
US and European officials have held an "intense back and forth" on reducing dependence on Russian energy in the lead-up to emergency summits in Brussels this week, the White House said.
US national security adviser Jake Sullivan said the matter would be a "substantial topic of conversation" among US President Joe Biden and other leaders at G7 and EU summits Thursday, and was a "major priority" for them. 
Sullivan said leaders have weighed a "practical roadmap" for ending European dependence on Russian oil and natural gas, and that Biden would have more to say on the matter on Friday.
He said the US would look to increase supplies of liquified natural gas in Europe in the short-term, though did not spell out specifics of a plan.
3 min ago
White House declines to weigh in on removing Russia from G20, but leaves open possibility
From CNN's Nikki Carvajal
The White House on Wednesday left open the possibility that Russia could be kicked out of the Group of Twenty, but declined to weigh in publicly on reports that the US and allies want the country removed from the group.
"We don't believe it can be business as usual with Russia an international institutions," National Security Adviser Jake Sullivan told reporters on Air Force One, when asked directly if Russia could be booted from the forum. "In terms of specific answers to that kind of question, for the G20, or other international organizations, we want to have the opportunity to consult with our allies partners around the world…before I opine on that question publicly."
As CNN previously reported, China said on Wednesday that no member of the G20 has the right to "expel another country" from the intergovernmental economic forum, amid reports the US and its Western allies are assessing whether Russia should remain within the group of major economies following its invasion of Ukraine.
Russian President Vladimir Putin "wants to go" to the G20 summit in Indonesia in November, Russia's ambassador in Jakarta said on Wednesday, also in response to those reports.
14 min ago
Biden will unveil new sanctions against Russian political figures and oligarchs during Thursday's summits
From CNN's Kevin Liptak
US President Joe Biden will unveil new sanctions on Russian political figures and oligarchs when he attends a series of summits in Brussels on Thursday.
Speaking aboard Air Force One as Biden headed to Europe, US national security adviser Jake Sullivan said Biden would also discuss NATO's force posture on its eastern edge and contingency plans for a potential Russian use of chemical or nuclear weapon in his talks.
Biden will begin at NATO by meeting Secretary General Jens Stoltenberg "to check signals" and get on the same page for the ensuing summit. Biden will attend the extraordinary NATO summit for approximately 3 hours, Sullivan said.
Among the priorities is "how we make sure that we're continuing to support Ukraine and its effort to defend itself," Sullivan said, even though NATO itself hasn't facilitated military assistance to Ukraine, but left those decisions to individual members.
Sullivan said the alliance would "discuss the question of NATO's force posture on the Eastern flank." He said leaders would ratify certain decisions taken by defense ministers last week, and task their military and political officials to set out a "longer term game plan for what forces and capabilities are going to be required in those eastern flank countries. 
The longer-term plan will be agreed to at this summer's NATO summit in Madrid, which had been previously announced. The new force posture will ensure "we've got a long term footprint that is matched to the new security reality that's been created both by Russia's full scale invasion of Ukraine and by what's happening in Belarus," Sullivan said. 
At a subsequent meeting of the G7, Biden and fellow leaders will "agree on an initiative to coordinate on sanctions enforcement," disallowing Russian efforts to evade existing sanctions, Sullivan said.
Biden will also "announce a package of sanctions designations tomorrow that relate both to political figures and oligarchs." 
Sanctions will also be up for discussion at the European Union, along with how to manage China as it considers providing military assistance to Russia.
And in all his discussions, Biden will "consult on potential contingencies" surrounding potential cyberattacks or the use of chemical or biological weapons, along with "how to deal with the rhetoric and the commentary coming out of Russia on this whole question of the potential use of nuclear weapons."
Sullivan said US concerns about chemical or nuclear weapons centered primarily around the "deliberate drumbeat of misinformation, propaganda and lies on this subject that has all the markers of a precursor to them actually using these weapons."
36 min ago
US government formally declares Russian military has committed war crimes in Ukraine
From CNN's Jennifer Hansler 
The US government has formally declared that members of the Russian armed forces have committed war crimes in Ukraine, Secretary of State Antony Blinken said in a statement Wednesday.
The official US declaration that Moscow has committed the violations of the laws of conflict come after Blinken, President Joe Biden and Deputy Secretary of State Wendy Sherman all said it was their personal opinion that war crimes have taken place.
"Today, I can announce that, based on information currently available, the U.S. government assesses that members of Russia's forces have committed war crimes in Ukraine," Blinken said.
"Our assessment is based on a careful review of available information from public and intelligence sources," he said.
"As with any alleged crime, a court of law with jurisdiction over the crime is ultimately responsible for determining criminal guilt in specific cases," Blinken continued. "The U.S. government will continue to track reports of war crimes and will share information we gather with allies, partners, and international institutions and organizations, as appropriate. We are committed to pursuing accountability using every tool available, including criminal prosecutions."
39 min ago
Up to 15,000 Russians have been killed in ongoing Ukraine invasion, senior NATO military officials estimate
From CNN's Ellie Kaufman, Barbara Starr and Natasha Bertrand
Up to 15,000 Russians soldiers have been killed in one month in the ongoing Russian invasion of Ukraine, two senior NATO military officials said. The officials made the estimate during a briefing with reporters on Wednesday. 
The officials specified the range could be as low as 7,000 or as high as 15,000 in total Russian soldiers killed in the conflict so far. Their estimate is based on what Ukraine is telling them, what they know from Russia "intentionally or by mistake" and from "open source" information, one of the officials said.
"The estimate we have is based on what the Ukrainians tell us, what the Russian let us know, intentionally or by mistakes, because mistakes happen in a war, and on intelligence we get on open sources, we think that the Russians have lost between 7,000, up to maximum 15,000 dead," the official said Wednesday. 
The General Staff of the Ukrainian Armed Forces estimates that 15,600 Russian soldiers have been killed in the conflict. 
Overall, they estimate that there could be between 30,000 to 40,000 Russian soldiers either killed, wounded or missing altogether. 
"Statistically in conflicts when you have one killed soldier, you generally have three wounded soldier, so if you go four fold, it would be, I would say between 30,000 to 40,000 losses, losses killed in action, wounded in action, prisoner of war are missing, you don't know what happened to the soldier," the official said.
Other US officials have estimated a similar range of as low as 7,000 and as high as 14,000 Russian soldiers killed, but they have expressed "low confidence" in those estimates.
Neither NATO nor the United States have troops on the ground in Ukraine, making it incredibly difficult to get an accurate estimate on the number of Russian casualties. An accurate tally could take weeks or even months and may only be possible after the fighting has ceased. 
The Russian government has not put out a number of total soldiers killed in the conflict. The Russian tabloid Komsomolskaya Pravda published — then later removed — a report that the Russian Ministry of Defense had recorded 9,861 Russian Armed Forces deaths in the war in Ukraine.
The report from the tabloid originally read: "According to the Russian Defense Ministry, during the special operation in Ukraine, the Russian Armed Forces lost 9861 people killed and 16153 wounded."
54 min ago
WHO reports 64 attacks on health care facilities in Ukraine
From CNN's Virginia Langmaid
The World Health Organization has confirmed 64 attacks on health facilities in Ukraine so far, WHO Director-General Dr. Tedros Adhanom Ghebreyesus said Wednesday.
 "WHO has now verified 64 attacks on health care since the start of the war, and we are in the process of verifying further attacks," Tedros said in a media briefing.
 "Attacks on health must stop. Health systems, facilities, and health workers are not and should not, [ever] be a target," he said.
Dr. Mike Ryan, director of the WHO Health Emergencies Programme, shared statistics from the International Organization of Migration on the vulnerabilities of the millions of people who have been internally displaced in Ukraine, including that 32% of displaced households include someone who is chronically ill and nearly 20% include someone who is disabled.
Situations like those in Ukraine, Ryan said, frequently lead to conditions where even accessing health facilities "becomes a life-threatening experience."
"This is dehumanizing at a level that is very hard to explain. It is very hard to understand. It is very hard to even imagine what people are going through in this situation," he said.
"We have reached maybe for once in my lifetime an appropriate level of horror of what's happening in Ukraine and particularly what's happening in Mariupol. And I hope that is the new level of horror we will express in all of these situations around the world from now on."
Speaking on the difficulty of working in Ukraine and other regions in crisis including Ethiopia, Ryan said "basic" principles around aid are being forgotten. 
"It shouldn't be upon the humanitarian community to have to constantly renegotiate and negotiate and then have bureaucratic blocks and stop, start, stop, start," he said. 
"This is not the way it is supposed to be. We are forgetting the basic principles of humanitarian law, when we end up in these interminable discussions about getting the most simple and basic of access to populations who desperately, desperately need us."
1 hr 12 min ago
Boris Johnson tells Zelensky that UK intends to increase defensive lethal aid to Ukraine
From CNN's Sarah Dean & Arnaud Siad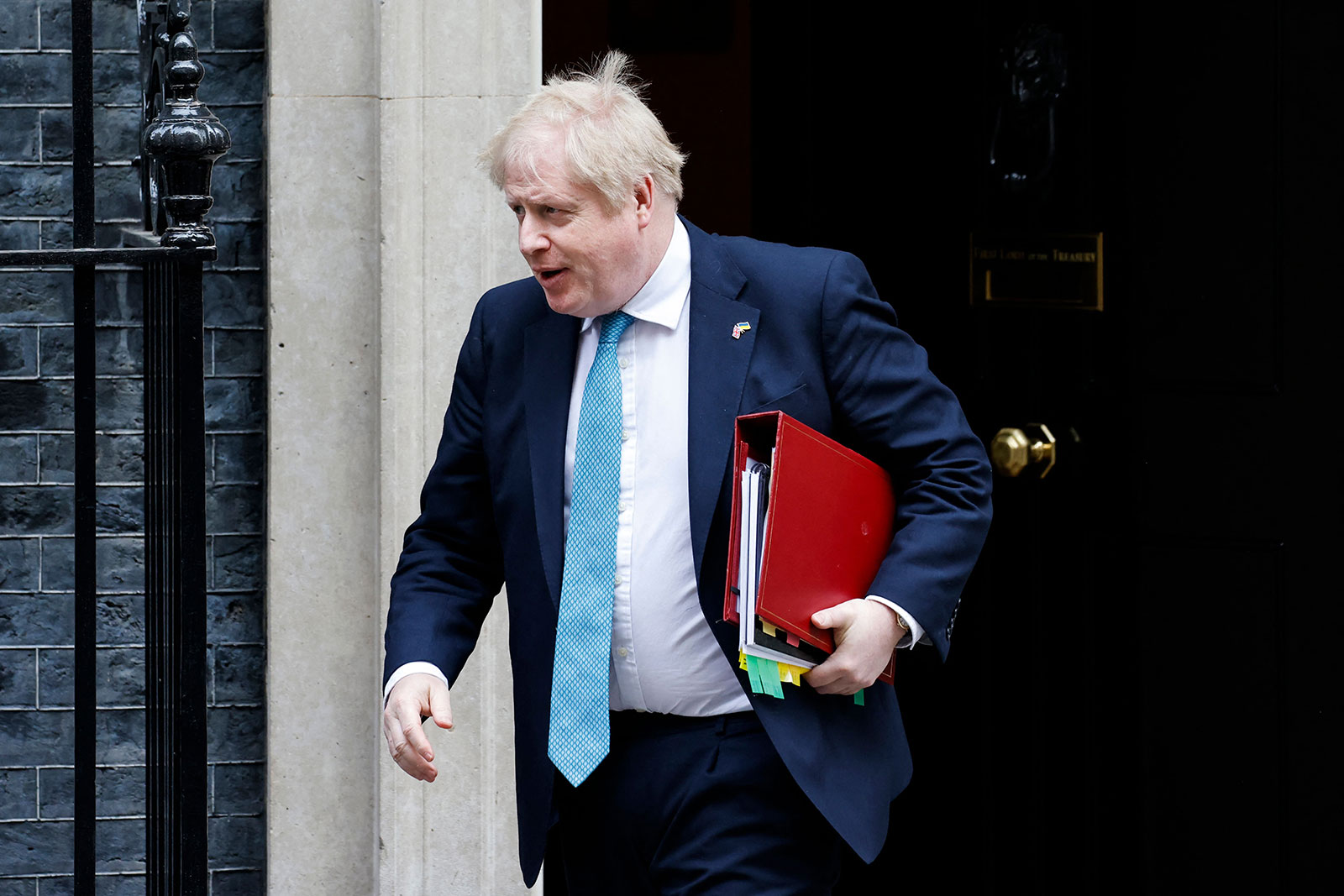 British Prime Minister Boris Johnson on Wednesday told Ukrainian President Volodymyr Zelensky of his "intention" to use Thursday's G7 and NATO meetings to "substantively" increase defensive lethal aid to Ukraine, a Downing Street spokesperson said on Wednesday.
"The Prime Minister set out his intention to use tomorrow's G7 and NATO meetings to increase the pressure on Vladimir Putin's regime and work with partners to substantively increase defensive lethal aid to Ukraine. Leaders would look to address Ukraine's requests and ensure President Zelenskyy is in the strongest possible position in ongoing peace talks," the spokesperson said following the call between the two leaders.
During the call, Johnson reiterated "his admiration for the bravery of the Ukrainian armed forces and their success in repulsing Russia's onslaught."
"[Zelensky] said the bombardment of civilian areas, including the siege of Mariupol, is unconscionable and demands a response from the international community," the spokesperson added.
1 hr 27 min ago
Why Biden's trip to Europe is one of the highest-stakes presidential trips in recent memory
From CNN's Kevin Liptak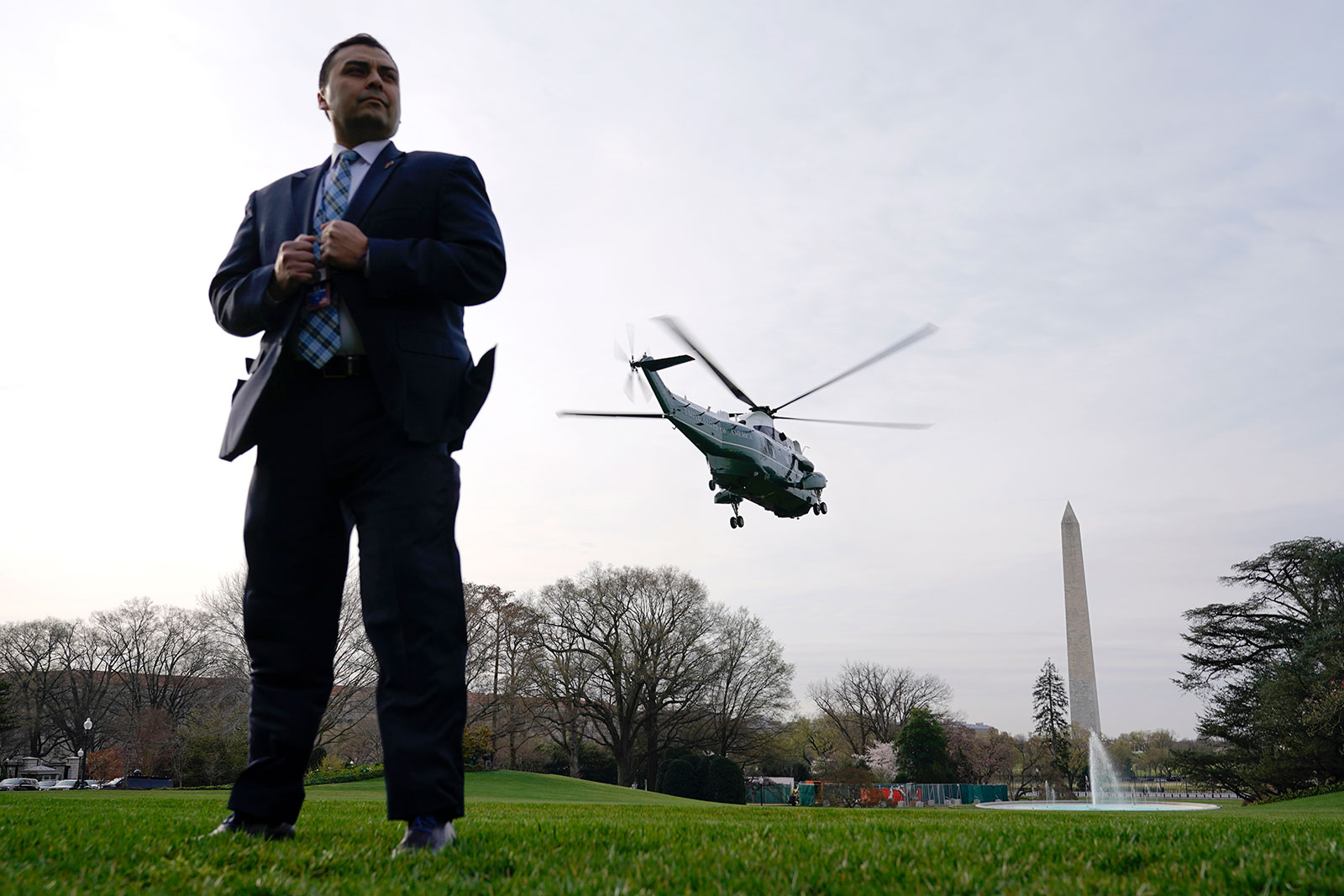 President Joe Biden departed Wednesday on one of the highest-stakes presidential trips in recent memory, a moment for the US President to assume leadership of a newly united West.
His visits to Brussels and Poland could still underscore the alliance's limits in ending the bloodshed in Ukraine, with Western leaders struggling to find ways to halt Russian President Vladimir Putin's war. So far, punishing Western sanctions haven't stopped Putin, and it's unclear whether the new steps expected this week — including sanctions on hundreds of members of Russia's lower legislative body and changes to NATO's force posture along its eastern edge — will be different. 
Yet as he departed the White House early Wednesday, Biden appeared intent on using his last-minute wartime visit to Europe to send a message. Asked what he'd say to his partners, Biden said he'd wait to deliver it face to face.
"All I have to say, I'm going to say it when I get there," he said before boarding a seven-hour flight to Belgium.
Emergency summits of NATO, the European Union, and the G7 will focus on displays of cooperation in punishing Russia and providing support to Ukraine as it comes under fire. A stop afterward in Poland is meant to highlight the massive refugee crisis that's followed Russia's invasion as well as to reassure allies on NATO's eastern edge.
For Biden, the last-minute talks are a venue to demonstrate the foreign policy credentials he promised as a candidate, when he vowed to restore American leadership and repair broken alliances. The war in Ukraine is widely viewed inside the White House as one of the defining challenges for Biden and his presidential legacy.
An emotional challenge from Ukrainian President Volodymyr Zelensky, issued last week during his virtual address to Congress, now hangs over Biden's entire trip: "Being the leader of the world means being the leader of peace."
Read more here.
1 hr 19 min ago
Russia's invasion of Ukraine may spark food crisis in Middle East and North Africa, UN secretary general says
From CNN's Chris Hippensteel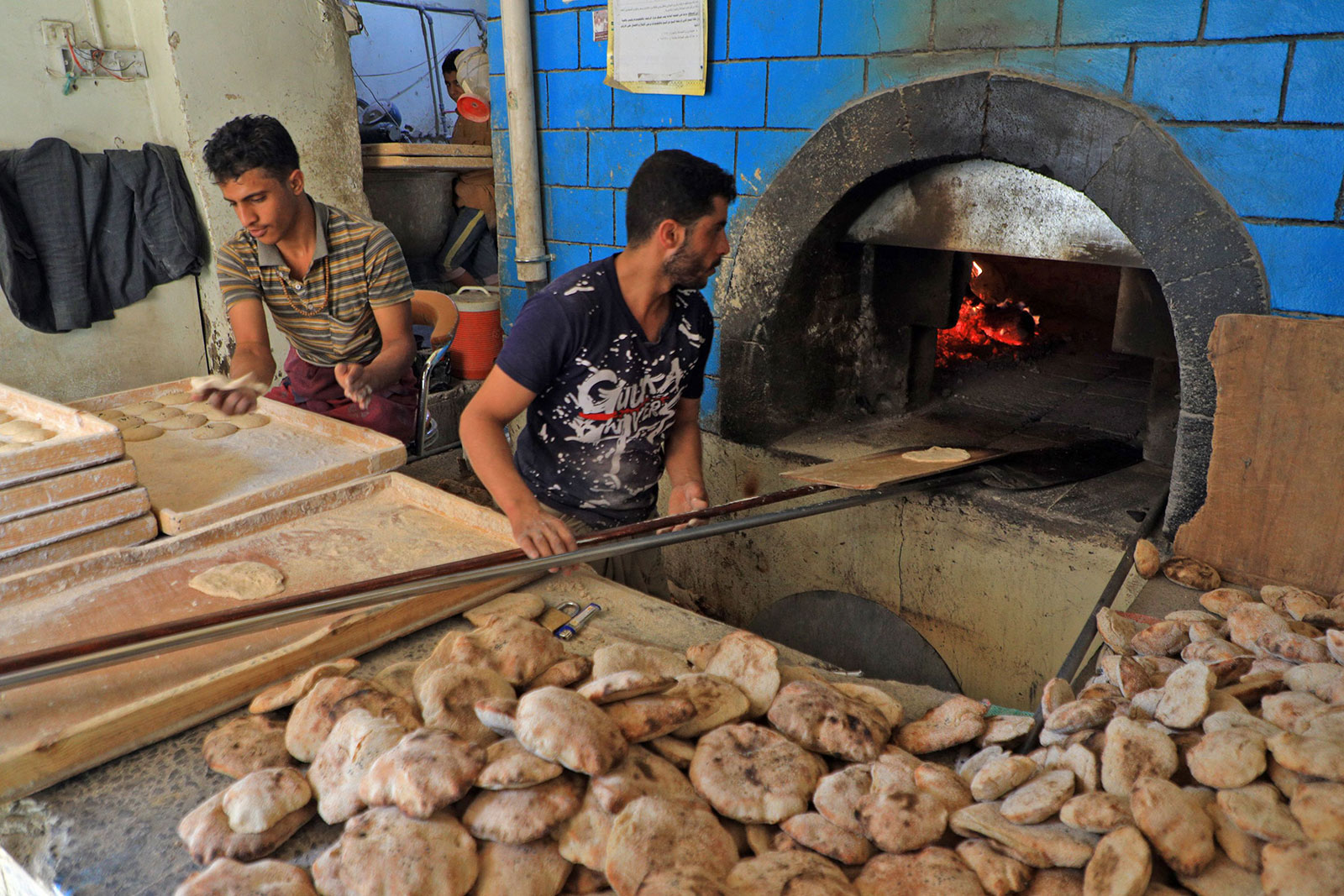 Russia's invasion of Ukraine may spark a food crisis in the Middle East and North Africa, as countries reliant on Ukrainian and Russian wheat imports encounter shortages, United Nations Secretary-General António Guterres said Wednesday.
"Food, fuel and fertilizer prices are skyrocketing, supply chains are being disrupted," Guterres said during a meeting of the UN Security Council. "All of this is hitting the poorest the hardest, and planting the seeds for political instability and unrest around the globe."
Guterres cited Egypt, Lebanon, Libya, Somalia, Sudan and Yemen as nations that import at least half of their wheat from Ukraine or Russia.
Russia's attack on Ukraine has already caused a rise in wheat prices, adding to inflation in food prices. Wheat futures at the beginning of March were at their highest level since 2008. 
Russia and Ukraine together comprise 14% of all global wheat production and 29% of all wheat exports.