1 min ago
'Shadow docket' ruling on Wisconsin districts draws immediate rebuke by Sen. Klobuchar
The actions of the Supreme Court on Wednesday immediately reverberated at the Ketanji Brown Jackson confirmation hearing, when Democratic Sen. Amy Klobuchar lamented the use of the so-called shadow docket for another important decision.
The court rejected a GOP request that it upend a Wisconsin congressional map adopted by the state supreme court that was preferred by Democrats. It also issued an order in a separate Wisconsin redistricting case that blocked a state legislative map adopted by the state supreme court that was backed by Democrats.
Klobuchar, a Minnesota Democrat, noted the dissent from two of the court's liberals: Justices Sonia Sotomayor and Elena Kagan.
"She noted that in an emergency posture, the court summarily overturns a Wisconsin Supreme Court decision resolving a conflict over the state's redistricting, a decision that was rendered after a five-month process involving all interested stakeholders, based on an obligation that is, these are her words, hazy at best even though summary reversals are generally reserved for decisions in violation of settled law," Klobuchar said of the Sotomayor-written dissent.
"(T)his underscores the point that I made yesterday that the courts' increasing practice of using the shadow docket to decide cases that have grave consequences for our democracy, including the right to vote that you and many other nominees have said is fundamental is incredibly troubling," Klobuchar said.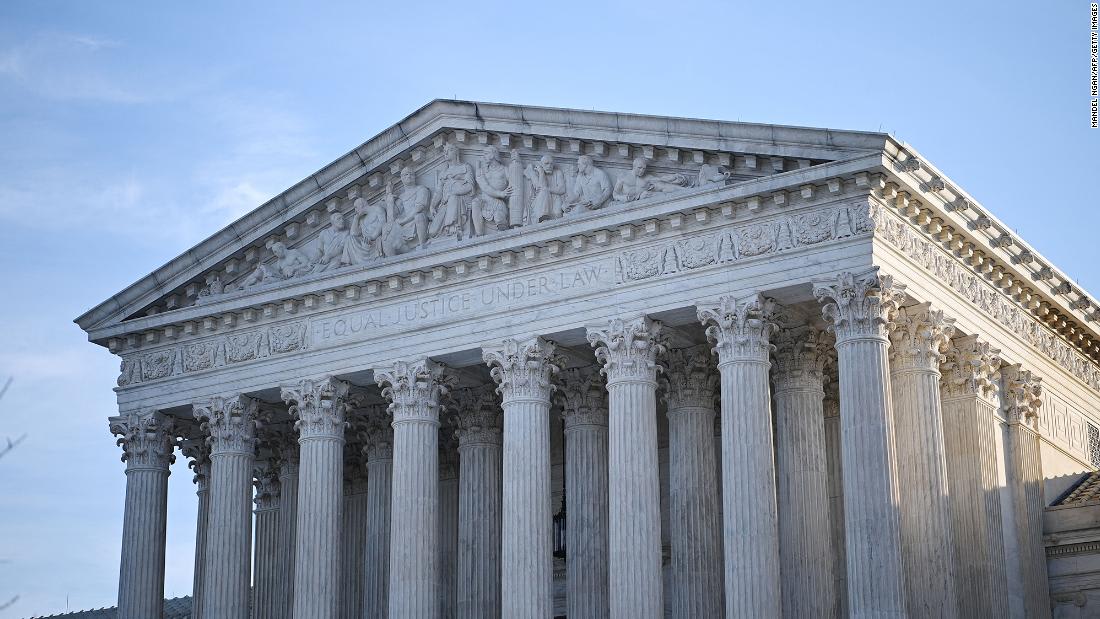 14 min ago
The hearing is taking a lunch break. Here's who will question Jackson next when the panel resumes. 
The Senate Judiciary Committee is taking a lunch break.
The following senators are expected to question Supreme Court nominee Judge Ketanji Brown Jackson next in this order:
GOP Sen. Ted Cruz
Democratic Sen. Chris Coons
GOP Sen. Ben Sasse
Democratic Sen. Richard Blumenthal
GOP Sen. Josh Hawley
Democratic Sen. Mazie Hirono
GOP Sen. Tom Cotton
Democratic Sen. Cory Booker
GOP Sen. John Kennedy
Democratic Sen. Alex Padilla
GOP Sen. Thom Tillis
Democratic Sen. Jon Ossoff
GOP Sen. Marsha Blackburn
More on timing: Senate Judiciary Committee Chairman Dick Durbin says he expects today's questioning to end around 7 p.m. ET if the amount of senators who are still in line to question Jackson use their allotted 20 minutes to question the judge. 
This time frame could shift in either direction if senators yield back some of their time or if additional breaks are added.
5 min ago
Democrats bristle at Graham's testy questioning of Jackson
From CNN's Tierney Sneed and Morgan Rimmer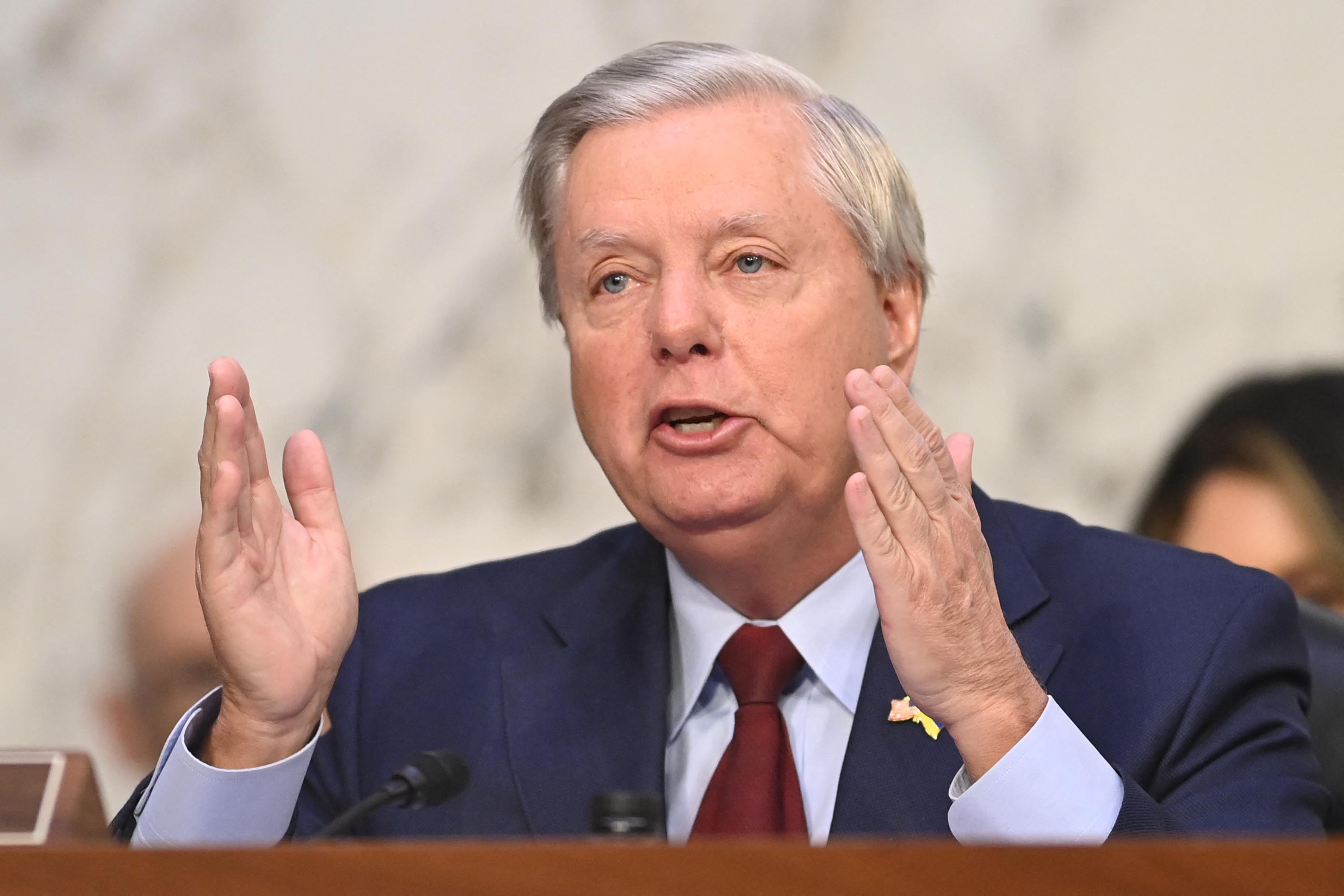 The temperature of the confirmation hearings was raised significantly with a series of questions by Sen. Lindsey Graham that culminated in him repeatedly interrupting Judge Ketanji Brown Jackson attempts to explain her legal approach. 
Jackson's comments laying out why she viewed as outdated certain aspects sentence guidelines for child porn cases prompted in a particularly heated interjection by Graham, a Republican from South Carolina.
"On the internet, with one click, you can receive, you can distribute tens of thousands. You can be doing this for 15 minutes, and all of a sudden, you are looking at 30, 40, 50 years in prison," Jackson said. 
"Good, good!" Graham jumped into exclaim, as she tried to continue to explain why many judges view that approach as problematic. 
"I hope you go to jail for 50 years. If you're on the internet trolling for images of children and sexual exploitation. So — so you don't think that's a bad thing, I think that's a horrible thing," Graham said, before Chairman Dick Durbin stepped in. 
"That's not what the witness said and she should be allowed to answer this question once and for all, senator," Durbin said. 
Graham stormed out of the hearing room at the end of back-and-forth, and declined to comment to CNN about the testy back-and-forth. 
Sen. Patrick Leahy, a Vermont Democrat and a fellow committee member, told reporters Graham's questioning of her was "beyond the pale." 
"I've been on this committee nearly 50 years. One of the things that senators on both sides of the aisle tend to at least try to follow the rules," Leahy said. "Lindsey Graham has gone twice the amount of time that was allotted to him. He wouldn't let her answer, he kept interrupting her, and I couldn't help but think, 'Was this aimed for this hearing or aimed for a political campaign.'" 
Even before Graham turned his questioning to the touch subject of child abuse imagery offense, Democrats were bristling at his refusal to let Jackson finish answers.  
During a discussion of her trial court ruling – later overturned by DC's appellate court — in a case dealing with a Trump administration immigration policy, Graham accused her of judicial activism. 
"This is an example to me, and you may not agree, where the plain language of the statute was completely wiped out by you," Graham said. When Jackson tried to explain her rationale in that decision, Graham interrupted her repeatedly, telling her legal argument in the case "fell on deaf ears" and that "I've got other things I want to talk about." 
Those other things included Justice Brett Kavanaugh's confirmation proceedings, which Republicans have raised on several occasions during Jackson's hearing to complain about how Democrats treated him 
Jackson wasn't following a Graham hypothetical that referred to how accusations against Kavanaugh came out then. Even as Durbin pointed out his time had expired and that she had nothing to do with those proceedings, Graham charged through the question, asking Jackson how she would feel if what happened to Kavanaugh happened to her. 
"I'm asking her about she may feel about what y'all did!" Graham huffed at Durbin. 
Jackson said she had no comment on the Kavanaugh proceedings, but wanted to answer earlier Graham questions about her child porn sentencing record, leading to the exchange about her view of the guidelines. 
"I think the best way you deter crime when it comes to child pornography is you lower the boom on anybody who goes onto the internet and pulls out these images for their pleasure," Graham told Jackson, who argued that, in addition to imprisonment, she ordered lengthy supervision and limits on computer use. 
"And all I can say is that your view of how to deter child pornography is not my view. I think you're doing it wrong and every judge who does what you're doing is making it easier for the children to be exploited," Graham said. 
1 hr 14 min ago
Fact check: Blackburn mischaracterizes Jackson's words about pro-life activists 
From CNN's Daniel Dale
Late in the hearing on Tuesday, Republican Sen. Marsha Blackburn of Tennessee claimed that Supreme Court nominee Ketanji Brown Jackson had disparaged women who oppose abortion. Blackburn, however, was twisting the contents of a legal brief Jackson co-authored in 2001. 
Blackburn claimed that, when Jackson was in private practice, "You made your views on pro-life, and the pro-life movement, very clear. And in fact, you attacked pro-life women. And this was in a brief that you wrote. You described them, and I'm quoting: 'Hostile, noisy crowd of in-your-face protesters.' And you advocated against these women's First Amendment right to express their sincerely held views regarding the sanctity of each individual life."
Shortly afterward, Blackburn, who described herself as "a pro-life woman," said she finds it "incredibly concerning" that a nominee to be a lifetime Supreme Court justice has "such a hostile view" toward pro-life sentiment. And Blackburn asked Jackson if she thinks of pro-life women at church, or even Blackburn herself, as noisy, hostile and in-your-face. 
Facts First: Blackburn mischaracterized what this 2001 legal brief said. It did not broadly describe pro-life women as hostile, noisy or in-your-face. Rather, Jackson and her co-authors used the phrase "hostile, noisy crowd of 'in-your-face' protesters" specifically to describe pro-life activists who confront patients outside reproductive health clinics. The brief was written on behalf of clients who operated and supported these clinics.
The Massachusetts case was about "buffer zones" outside clinics, areas in which pro-life protesters would be prohibited from approaching patients. The brief Jackson co-authored as a young associate — along with partners at her firm – said this:
"Few American citizens who seek to exercise constitutionally protected rights must run a gauntlet through a hostile, noisy crowd of 'in-your-face' protesters. Still fewer citizens, when seeking medical or surgical care — particularly care involving deeply private matters — must confront a crowd swarming around them, shouting in their faces, blocking their way, and thrusting disturbing photographs and objects at them. Yet on any given day, patients of reproductive health clinics may face all of these."
So "hostile, noisy crowd of 'in-your-face' protesters" was clearly not a general description of Americans who oppose abortion. 
Jackson explained to Blackburn on Tuesday that the case was about buffer zones and that she had used this language on behalf of clients.
"Senator," she said, "I drafted a brief along with the partners in my law firm, who reviewed it, and we filed it on behalf of our client, in — to advance our clients' arguments that they wanted to make in the case."
1 hr 6 min ago
Senate Majority Leader Chuck Schumer is attending Jackson's hearing
From CNN's Ted Barrett, Ali Zaslav, Clare Foran and Ariane De Vogue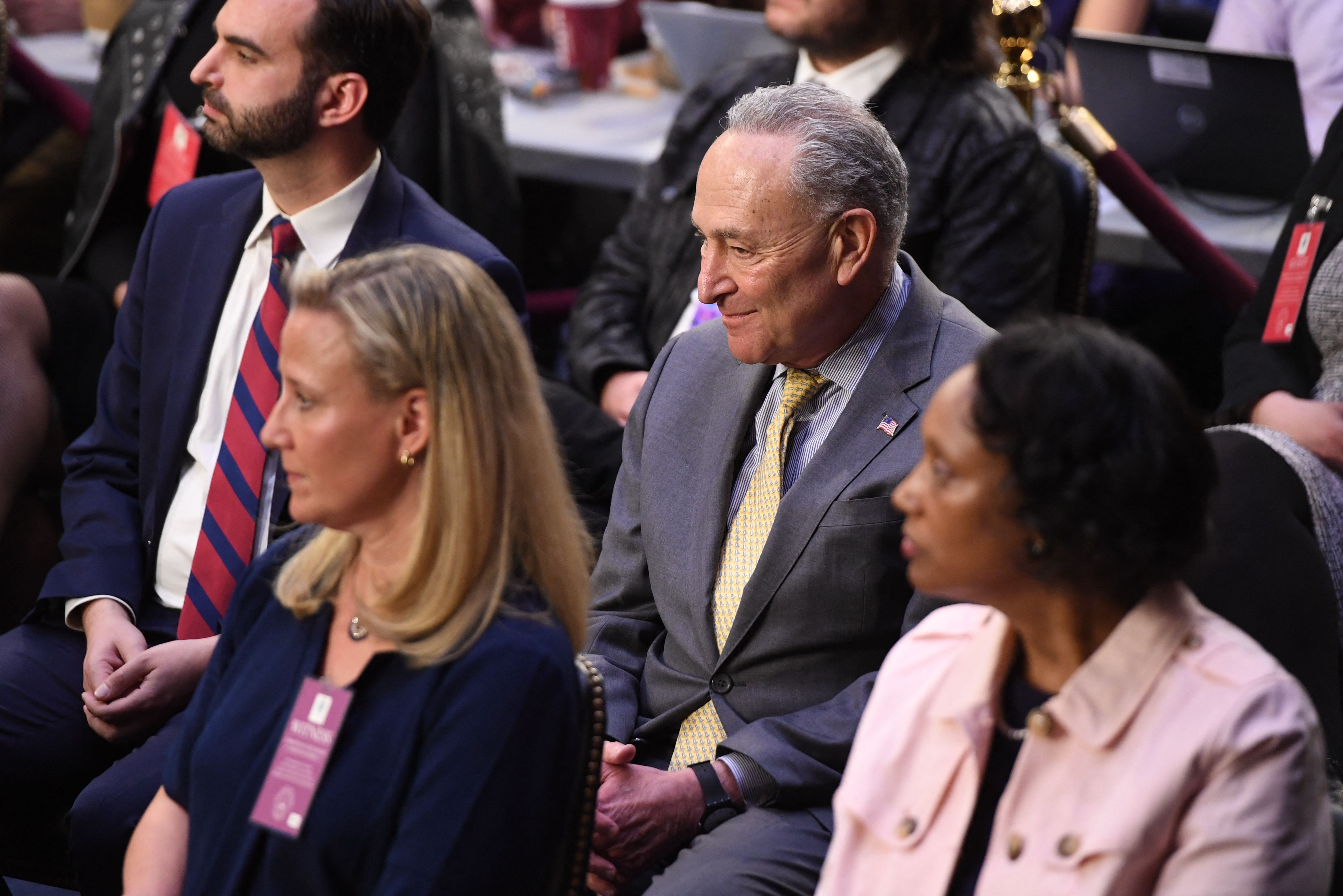 Senate Majority Leader Chuck Schumer is attending Supreme Court nominee Judge Ketanji Brown Jackson's hearing in the Senate Judiciary Committee.
He is not expected to speak, but has taken a seat in the room (two rows behind the nominee) to observe. 
Schumer on Monday said that he remains confident "the Senate is on track to confirm Judge Jackson as the 116th Justice of the Supreme Court by the end of this work period," which is early April.
Yesterday, Schumer called some of his Republican colleagues "respectful" in their questioning of Jackson but told reporters that others have attacked her unfairly.
CNN's Ariane De Vogue tweeted a photo:
CNN's Lauren Fox contributed reporting to this post.
1 hr 42 min ago
Mitch McConnell criticizes Jackson's testimony
From CNN's Ted Barrett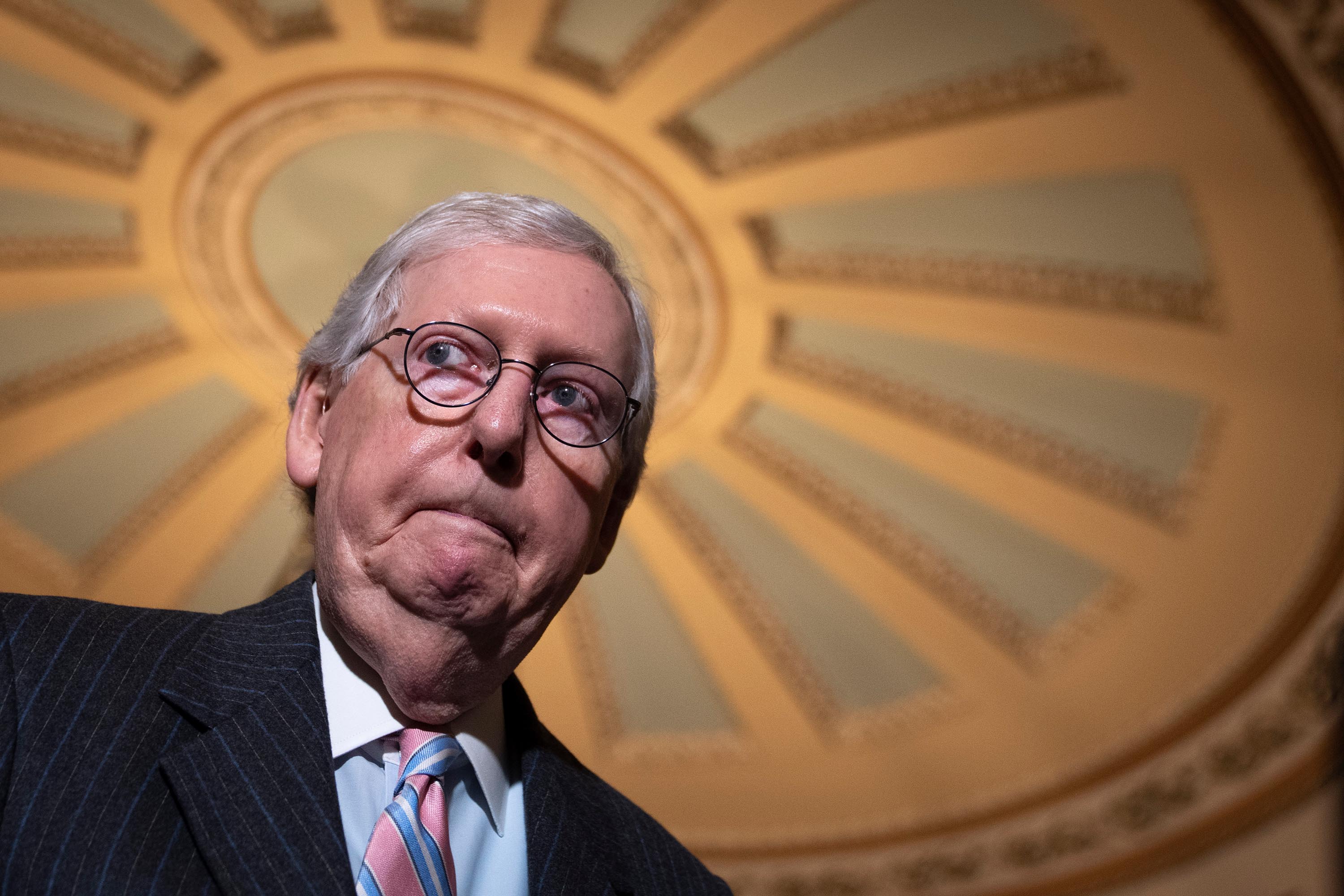 Senate Minority Leader Mitch McConnell sharply criticized the testimony of Judge Ketanji Brown Jackson at her Supreme Court confirmation hearing, saying she was evasive on issues like court packing and her judicial philosophy and that she struggled to explain what he claimed were lenient sentences she handed down to people convicted in child pornography and drug distribution cases.  
It is highly unlikely the Senate's Republican leader would support President Biden's nominee, though he has not said so publicly.
"Judge Jackson's responses have been evasive and unclear. She's declined to address critically important questions and ameliorate real concerns. First and foremost is a simple question of court packing," McConnell said, adding that progressive groups that support Jackson's nomination also support expanding the court.
"The nominee made sure to quietly signal openness, openness to the radicals' position. She told senators, she could see both sides of the court packing debate."
On Tuesday, Jackson, just as Justice Amy Coney Barrett did during her confirmation hearing in 2020, declined to comment on the idea of court packing, or adding justices to the Supreme Court beyond the current nine, saying that's a question for Congress to consider.
"My north star is the consideration of the proper role of a judge in our constitutional scheme," Jackson said Tuesday. "In my view judges should not be speaking to political issues, and certainly not a nominee to the Supreme Court."
Read more about McConnell's standing in the GOP here:
1 hr 54 min ago
Justice Clarence Thomas misses third day of oral arguments
From CNN's Ariane de Vogue
As Judge Ketanji Brown Jackson's hearings continue Wednesday, news from across the street at the Supreme Court, where Justice Clarence Thomas missed a third day of oral arguments.
Thomas entered Sibley Memorial Hospital in Washington, DC, Friday after experiencing flu-like symptoms and has been treated for what a court spokesperson described as an infection.
The court announced Thomas' hospitalization on Sunday and has declined repeated requests for updates on his health since then. When asked Wednesday about his status, Patricia McCabe, the court's public information officer, said: "No update."
Chief Justice John Roberts said in open court on Wednesday, as he has done since the beginning of the week, that Thomas would read briefs and transcripts of oral arguments.
All nine justices are fully vaccinated and boosted against Covid-19.
2 hr 1 min ago
Each senator on the panel will now have 20 minutes for additional questions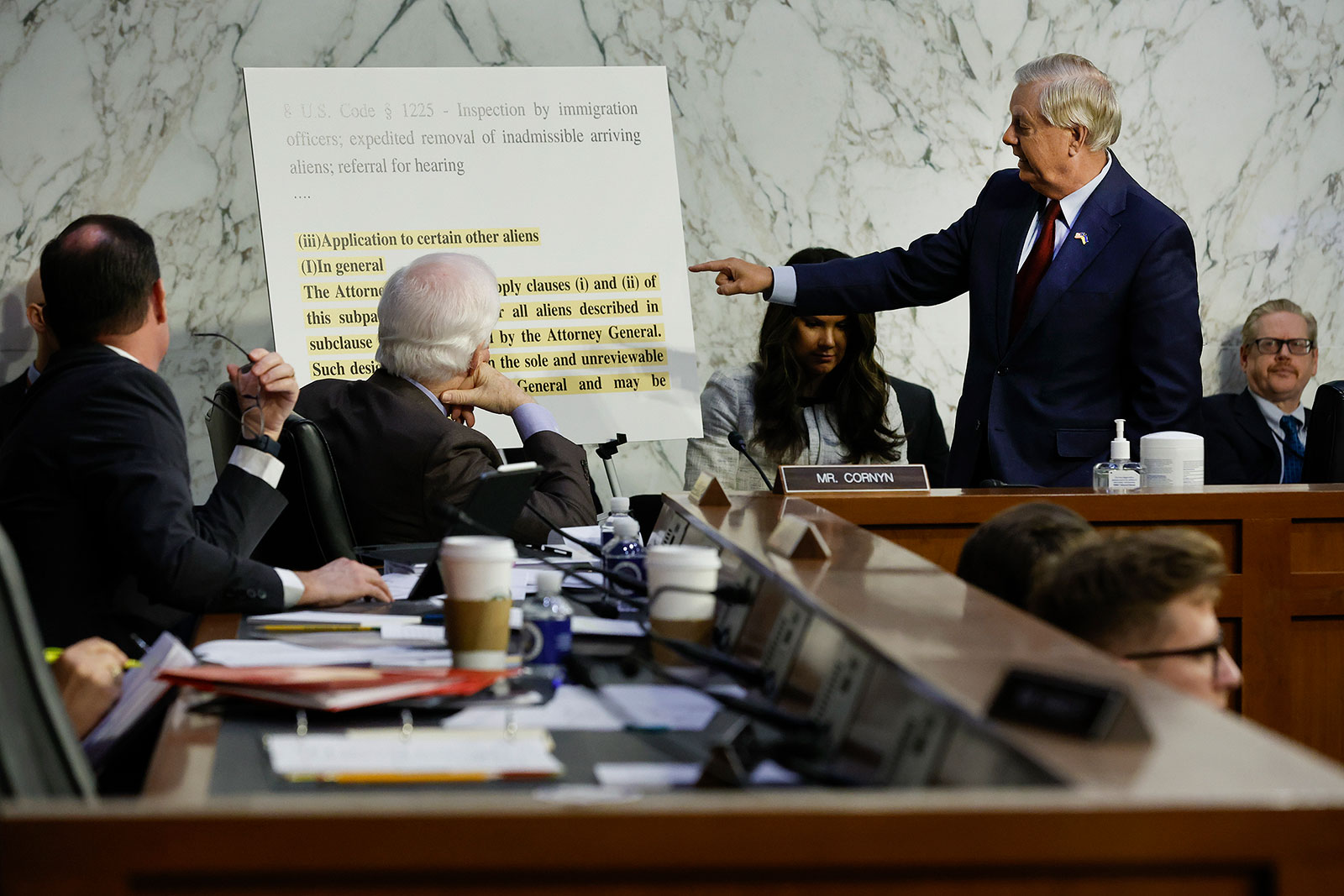 Each member of the Senate Judiciary Committee will now have 20 minutes each to ask additional questions to Supreme Court nominee Ketanji Brown Jackson.
GOP Sen. Lindsey Graham of South Carolina is questioning the nominee now. You can see who is on the committee here.
Earlier in today's hearing, two remaining senators from the panel — Democrat Jon Ossoff of Georgia and GOP Thom Tillis of North Carolina — had 30 minutes to ask questions as they did not question the nominee on Tuesday.
2 hr 28 min ago
Jackson: A diverse judicial branch "bolsters public confidence in our system"
From CNN's Tierney Sneed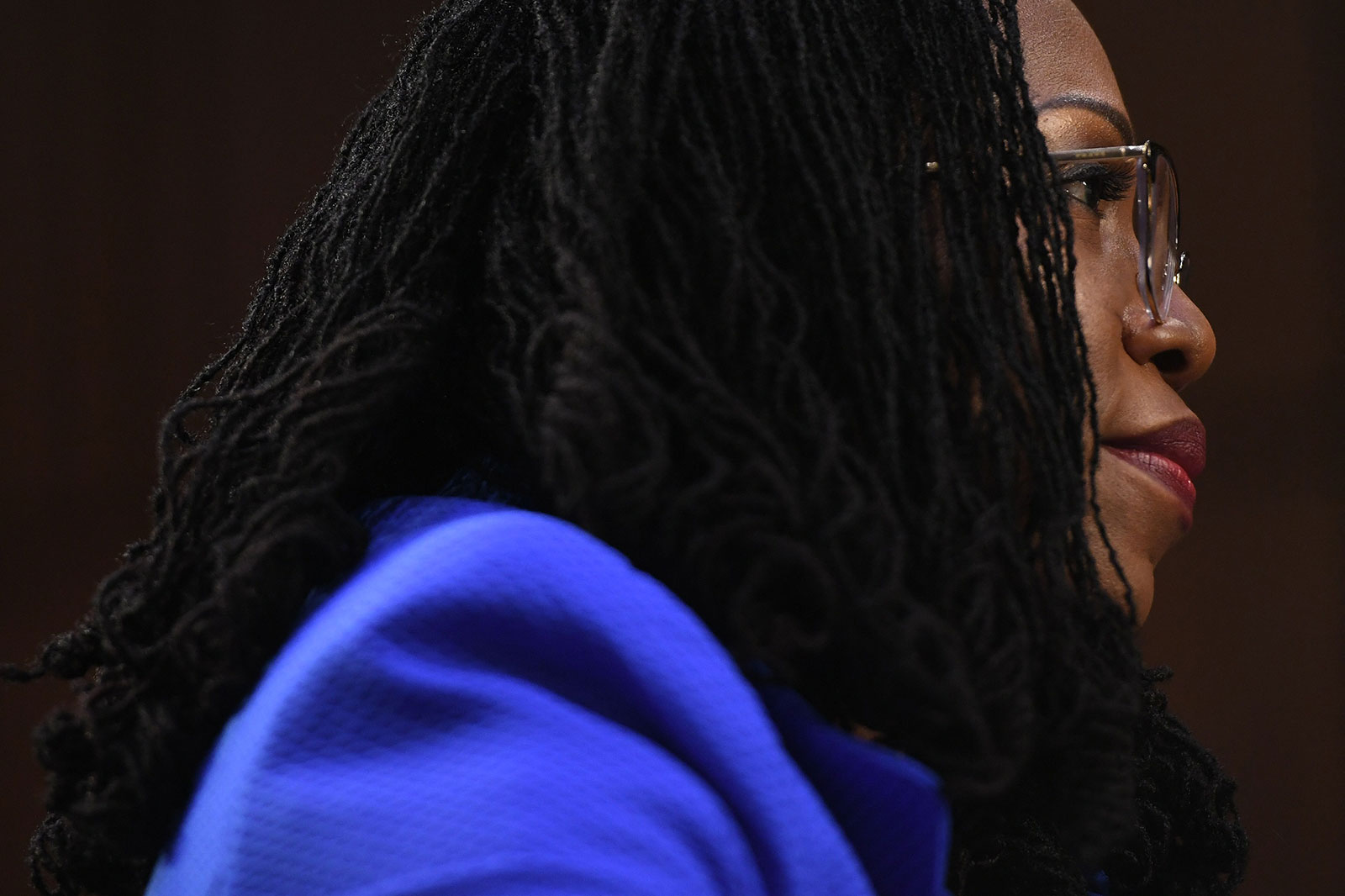 As the Senate weighs whether to make Judge Ketanji Brown Jackson the first Black female justice, she told the Judiciary Committee that a diverse judicial branch "lends and bolsters public confidence in our system."
"We have a diverse society in the United States," Jackson said. "There are people from all over who come to this great nation and make their lives and when people see that the judicial branch is comprised of a variety of people who are, have taken the oath to protect the Constitution and who are doing their best to interpret the laws consistent with that oath, it lends confidence that the rulings that the judge, that, that the court is handing down are fair and just, that everything has been considered, that no one is being excluded because of a characteristic like race or gender or anything else."
She also discussed the impact diversity on the bench has on role-modeling.
"I have been so touched by the numbers of people who've reached out to me in this period of time, to say how much it has meant to their daughters, to their sons, to the next generation, that I've been appointed, to nominated and hopefully confirmed," she said.
In a new Monmouth University survey, 69% of Americans say it's at least somewhat important for the Supreme Court to look like the racial, ethnic and gender composition of the country as a whole, with 46% saying it's very important. Read more here.