Magic Johnson is now a billionaire, according to Forbes. Johnson, who is 64, becomes the fourth athlete to earn billionaire status on the Forbes list, following Michael Jordan, LeBron James and Tiger Woods.
Forbes says Johnson made $40 million playing in the NBA, but most of his wealth doesn't come from basketball. Johnson's career as a businessman took flight with savvy investments in the Los Angeles Lakers and Starbucks. He is now the chairman and CEO of Magic Johnson Enterprises.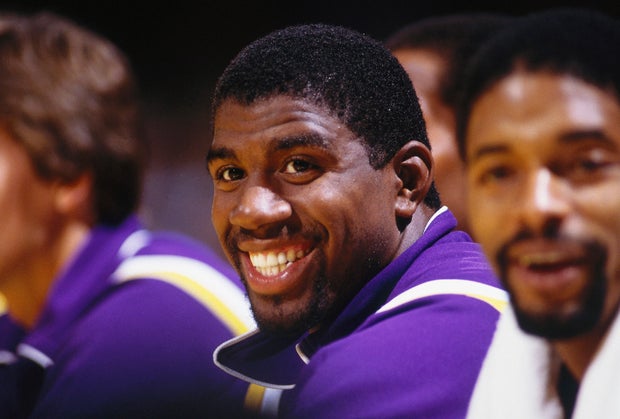 Johnson played 12 seasons with the Lakers from 1979 to 1991, then retired abruptly after he was diagnosed with HIV. Johnson returned for one more season in 1995 before retiring again. 
In 1994, Johnson bought a 4.5% stake in the Los Angeles Lakers for $10 million, which he sold in 2010, right before NBA team values exploded. Forbes estimates that Johnson's stake in the Lakers in 2010 was worth $29 million, but his stake today would be worth more than $265 million.
In another of his early business ventures, he teamed up with Sony Pictures to launch Magic Johnson Theaters.
And in 1998, Johnson established a 50/50 joint venture with Starbucks to open more than 100 locations in Black neighborhoods around the country. By 2010, he sold the locations back to the company for a reported $75 million in profit, according to Forbes. 
The theater chain and the Starbucks deal "served as catalysts for redevelopment in urban communities, and are widely recognized as the corporate blueprint for engagement and success with urban consumers across America," his company website says.
Before Johnson became one of the greatest NBA players of all time, he had to make some critical financial decisions. In 1979, when he was only 20 years old, he turned down an endorsement deal from Nike that included royalties on shoe sales and a considerable amount of company stock. Favoring guaranteed money, Johnson signed with Converse instead. Had he signed with Nike, his current valuation by Forbes of $1.2 billion would most likely be much higher, the magazine reports.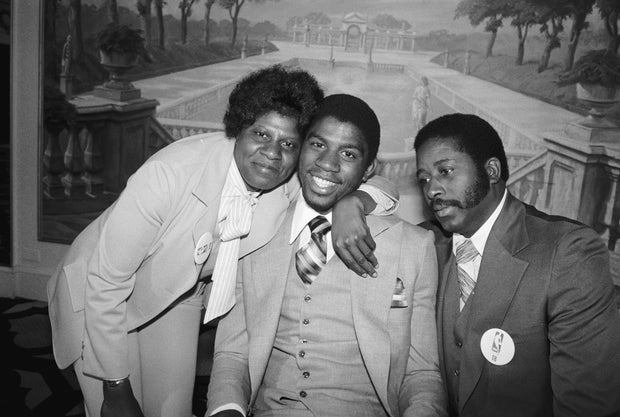 But the money Johnson made from the Lakers and Starbucks gave him the freedom to buy a 2.3% share of the Los Angeles Dodgers in 2012 for $50 million. Forbes estimates that share has now more than doubled in value. 
That same year, Johnson invested in Simply Healthcare, which was launching a Medicaid plan for people with HIV and AIDS, according to Forbes. When the company sold for $1 billion, Johnson bought a 60% stake in EquiTrust Life Insurance, which Forbes says remains his most lucrative investment to date. Since Johnson took over, the company's total assets grew from $16 billion to $26 billion. EquiTrust now brings in around $2.6 billion in revenue a year, per Forbes.
Johnson also has investments in other professional sports teams, such as the NFL's Washington Commanders, WNBA's Los Angeles Sparks, and MLS's LAFC.
Thanks for reading CBS NEWS.
Create your free account or log in
for more features.