16 min ago
Fighting continues around Kyiv suburbs
From CNN's Vasco Cotovio, Fred Pleitgen and Byron Blunt in Kyiv
Intense fighting continued around the suburbs of Kyiv on Tuesday afternoon, especially in the northwest and northeast of the city, despite an announcement by both Ukrainian and Russian officials that Moscow was pulling some units away from both the capital and Chernihiv.
A CNN team visiting a residential area close to the frontlines (5km away from Irpin) in the Eastern part of the capital, heard loud and frequent incoming and outgoing artillery thuds. Multiple Rocket Launch systems could also be heard sporadically.
In the city center, air raid sirens and artillery thuds could also be heard with the same intensity and frequency as in previous days.
At a nearby checkpoint, a member of the Ukrainian Territorial Defense forces, Yuryi Matsarski, told CNN the fighting had not decreased in the past 24 hours.
"[There was shelling] all the time yesterday. There was a lot of shelling at night and also today in the morning and right now, in the evening," he said. "As far as I understand, no targets hit here in Kyiv, so our anti-rocket system is doing its very best."
Residents that CNN spoke with said they were suspicious of Russia's announcement that it was withdrawing some of its forces from the region, adding that Moscow could not be trusted.
24 min ago
At least 12 dead in Russian strike on government building in Mykolaiv, Ukrainian State Emergency Services says
From CNN's Ben Wedeman and Kareem Khadder in Mykolaiv
At least 12 people were killed and 33 injured in a Russian strike on the office of the regional military governor of Ukraine's southwestern Mykolaiv region on Tuesday, Ukraine's State Emergency Services said.
This death toll is an increase to earlier figures provided earlier Tuesday by the Mykolaiv regional media office telegram channel.
More on the strike: The Russian strike demolished half of the building, Gov. Vitalii Kim said.
"They [the Russians] hit the building of the regional administration, demolished half of the building, hit my office. Most people were miraculously saved," Kim said in a statement on Telegram.
The State Emergency Service of Ukraine said the strike hit the nine-story building Tuesday morning at about 8.45 a.m. local time. 
26 min ago
China's position has "given political support" to Russia's aggression against Ukraine, EU lawmaker says
From CNN's James Frater in Brussels 
A top European Union lawmaker on Tuesday said that "as a consequence of its principal position, China has given political support to the Russian aggression against Ukraine." 
"The way in which China handles this conflict will have bearing on the future overall of the EU/China relationship," said Reinhard Butikofer, head of the European Parliament's delegation for relations with China. 
Speaking to journalists ahead of a high-level summit between the EU and China on Friday, Butikofer said, "The veil is threadbare and it fools no one." He added that he hoped that European leaders would "push hard to make China understand that Europe expects them to refrain from further supporting Russia." 
"I would say that we have to convincingly tell the Chinese side that for us, this is not just a sideshow, this is not just an unnecessary conflict that will be forgotten tomorrow," the German politician said. 
"This is a very fundamental conflict, because it breaches the principles on which the European security and stability order has been built over the decades." 
When asked if he thought China was helping Russia evade sanctions, he said, "China's commercial banks have refrained from obviously breaching the sanctions against Russia. 
"I don't think it's possible to say yet how much China has been helping Russia to overcome the sanctions," he concluded. 
At Friday's summit, the EU will be represented by European Council President Charles Michel and European Commission President Ursula von der Leyen and will meet virtually with Chinese Prime Minister Li Keqiang before speaking with Chinese President Xi Jinping later in the day. 
The European Council said in a statement that "the main focus of the summit will be on the war in Ukraine, the engagement of the international community to support Ukraine," as well as the "dramatic humanitarian crisis created by Russia's aggression, its destabilizing nature for the international order and its inherent global impact." 
The two sides will also discuss human rights, climate change, biodiversity and trade, it said. 
6 min ago
Biden on Russia's claim it will reduce Kyiv assault: "We'll see if they follow through"
From CNN's Allie Malloy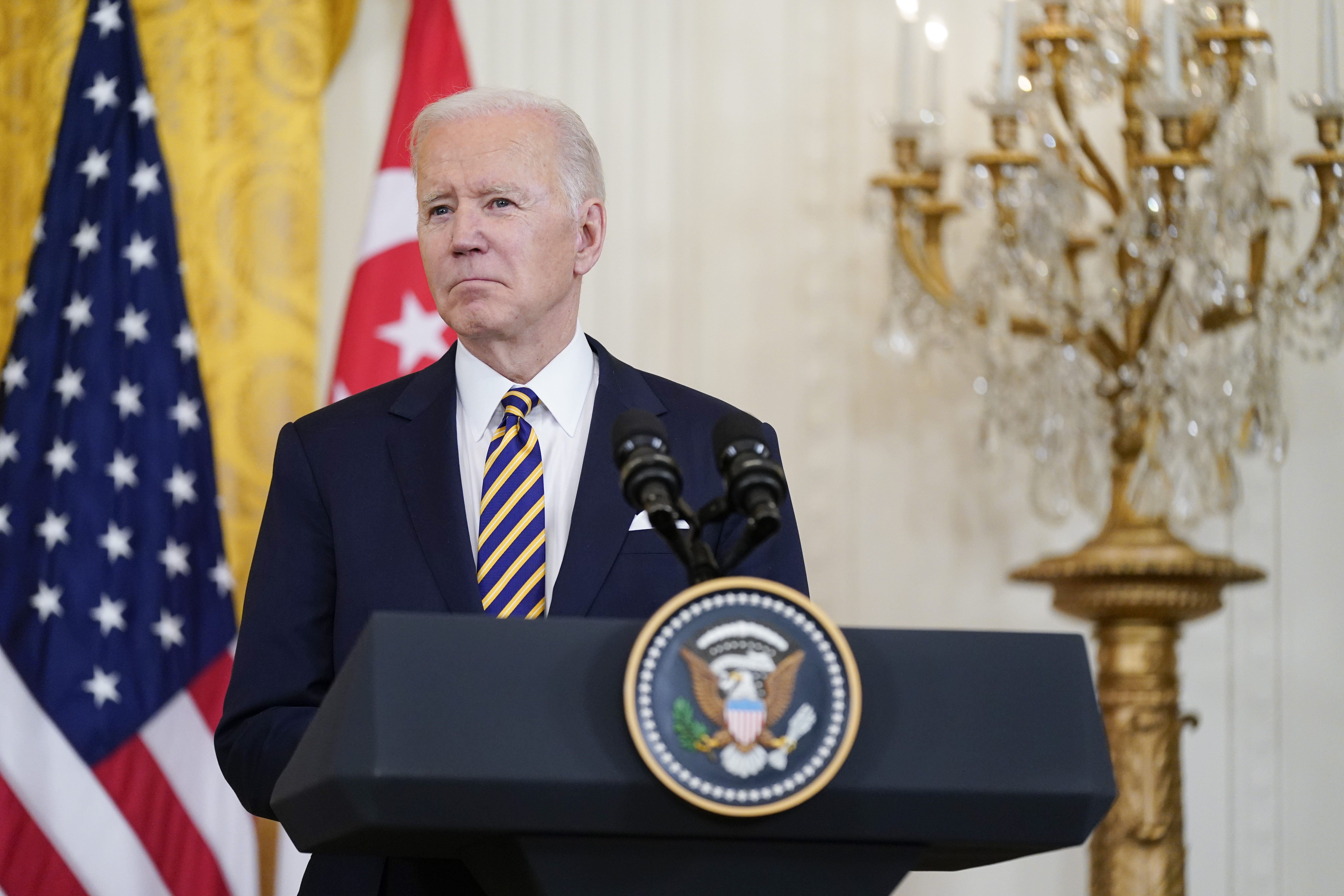 US President Joe Biden, when asked to respond to Russia's claim it will "reduce" its assault on the Ukrainian capital of Kyiv, told reporters Tuesday, "We'll see. I don't read anything into it until I see what their actions are."
"We'll see if they follow through what they're suggesting," Biden continued in his answer after he was asked whether Russia appearing to scale back its military operations in Kyiv is possibly the war coming to the end or Russia trying to buy time.
Biden also noted that in his call Tuesday morning with the leaders of France, Germany, Italy and Great Britain that were was a "consensus" among the leaders to "let's just see what they have to offer. We'll find out what they do."
"In the meantime, we're gonna continue to keep strong the sanctions. We're gonna continue to provide the Ukrainian military with their capacity to defend themselves and we're gonna continue to keep a close eye on what's going on," Biden added.
37 min ago
Russia claims "advances" in negotiations with Ukraine, French government source says 
From CNN's Joseph Ataman and Camille Knight in Paris 
Russian negotiators have claimed that negotiations with Ukraine have seen "advances," an Élysée source said, following an hour-long call between French President Emmanuel Macron and his Russian counterpart Vladimir Putin on Tuesday.  
The source did not explain what those advances were, but added that Macron is due to speak to Ukrainian President Volodymyr Zelenksy in the "coming hours or days" to get the Ukrainian perspective on the negotiations.  
The source said that the humanitarian situation in Mariupol, the city in southeast Ukraine besieged by Russian forces, was "catastrophic," adding that "freedom of movement of civilians does not exist." 
During the call with Putin, Macron demanded a new ceasefire that would permit civilians to leave Mariupol "in whichever direction they please," in addition to humanitarian access for those still in the city, according to the source. Putin said that he would "reflect [on the demands] and come back" to the French side, the source said.  
Nearly 170,000 civilians remain in Mariupol, the source said, with "enormous problems of humanitarian access" to the city, adding that carrying out a humanitarian operation sought by France is not possible at this stage since there is no ceasefire. 
Following demands from the Kremlin for European countries to pay for Russian gas in rubles, Macron reconfirmed to Putin during the call that it was not possible, the source said.  
53 min ago
Biden and European allies affirmed "determination to continue raising costs on Russia" in call
From CNN's DJ Judd
US President Joe Biden and his counterparts in France, Germany, Italy and the UK "affirmed their determination to continue raising costs on Russia for its brutal attacks in Ukraine, as well as to continue supplying Ukraine with security assistance to defend itself against this unjustified and unprovoked assault," on a call this morning, according to a White House statement. 
"They reviewed their efforts to provide humanitarian assistance to the millions affected by the violence, both inside Ukraine and seeking refuge in other countries, and underscored the need for humanitarian access to civilians in Mariupol," according to the White House. "They also discussed the importance of supporting stable energy markets in light of current disruptions due to sanctions."
Earlier, a spokesperson for British Prime Minister Boris Johnson said the leaders agree on the ongoing need to "support and sustain" the people of Ukraine against "Russian barbarism."
"The Prime Minister underscored that we must judge Putin's regime by their actions not their words. Putin is twisting the knife in the open wound of Ukraine in an attempt to force the country and its allies to capitulate," the spokesperson added. 
CNN's Luke McGee contributed reporting to this post.
1 hr 2 min ago
Biden and Singapore prime minister issue joint statement condemning Russian invasion of Ukraine
From CNN's DJ Judd
US President Joe Biden and Singapore Prime Minister Lee Hsien Loong in a statement Tuesday said following today's meeting the two nations "recognize that threats to the UN Charter and rules-based international order anywhere, including Russia's unprovoked attack on Ukraine, place peace and prosperity everywhere at risk." 
"The war in Ukraine has a negative impact on the Indo-Pacific region, which already faces many complex challenges. Taken together, the opportunities and challenges of the 21st century demand deeper cooperation between us," the two leaders wrote.
Per the White House, the two "resolve to further expand bilateral cooperation, taking bold new steps to drive broad-based economic growth and innovation, raise infrastructure standards in the region, address the climate crisis, promote health security, increase supply chain resilience, improve cybersecurity, ensure the long-term sustainability of outer space activities, and more." 
On Ukraine, they "emphasize our unwavering commitment to the principles of sovereignty, independence, and territorial integrity, and condemn Russia's unprovoked invasion of Ukraine, which clearly violates international law, including the United Nations Charter," and "recognize the need to preserve a world in which borders cannot be changed by force and state-to-state relations are guided by international law."
The two leaders also condemned the military coup in Myanmar, adding the two nations "continue to call for an end to violence against civilians in Myanmar, the release of all political detainees, including State Counsellor Aung San Suu Kyi, President Win Myint and foreign detainees; unhindered humanitarian access; and for Myanmar to return to its path of democratic transition."
The two leaders are expected to address reporters shortly from the White House.
1 hr 34 min ago
European countries expel Russian diplomats and intelligence officers
From CNN's Benjamin Brown, James Frater, Arnaud Siad, Emmet Lyons and Josh Pennington
Multiple countries announced Tuesday they are expelling Russian diplomats from their countries.
According to the Dutch Ministry of Foreign Affairs, the Netherlands expelled 17 Russian intelligence officers attached to Russian diplomats in the country. It said in a tweet the decision was based on information from Dutch intelligence and security services naming the Russian officers as a threat to national security. 
"This step was taken in coordination with other like-minded countries," it added.
The Russian Foreign Ministry confirmed that 17 diplomats were expelled, according to Russian state media TASS.
Belgium said it is expelling 21 Russian diplomats who have been identified as involved in espionage and "influence activities," Belgium's Foreign Affairs Minister Sophie Wilmes said.
Wilmes said the diplomats are from the Russian embassy and consulate.
Ireland and the Czech Republic also expelled a combined total of five Russian diplomats.
Ireland expelled four senior Russian diplomatic officials, Irish Minister for Foreign Affairs Simon Coveney said in a statement. Coveney said his ministry had informed the Russian ambassador of the government's decision to expel the diplomats due to their activities not being "in accordance with international standards of diplomatic behaviour." 
In the Czech Republic, one Russian diplomat at the embassy in Prague had been declared "persona non grata," the Czech Ministry of Foreign Affairs said, adding that together with their allies, they were "reducing the Russian intelligence presence in the EU." 
The Russian embassies in Ireland and Belgium condemned the moves, saying it will "not go unanswered." 
"This is arbitrary, groundless decision, which can only deteriorate further Russian-Irish relations already damaged by the Irish participation in illegitimate EU sanctions against Russia," the Russian embassy in Ireland said in a statement posted to its Twitter account.
Meanwhile, the Russian embassy in Belgium in a statement also called the move "a serious blow to Russian-Belgian relations [that] goes against the long-history of interaction between the two countries."
"This unfriendly action from the Belgian side will certainly not go unanswered," the statement read. 
1 hr 2 min ago
Analysis: Despite signs of progress in the latest Russia-Ukraine talks, many hurdles remain
Analysis by CNN's Tim Lister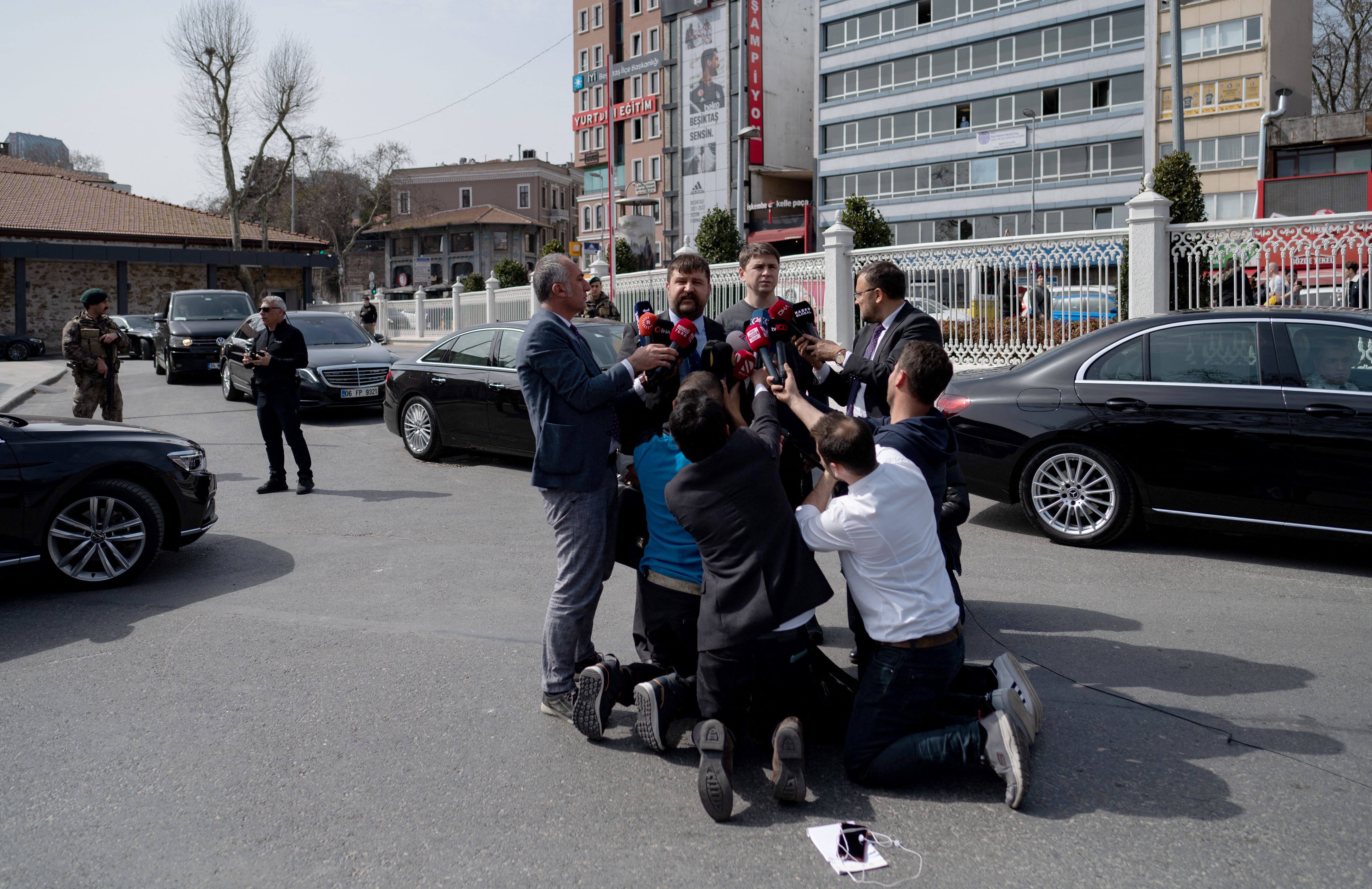 When the Russian and Ukrainian foreign ministers met in Turkey just 19 days ago, the atmosphere was toxic — and neither side got far beyond restating existing positions.
Today, at a meeting in Istanbul between Russian and Ukrainian teams, the atmospherics were a great deal more positive and the outlines, however faint, of an overall settlement to this horrendously destructive war, began to come into focus.
They included the future of Crimea and the Donbas region, Ukraine's neutral status, protected by security guarantees, a notable pull-back of Russian forces currently north of Kyiv and even the prospect of a meeting between Presidents Vladimir Putin and Volodymyr Zelensky.
The Ukrainian side accepted kicking into the long grass the status of Crimea, which Russia annexed in 2014.
Mykhailo Podolyak, an adviser to Zelensky, said of the future of Crimea, whose annexation has never been accepted by either Ukraine or other Western countries: "It was agreed in bilateral format to take a pause for 15 years and conduct bilateral talks on the status of these territories.
"Separately we discussed that during the 15 years while the bilateral talks take place there will be no military hostilities," he told reporters.
This would take one of the most contentious issues off the table for now.
Both sides seemed to be in a constructive mood. Podolyak said the Russian negotiators have "taken the treaty that outlines ways to end the war and will work out their counter proposals."
Russian news agency TASS quoted the head of the Russian delegation, Vladimir Medinsky, as saying that the talks were constructive. And he said that "Russia is taking two steps towards Ukraine for de-escalation."
The most immediate of those is the Russian declaration that hostilities against Chernihiv and in the direction of the Ukrainian capital, Kyiv, would be drastically reduced. Chernihiv, in northern Ukraine, has been surrounded by Russian forces and has suffered devastating destruction over the past three weeks.
As significantly, Medinsky said that the Ukrainian proposals were now sufficiently formulated for them to "be presented to the President. And our appropriate response will be given."
"Provided that the agreement is worked on quickly and a compromise is found, the opportunity to conclude peace will become closer," Medinsky said — the most upbeat assessment from a Russian official since the first round of talks at the end of February.
Russian officials have previously played down any involvement in the process of Putin, saying that more needed to be negotiated before the Russian leader personally sits down for direct talks.
Now, Russian state news agency RIA Novosti — citing the Russian delegation — spoke of the possibility of a meeting between Putin and Zelensky simultaneously with the initialing of the peace treaty by the foreign ministers of both countries.
Turkish Foreign Minister, Mevlüt Çavuşoğlu, who brokered the talks, sketched out a possible roadmap, with the "top priority of achieving a ceasefire as soon as possible to pave the way for a permanent political solution."
Those "trickier" issues would be bumped up to the Russian and Ukrainian foreign ministers to "make final adjustments to the common approach." And then a meeting between Putin and Zelensky would be on the agenda, he said in remarks to reporters after the talks.
An outline emerges: For Ukraine, security guarantees have always been a critical part of any settlement to the conflict. Gradually, President Zelensky and other Ukrainian officials have walked away from Ukraine's past insistence that it has the right — even the obligation — to apply for NATO membership, as is enshrined in the Ukrainian constitution.
Now a very different formulation is emerging.
One member of the Ukrainian team, Davyd Arakhamia, said after the meeting to Ukrainian TV: "We insist that this be an international treaty, signing all the guarantors of security, which will be ratified."
That treaty would have to be ratified by parliaments in the guarantor countries, according to Ukrainian officials, who are evidently building as much insurance into the mechanism as possible. The Ukrainians also want the guarantors to include the permanent members of the UN Security Council — Russia included.
The guarantees would be very specific, Arakhamia said. In the event of aggression or a military operation directed at Ukraine, "consultations should take place within three days."
"After that, the guarantor countries are obliged to help us. And military aid, and the armed forces, and weapons, and the closed sky — everything that we need so much now, and we cannot get it."
The Ukrainians are now looking at what might be called protected — and permanent — neutrality.
Read more here.