1 min ago
How Russia's control of territory in Ukraine has shifted
From CNN Staff, Natalie Croker, Byron Manley, Tim Lister and the CNN Data and Graphics team
The Ukrainian military's sudden and successful counter-attack in the Kharkiv region this month has left Russian forces controlling less Ukrainian land than they did after their first thrust into the country in February 2022, according to a CNN analysis of exclusive data from the Institute for the Study of War.
Russia's first massive push, which began on the night of Feb. 23, allowed it to secure or advance on one-fifth of Ukrainian territory, or about 119,000 square kilometers (46,000 square miles) of the total 603,500 square kilometers Ukraine claims and considers "temporarily occupied," the analysis shows.
Seven months after launching an invasion — one that Western officials thought would be over in days with an overrun Ukrainian capital — Russia controls roughly 3,000 square kilometers (about 1,864 miles) less land than it did in the first five days of the war, CNN found. (Unverified claims are excluded from the analysis.)
In a move to secure what it still controls, the Kremlin on Friday claimed to annex four Ukrainian regions, of which it has only partial control, adding to the seizure and annexure of the region of Crimea in 2014.
2 hr 56 min ago
Russian troops leave Lyman to avoid encirclement, Russian defense ministry says
From Darya Tarasova and Josh Pennington
Russian troops have withdrawn from the town of Lyman in eastern Ukraine to avoid being surrounded by Ukraine's army, the Russian Ministry of Defense said Saturday.
"In connection with the creation of a threat of encirclement, allied troops were withdrawn from the settlement of Krasny Liman to more advantageous lines," the defense ministry said on social media platform Telegram.
The Russian name for the town of Lyman is Krasny Liman.
Russia state media reported that the reason for the withdrawal was due to Western-made artillery and intelligence.
Russia-24 reporter Yevgeny Poddubny acknowledged the withdrawal and claimed the reason for it was that "the enemy used both Western-made artillery and intelligence from North Atlantic alliance countries."
2 hr 53 min ago
More than 20 civilians, including 10 children, killed in Russian convoy shelling, says regional authority
From Kostan Nechyporenko in Kyiv and Zayn Nabbi in London
The bodies of 22 civilians, including 10 children, were found following Russian shelling on a convoy of cars near the town of Kupiansk in eastern Ukraine, the Kharkiv regional prosecutor's office said Saturday.
"According to the data of investigators, the cars were shot by the Russian army on September 25, when civilians were trying to evacuate. Two cars burned completely. According to preliminary information, 22 people died, including 10 children. The investigation of the scene is ongoing," the office said on the social media platform Telegram.
"A pre-trial investigation was started," the statement continued, adding that on Friday prosecutors of the Security Service of Ukraine (SBU) "and the police discovered a convoy of seven cars that had been shot dead near the village of Kurylivka, Kupiansk district."
The SBU confirmed on Telegram they would be investigating a "war crime" of a "civilian convoy in the so-called 'grey zone' between occupied Svatove in Luhansk region and liberated Kupiansk in Kharkiv region" where it said at least 20 people died, including 10 children, in "a brutal attack."
CNN could not independently verify the allegations. 
There has been no official Russian response to the claims made by the Kharkiv Regional Prosecutor's Office and SBU.
3 hr 9 min ago
Zelensky thanks Biden for over $12 billion more in aid for Ukraine
From CNN's Duarte Mendonca in London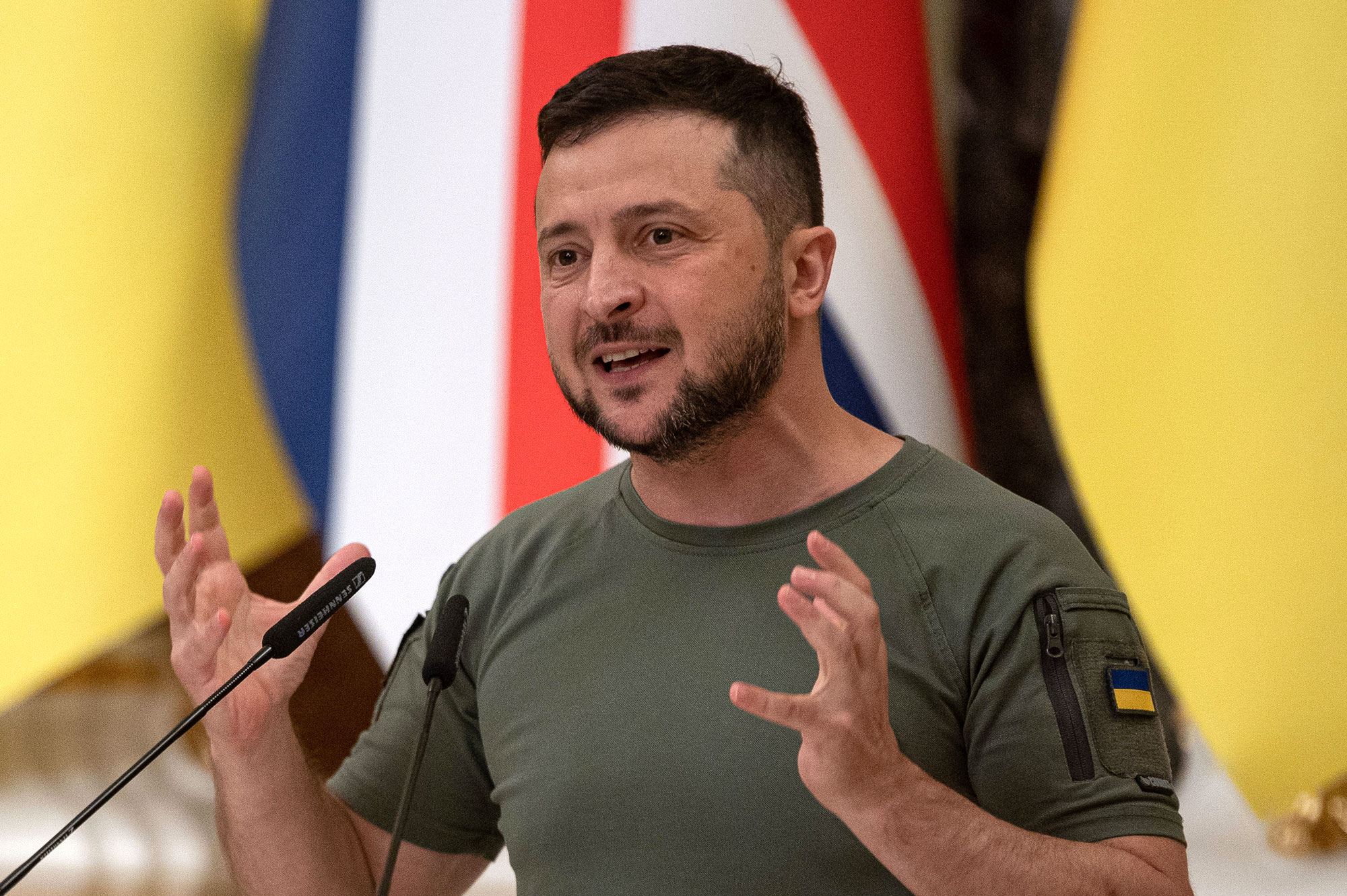 Ukrainian President Volodymyr Zelensky thanked his American counterpart Joe Biden on Saturday for signing a bill that approves an additional support to Ukraine of over $12 billion.  
Zelensky thanked the United States for their "powerful act of solidarity" towards the Ukrainian people. 
"The day before, the bill was backed by both houses of US Congress. We appreciate this powerful act of solidarity of the American people with Ukraine. And the bicameral and bipartisan support of our state," Zelensky added. 
The Ukrainian president emphasized the importance of the additional aid in the fight against Russia. 
"The law provides the financing of defense programs, as well as powerful direct budget support to Ukraine. This help is more important today than ever. We must continue to jointly oppose the aggression of the Russian Federation," Zelensky said. 
3 hr 5 min ago
Director of Zaporizhzhia nuclear power plant detained by Russian patrol, Ukrainian nuclear company says
From CNN's Kostan Nechyporenko in Kyiv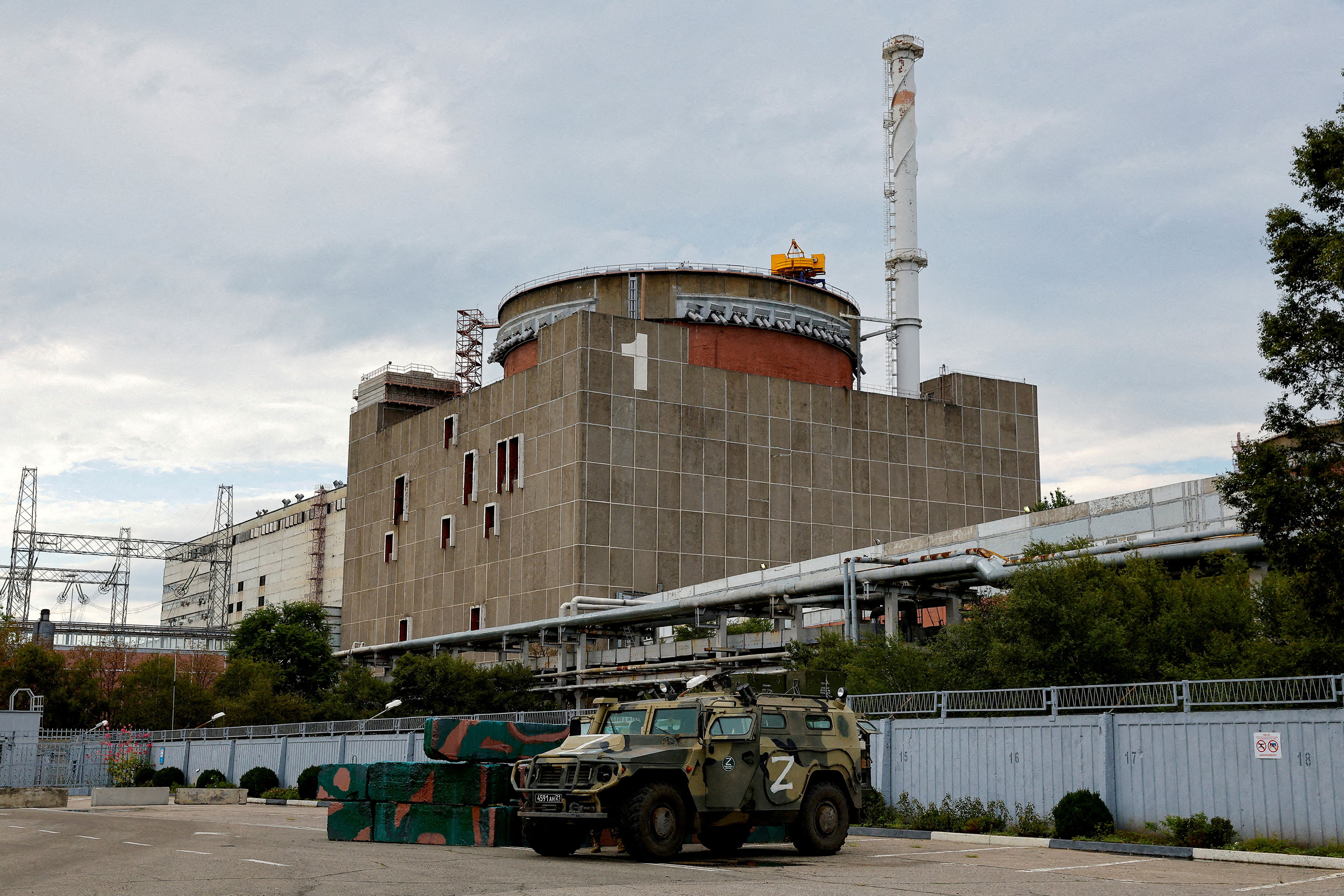 The director general of Ukraine's Zaporizhzhia nuclear power plant has been detained by a Russian patrol, the president of state nuclear company Energoatom, Petro Kotin, said in a statement on Saturday.
Director General Ihor Murashov was in his vehicle on his way from the plant when he was "stopped, he was taken out of the car, and with his eyes blindfolded he was driven in an unknown direction. For the time being there is no information on his fate," Kotin said. 
"Murashov is a licensed person and bears main and exclusive responsibility for the nuclear and radiation safety of the Zaporizhzhya NPP," Kotin said, adding that his detention "jeopardizes the safety of operation of Ukraine and Europe's largest nuclear power plant."
Kotin called on the Russians to release Murashov and urged the Director General of the International Atomic Energy Agency Rafael Grossi to "free" him.
Ukraine's Ministry of Foreign Affairs "strongly condemns the illegal detention" of Murashov in a statement released on its website Saturday. 
"This crime is another manifestation of state terrorism from the side of Russia and a gross violation of international law. Russia should immediately free the Director General of the Zaporizhzhia NPP," it said.  
"We call on the international community, in particular the UN, the IAEA and the G7, to also take decisive measures to this end," the statement added. 
Some background: The Zaporizhzhia plant has been a focal point in the war, as both the Russians and Ukrainians have blamed each of shelling near Europe's largest nuclear power station.
Since early March, when Russia captured the plant, international and local experts have voiced grave warnings, not only for the safety of the plant's workers, but also for fear of a nuclear disaster that could affect thousands of people in the surrounding area.
6 hr 9 min ago
Ukrainian flag raised at entrance to key Donetsk town of Lyman 
From Victoria Butenko, Kostan Nechyporenko and Andrew Carey in Kyiv
The Ukrainian flag has been raised at one of the entrances to the town of Lyman in the eastern part of Ukraine.
A video posted on social media and shared by President Volodymyr Zelensky's chief of staff shows two Ukrainian soldiers standing on a military vehicle attaching the flag with tape to a large sign with the word "Lyman."
"We are unfurling our country's flag and planting it on our land. On Lyman. Everything will be Ukraine," one of the soldiers said to the camera. 
The town — an important rail network hub — has been in Russian hands since late May and has been a focus of Ukraine's counteroffensive in the east for at least a week.
Even though Ukrainian soldiers appear to have a firm presence on the outskirts of the town, Ukrainian officials caution that heavy fighting continues.
Serhii Cherevatiy, an army spokesman, told CNN that while Russian forces inside the town were de-facto encircled, the situation remained "dynamic." 
Russian forces had tried to form convoys to break through the encirclement, he told CNN, but their attempts had been unsuccessful.
On Friday, Ukrainian forces claimed control over the village of Drobysheve, a settlement that neighbors Lyman.
Retaking Lyman would give Ukrainian forces a platform to push further east toward towns like Kreminna and Rubizhne in the Luhansk region.
5 hr 17 min ago
Ukrainian forces continue to encircle Lyman as troops enter neighboring village
From Kostan Nechyporenko in Kyiv and Duarte Mendonca in London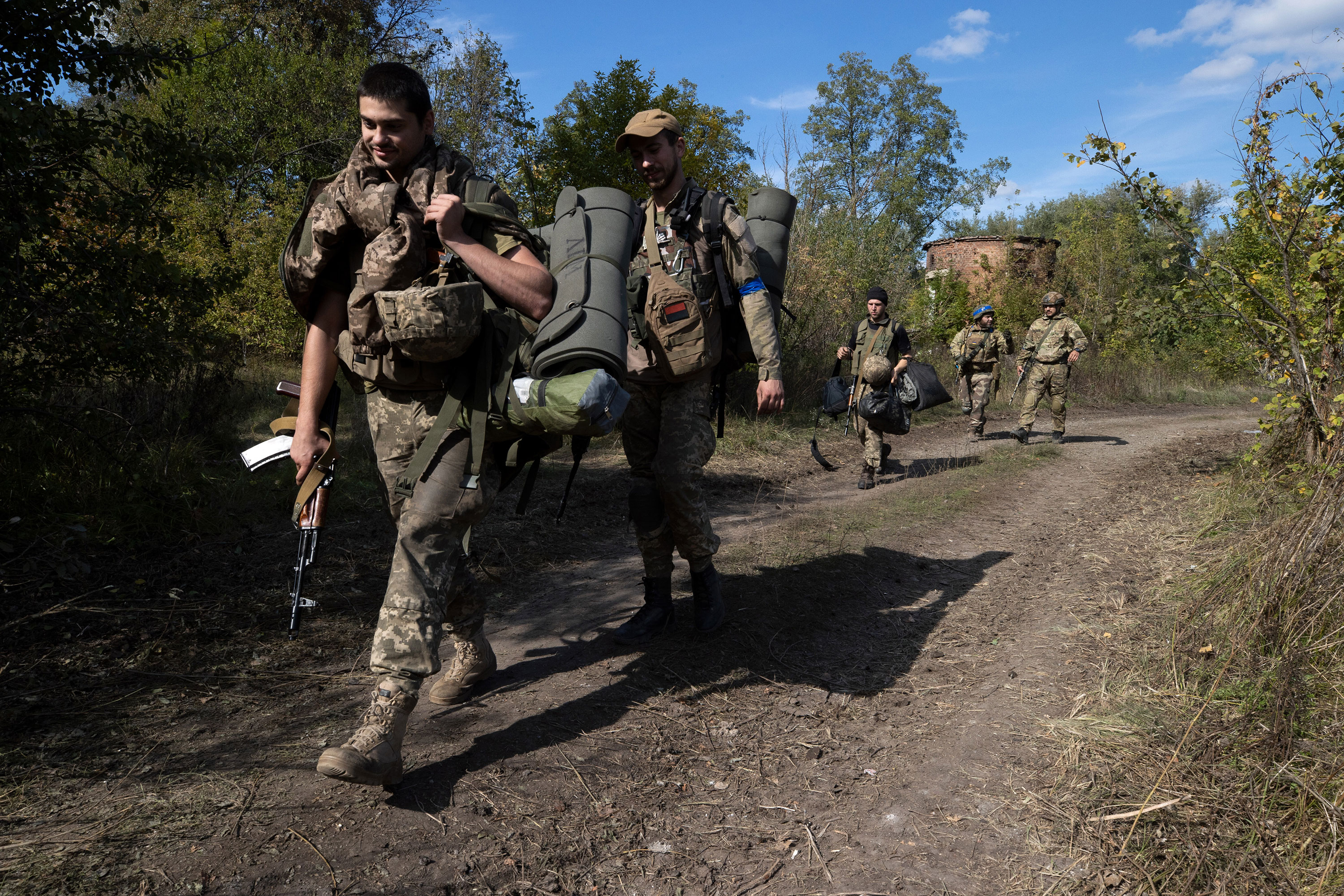 Ukrainian forces have entered Stavky, a village neighboring Lyman in the Kramatorsk district of Donetsk, Serhii Cherevatyi, the military spokesperson for the eastern grouping of Ukrainian forces, told local media on Saturday.
"The Russian group in the area of Lyman is surrounded. The settlements of Yampil, Novoselivka, Shandryholove, Drobysheve, and Stavky are liberated. Stabilization measures are ongoing there," Cherevatyi said in a televised press conference. 
"[The liberation] of Lyman is important, because it is another step towards the liberation of the Ukrainian Donbass. This is an opportunity to go further to Kreminna and Severodonetsk. Therefore, in turn, it is psychologically very important," he said.  
Cherevatyi said the Ukrainian troops actions are setting the tone to "break the course of these hostilities." 
"Yes, there are many killed and wounded among them. However, the operation is not yet complete. And only after its completion, the headquarters will conduct an analysis and give more significant results," he said.
Serhiy Hayday, the head of the Luhansk regional military administration, also spoke Saturday with further details on the Lyman takeover, suggesting Russian forces had offered to retreat, but to no avail from the Ukrainian side. 
"Occupiers asked [their command] for possibility to retreat, and they have been refused," Hayday said.  
"There are several thousand of them. Yes, about 5,000. There is no exact number yet. Five thousand is still a colossal grouping. There has never been such a large group in the encirclement before. All routes for the supply of ammunition or the retreat of the group are all completely blocked," he added. 
A Ukrainian member of Parliament and deputy head of the parliament's committee on national security, Yurii Mysiagin, referenced the move into Stavky on Saturday by publishing a video on social media platform Telegram showing a Ukrainian tank moving up the road with a clear sign indicating the region of Stavky. CNN could not independently verify the original source or the date. 
There has been no official Russian response to the fighting in the region.  
6 hr 28 min ago
Russia's claimed annexations could signal new phase of conflict
From CNN's Joshua Berlinger, Anna Chernova and Tim Lister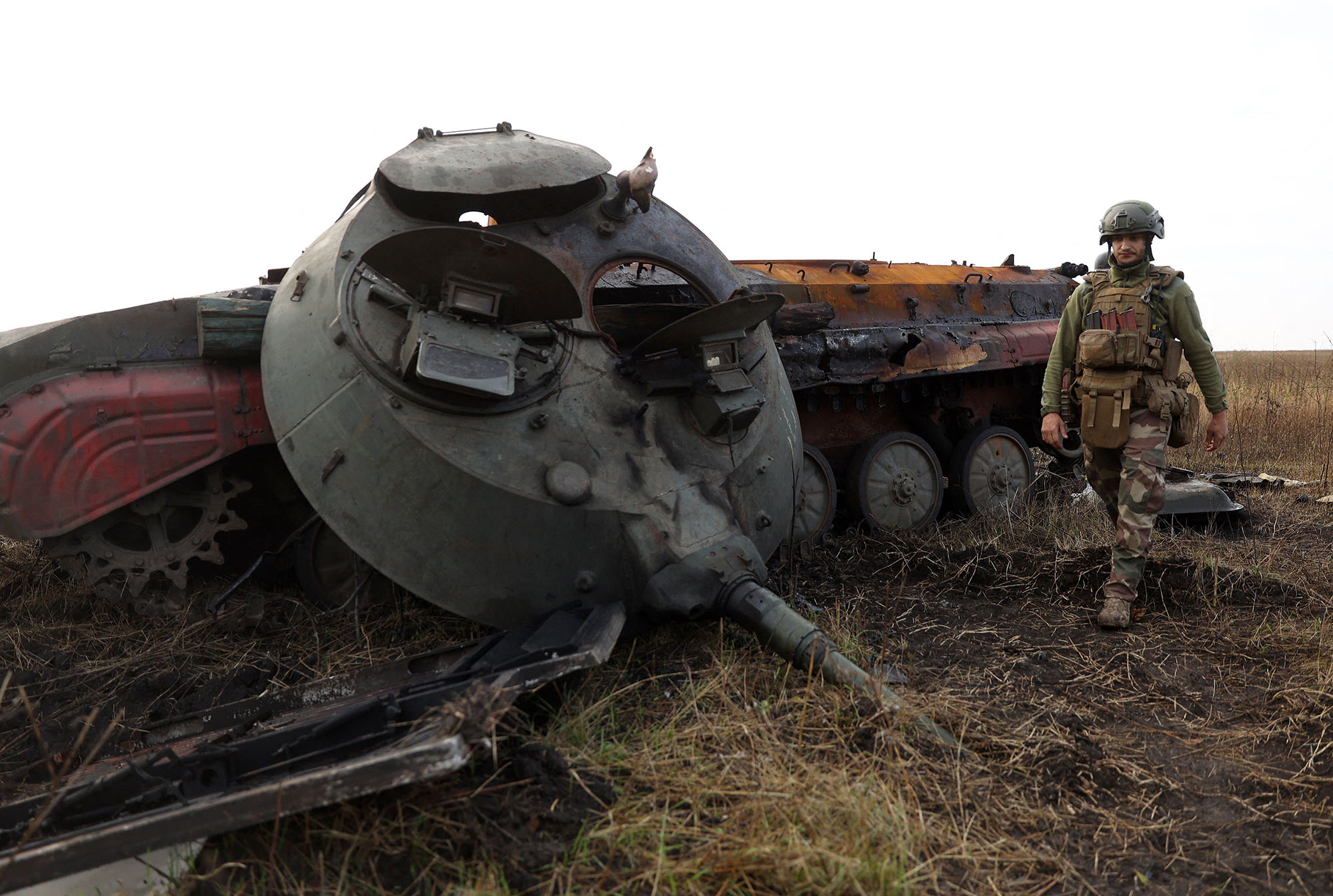 The annexations could lay the groundwork for a dangerous new phase in Russia's assault on Ukraine. Ukrainian forces have, in recent weeks, successfully expelled Russian forces from parts of Donetsk thanks in part to the advanced weaponry sent by the US and other allies. Kyiv now controls about 40% of Donetsk, though many towns and cities bear scars of war that will take years to heal.
Now that Russia formally recognizes Donetsk as its own territory, the Kremlin is likely to push forward to recapture it using some of the 300,000 Russian citizens who will be conscripted as part of a "partial mobilization" Putin announced last week.
"It will have to be liberated," said Dmitry Peskov, Putin's spokesman, shortly before the speech.
Putin said Friday that while he was willing to negotiate with Ukraine, the sovereignty of those four regions would not be on the table.
"I want the Kyiv authorities and their real masters in the West to hear me. For everyone to remember. People living in Luhansk and Donetsk, Kherson and Zaporizhzhia are becoming our citizens. Forever," the Russian president said during the annexation ceremony.
Putin has previously vowed to defend Russian territory "with all the means at our disposal," including nuclear weapons. US officials have said that they don't believe Putin would resort to tactical nuclear weapons – a type of bomb designed for use on the battlefield that is less powerful than traditional "strategic" nuclear weapons – though they cannot discount the possibility.
"We are looking very carefully to see if Russia is actually doing anything that suggests that they are contemplating the use of nuclear weapons. To date, we've not seen them take these actions," US Secretary of State Blinken said Friday.
6 hr 28 min ago
Putin declared annexation of 4 Ukrainian regions on Friday, which the West vowed to never recognize
From CNN's Joshua Berlinger, Anna Chernova and Tim Lister
President Vladimir Putin announced Russia would seize of nearly a fifth of Ukraine on Friday, declaring that the millions of people living there would be Russian citizens "forever."
Under the annexation process, which is illegal under international law, Moscow will recognize four Ukrainian regions as Russian territory: Luhansk and Donetsk – home to two Russian-backed breakaway republics where fighting has been ongoing since 2014 – as well as Kherson and Zaporizhzhia, two areas in southern Ukraine that have been occupied by Russian forces since shortly after the invasion began.
Putin's announcement, made in a formal speech at the Kremlin's opulent St. George's Hall on Friday, follows so-called referendums in the regions that were universally dismissed as "shams" by Ukraine and Western nations.
Putin, however, attempted to claim that the referendums reflected the will of "millions" of people, despite reports from the ground suggesting that voting took place essentially – and in some cases, literally – at gunpoint. Western leaders have slammed the polls, saying that they fail to meet internationally recognized standards of free and fair elections.
The annexation announcement was met with a similar outcry. Members of the G7 – Canada, France, Germany, Italy, Japan, the United Kingdom and the United States – and the European Union have vowed to never recognize Russian sovereignty over the regions and to impose sanctions on Russia. US Secretary of State Antony Blinken said Washington would place visa restrictions on 910 individuals in Russia and Belarus, while a Biden administration official said the White House would impose "swift and severe costs" on Russia. The British government said it would implement services sanctions and an export ban that target "Russian economic vulnerabilities."
Ukraine President Volodymyr Zelensky called the move a "farce" in a pre-recorded video statement released shortly after Putin's speech and vowed that "the entire territory of our country will be liberated." Zelensky also said his country would apply for NATO membership "under an accelerated procedure," but it's unclear how long such a process would take. New NATO members must meet a series of criteria for membership and be unanimously approved by current alliance members.
"We see who threatens us," Zelensky said. "It is in Ukraine that the fate of democracy in the confrontation with tyranny is being decided."