4 hr 20 min ago
US provided intel that helped Ukraine target Russian warship, sources say
From CNN's Natasha Bertrand and Katie Bo Lillis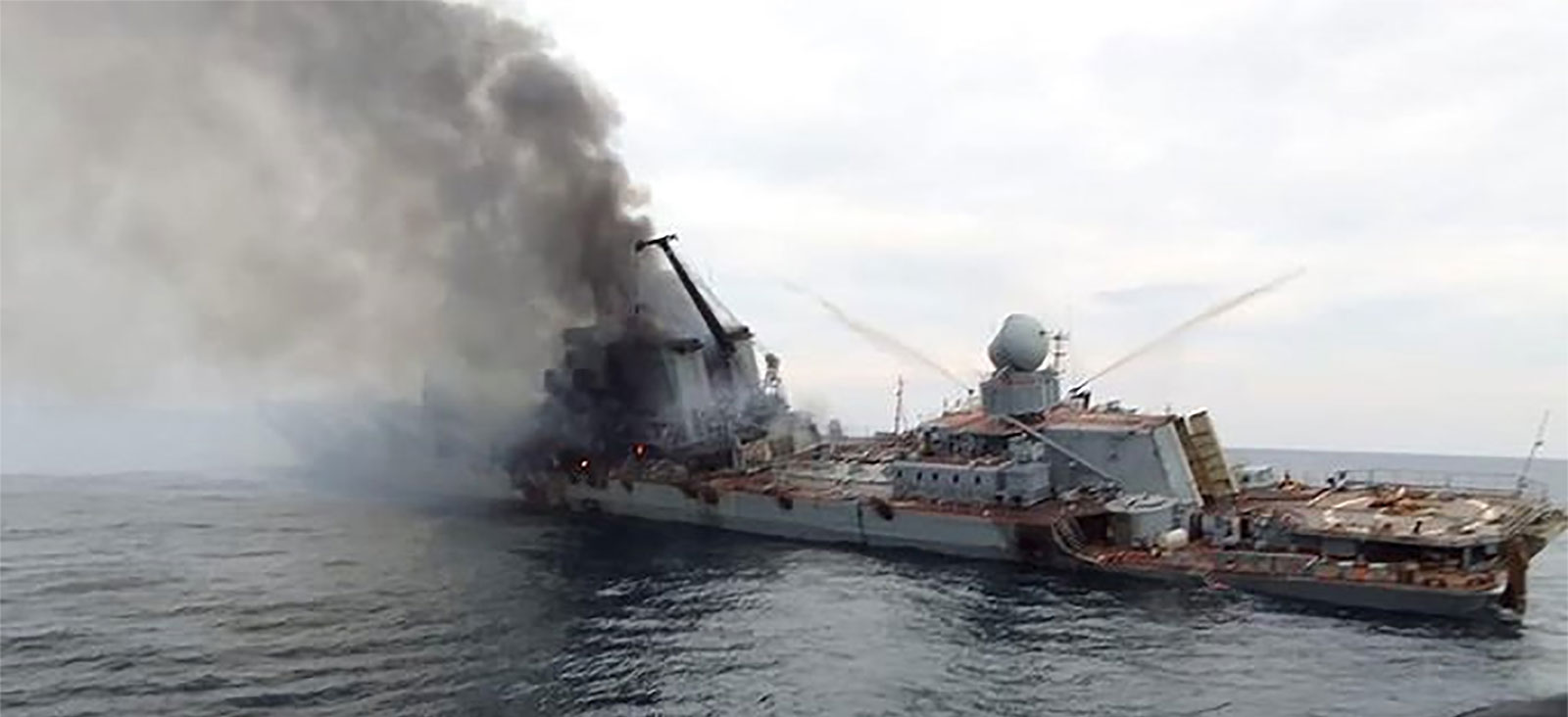 When Ukraine successfully targeted Russia's prized warship last month with anti-ship cruise missiles, they had some help from the United States.  
Ukrainian forces, having spotted a Russian warship in the Black Sea, called their American contacts for confirmation that it was in fact the Moskva, sources familiar with the events told CNN. The US responded that it was, and provided intelligence about its location.
It is not clear whether the US knew Ukraine would move to strike the ship, however, and the US was not involved in that decision, the sources said. 
The ship sank after it was struck by two Ukrainian cruise missiles on April 14, dealing a huge blow to the Russian military.
The episode, first reported by NBC News, reflects the Biden administration's increasingly forward-leaning posture when it comes to sharing intelligence with Ukraine, part of a broader policy shift toward helping Ukraine defeat Russia decisively on the battlefield and significantly weaken its military. 
But it also raises questions about what both the US and Russia's red lines are when it comes to US military support to Ukraine.  
The US has for months been providing Ukrainian forces with intelligence about Russian troop movements inside Ukraine, including intercepted communications about Russian military planning. It also provides Ukraine with maritime awareness information to allow them to better understand the threat posed by Russian ships in the Black Sea, many of which are firing missiles onto Ukrainian territory. 
There are also clear limits, however, to what the US will share, multiple sources told CNN. 
For example, the US has so far declined to provide information to Ukraine about potential targets inside Russia itself. And while the intelligence the US shares about Russian troop movements inside Ukraine can include details like vehicles and types of personnel at a particular location, the US has not provided Ukraine with intelligence about specific Russian military leaders' whereabouts, officials have said.  
"We do not provide intelligence on the location of senior military leaders on the battlefield or participate in the targeting decisions of the Ukrainian military," Pentagon press secretary John Kirby told reporters on Thursday. Kirby added that "Ukraine combines information that we and other partners provide with the intelligence that they themselves are gathering on the battlefield, and then they make their own decisions, and they take their own actions." 
5 hr 5 min ago
Russian shelling of the Azovstal plant is "not stopping," Zelensky says
From CNN's Niamh Kennedy in London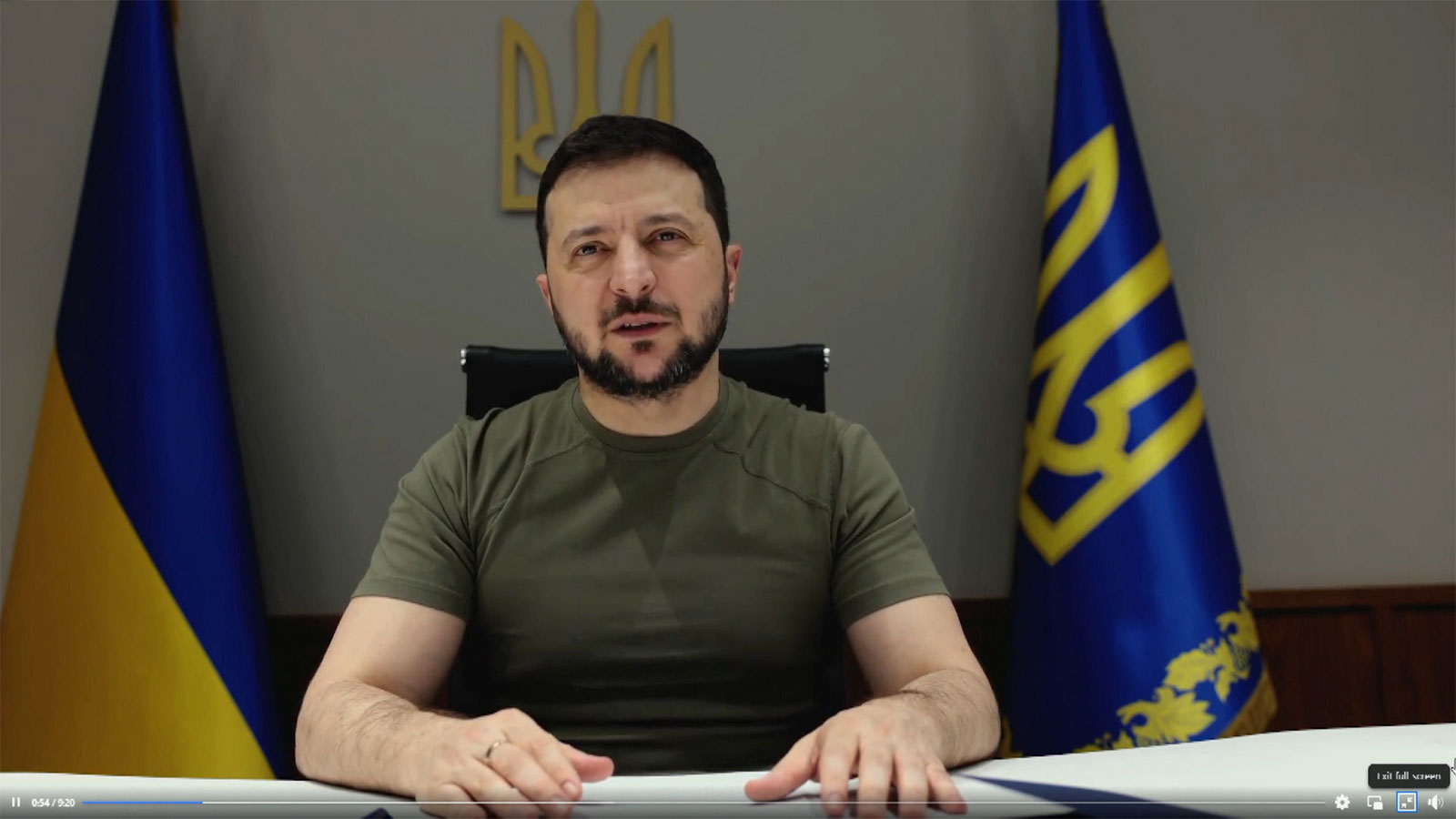 Ukrainian President Volodymyr Zelensky has warned that the shelling of the Azovstal steel plant in Mariupol is "not stopping" even as "civilians still need to be taken out." 
"Women, many children remain there," he said during his nightly address on Thursday. "Just imagine the hell — more than two months of constant shelling, bombing, constant death nearby."
The Ukrainian authorities are "doing everything to find a solution to save our military heroes" defending Mariupol, Zelensky added. "There are different units. They have many wounded, but they do not give up. They hold position. And we too are trying to find solutions to find safety for these people."
On Sunday, over 100 civilians were evacuated from the Azovstal steel plant where they spent two months sheltering underground from Russian attacks.
It's unclear how many civilians remain trapped in the plant, according to a spokesperson for the United Nations Secretary-General, Stephane Dujarric.
4 hr 59 min ago
Evacuations out of Mariupol continued Thursday with another round planned for Friday
From CNN's Niamh Kennedy and Josh Pennington
Ukrainian President Volodymyr Zelensky said evacuation operations out of the southern city of Mariupol continued Thursday. 
"The rescue operation from Mariupol continued today with the assistance of the United Nations and the International Committee of the Red Cross. People are on their way to safe territory," Zelensky said during his nightly address on Thursday. 
The Ukrainian president did not give a figure for how many people were evacuated on Thursday alone, but said that more than 300 people from the Mariupol area and more than 150 people from the Azovstal steel plant are "already receiving all the help they need" after being evacuated over the last few days. 
This comes after he announced Wednesday that authorities had succeeded in evacuating 344 people from the Mariupol area earlier that day.
Ukrainian authorities have planned a further round of evacuations out of the besieged city of Mariupol on Friday, according to Ukrainian Deputy Prime Minister Iryna Vereshchuk.
"Tomorrow, on May 6, an evacuation from Mariupol to Zaporizhzhia will take place. We are going to gather near the "Port City" shopping mall at about 12pm," Vereshchuk announced in a Facebook post on Thursday evening.
The Ukrainian government is also pushing ahead with separate efforts to evacuate civilians and soldiers still trapped in the Azovstal steel plant, which Ukrainian Foreign Minister Dmytro Kuleba has hailed as a "the last stronghold of Ukrainian resistance in Mariupol."
6 hr 24 min ago
Former US President George W. Bush calls Zelensky the "Winston Churchill of our time"
Former US President George W. Bush held a video call with Ukrainian President Volodymyr Zelensky Thursday morning and posted an image from the video call on Instagram.
Bush called Zelensky the "Winston Churchill of our time" in then post and "thanked the President for his leadership, his example, and his commitment to liberty."
View the full Instagram post from Bush here: 
6 hr 21 min ago
Medic in Azovstal plant appeals to Turkish leader as people "die in agony"
From CNN's Tim Lister and Julia Presniakova
An unnamed man who describes himself as a medic has made an appeal to Turkish President Recep Tayyip Erdoğan to help rescue those still trapped at the Azovstal steel plant in Mariupol.
In a short video message released late Thursday, the man addresses Erdogan directly: "We are constantly being shelled from the air, sea and land. I beg you to carry out the procedure for the withdrawal of people, including the military, from the territory of Azovstal, to stop this nightmare." 
The man says he is a Crimean Tatar and a Muslim. 
"I received a medical education before the invasion, and now I am providing medical assistance to Azovstal. Before the war, I never saw death, I worked on an ambulance, I always helped people as much as I could. But it hurts to watch people die in the arms, just from a lack of antibiotics," he said.
He said the injured are dying in pain.
"People are dying: some from bullets, some from hunger. They die in agony, from lack of medicines and from terrible conditions. We don't have time and I don't know if we have tomorrow," he said.
Reaching out to Erdoğan, he said: "263 kilometres from you, across the sea, they kill people who are just protecting their land, women and children. We didn't attack anyone."
He added, "Turkey and Ukraine have always maintained close relations. You and your country have a great weight in the politics of our region. We don't know who to write and who to contact. Therefore, I turn to you."
7 hr 27 min ago
From medals to road signs, Russians try to put their stamp on Mariupol
From Tim Lister, Olga Voitovych and Julia Presniakova
Medals, road-signs and statues — these are some of the early symbols of Russia's seizure of parts of southern Ukraine, and especially Mariupol.
The leader of self-styled Donetsk People's Republic (DPR) and a senior official in Russian President Vladimir Putin's United Russia party awarded medals "For the Liberation of Mariupol" this week.
"The liberation of this city is a joint victory for the armies of the Donetsk People's Republic and the Russian Federation," Pushilin posted on his Telegram channel.
The DPR has been hard at work changing road-signs from Ukrainian into Russian, especially those at the entrance to Mariupol. The Ministry of Transport of the DPR promised Thursday that work on the replacement of road signs in the liberated territories will continue. 
A strange statue has also gone up in Mariupol, depicting an elderly woman grasping the Soviet flag.
The Russians have "opened a monument made of shit and sticks to an old lady with a flag on Warriors Liberators Square, which they stubbornly call the Leninist Komsomol," said Petro Andriushchenko, an adviser to the elected mayor of Mariupol.
He also spoke bitterly about the rising number of Russian officials visiting Mariupol, including the Sergey Kiriyenko, a senior official at the Kremlin, describing them as "curators of Mariupol's integration into Russia." 
On the road to Zaporizhzhia from Mariupol — a road most of those trying to escape Mariupol must take — is the town of Tokmak, also under Russian occupation.
The entrance sign to the town has been repainted in the Russian tricolor.
Elsewhere in the south of Ukraine, the ruble is gradually being introduced.
According to a community group on Facebook, government employees in the town of Yakymivka have been told that if they want to be paid in Ukrainian hryvnia "the occupiers will take two-thirds of the salary."
7 hr 37 min ago
Jill Biden's trip to Romania and Slovakia includes Mother's Day with Ukrainian refugees
From CNN's Kate Bennett
US First Lady Jill Biden departs Thursday evening on a trip to Romania and Slovakia, where she will spend time with several Ukrainian families displaced by the Russian invasion, according to a release from the East Wing.
Part of the first lady's intense, four-day schedule of events and meetings and visits includes Mother's Day activities in Kosice, Slovakia, where Biden will visit a refugee center and two separate schools.  
"Dr. Biden is inspired by the resilience and strength of the Ukrainian people and hopes to communicate that Americans are standing with them," release stated. 
Biden will also meet with Slovakian President Zuzana Caputova. 
Prior to Slovakia, on Saturday, the first lady will hold a meeting in Bucharest, Romania, with that country's first lady, Carmen Iohannis, who like Biden is an educator and who has also kept her job as an English teacher at a local college during her tenure. 
Biden's first stop will be Friday at Mihail Kogălniceanu Air Base in Romania, where she will meet with US and NATO military leadership. She will also visit with troops stationed at the base and participate in a meal service before departing for Bucharest.
7 hr 34 min ago
United Nations and Red Cross launch third operation to evacuate citizens from Mariupol, secretary general says
From CNN's Samantha Beech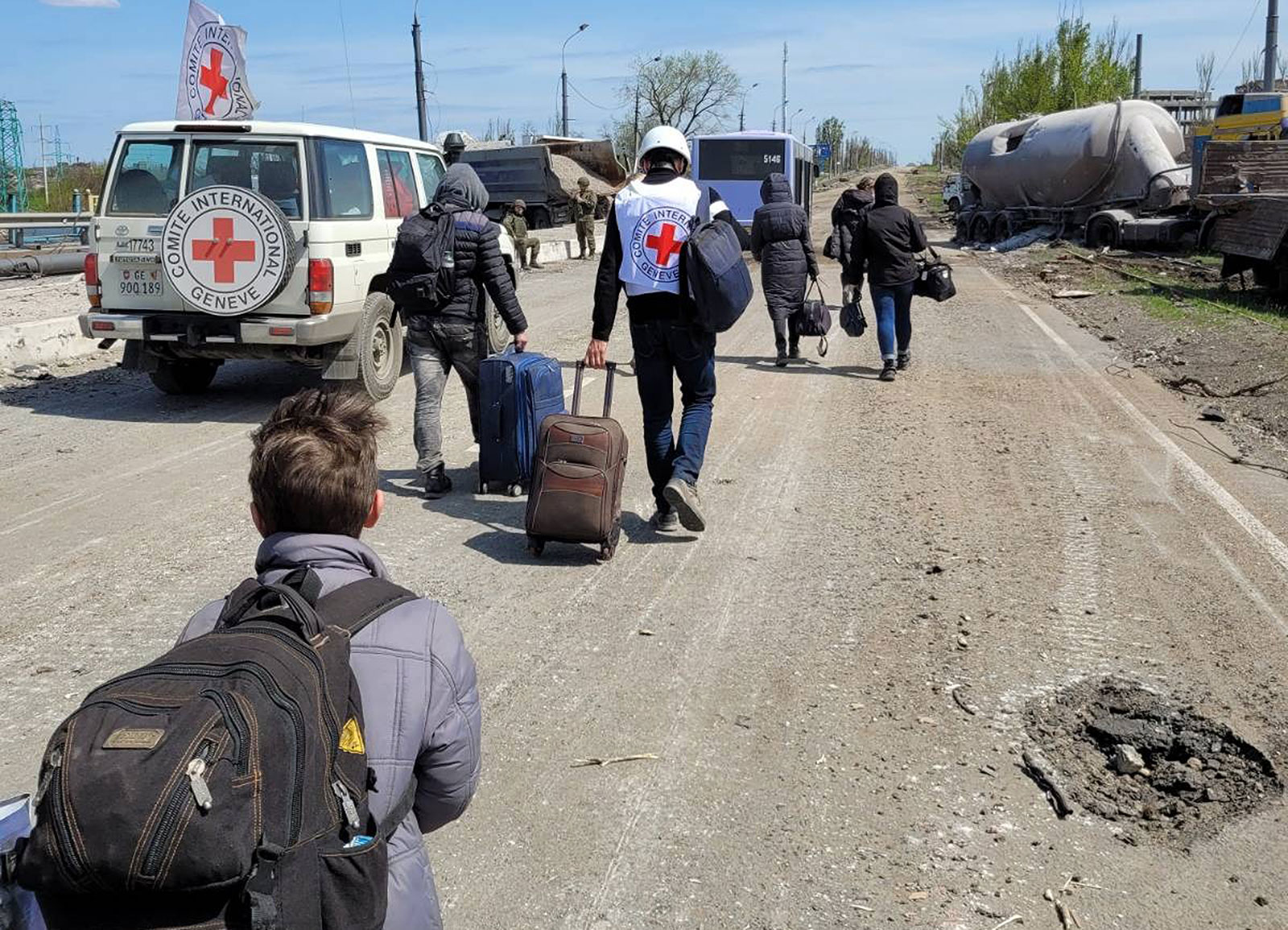 The United Nations and the International Committee of the Red Cross (ICRC) have launched a third operation to evacuate civilians from the Ukrainian port city of Mariupol and the Azovstal steel plant, UN Secretary-General Antonio Guterres told the UN Security Council on Thursday.
Guterres said this is the third such operation to evacuate citizens from the area after two other operations. 
"So far, in total, nearly 500 civilians have found long-awaited relief after living under relentless shelling and scarce availability of water, food and sanitation," Guterres told the UN Security Council.
"The evacuees have shared moving tales with UN staff — mothers, children and frail grandparents spoke of their trauma. Some were in urgent need of medical attention. I hope that the continued coordination with Moscow and Kyiv will lead to more humanitarian pauses to allow civilians safe passage from the fighting and aid to reach those in critical need," he said.
3 hr 39 min ago
Russian oligarch's $300 million yacht seized by Fijian authorities at US request
From CNN's Niamh Kennedy and Lindsay Isaac
 A $300 million yacht belonging to Russian oligarch Suleiman Kerimov was seized by Fijian authorities on Thursday at the request of the United States Department of Justice. 
"Fijian law enforcement executed a seizure warrant freezing the Motor Yacht Amadea (the Amadea), a 348-foot luxury vessel owned by sanctioned Russian oligarch Suleiman Kerimov," a news release from the Department of Justice said.
The Fijian authorities acting with the FBI were following a seizure warrant issued by Washington "which found that the Amadea is subject to forfeiture based on probable cause of violations of U.S. law, including the International Emergency Economic Powers Act (IEEPA), money laundering and conspiracy," according to the statement. 
"Kerimov and those acting on his behalf and for his benefit caused US dollar transactions to be routed through U.S. financial institutions for the support and maintenance of the Amadea."
The seizure was orchestrated through the Justice Department's Task Force KleptoCapture, an interagency law enforcement task force run out of the Office of the Deputy Attorney General, focused on enforcing the "the sweeping sanctions, export controls, and economic countermeasures that the United States, along with its foreign allies and partners, has imposed in response to Russia's unprovoked military invasion of Ukraine." 
Kerimov has been sanctioned by the US Treasury Department's Office of Foreign Assets Control who designated him as "part of a group of Russian oligarchs who profit from the Russian government through corruption and its malign activity around the globe, including the occupation of Crimea," the Department of Justice added. 
In doing so, the Treasury also identified him as an official of the Government of the Russian Federation and a member of the Russian Federation Council which is the upper house of Russian parliament. He is the owner of Nafta Moscow, a Russian financial group. Kerimov and his family have an estimated net worth of $9.8 billion, according to the European Union.  
The UK has also sanctioned Kerimov for his decision to vote in favor of laws endorsing President Putin's decision to recognize the breakaway eastern Ukrainian regions of Donetsk and Luhansk as independent states.  
He was also placed on the EU's list of sanctioned individuals for attending on Feb. 24 "a meeting of oligarchs at the Kremlin with Vladimir Putin to discuss the impact of the course of action in the wake of Western sanctions." The EU contended that Kerimov's attendance at said meeting shows that he is "a member of the inner circle of oligarchs close to Vladimir Putin and that he is supporting or implementing actions or policies which undermine or threaten the territorial integrity, sovereignty and independence of Ukraine, as well as stability and security in Ukraine." 
US Attorney General Merrick Garland stressed that the US court ruling "should make clear that there is no hiding place for the assets of individuals who violate US laws." 
"This yacht seizure should tell every corrupt Russian oligarch that they cannot hide – not even in the remotest part of the world. We will use every means of enforcing the sanctions imposed in response to Russia's unprovoked and unjustified war in Ukraine," warned US Deputy Attorney General Lisa Monaco.