"Toddler milks," powdered drink mixes or formulas marketed for children up to age 3, are unregulated and unnecessary, according to a new report from the American Academy of Pediatrics.
In the report published Friday, the pediatrician group warned these older infant-young child formulas — known as OIYCFs — are not required to meet the same nutritional requirement as infant formulas. 
"Unlike for standard infant formulas, the FDA does not have a distinct category of OIYCFs, and there are no US national or uniform international criteria for the composition or definition of formulas for children older than 12 months," the authors write. 
Because of this lack of oversight, some of these formulas have been criticized for having "unnecessary or potentially detrimental" elements, the group says, including added sweeteners and higher sodium compared to cow milk.
These mixes can be found sold under an array of different names, from "transition formulas" to "weaning formulas" or "follow-up formulas."
The Infant Nutrition Council of Ameria says in a statement that the drinks "can contribute to nutritional intake and potentially fill nutrition gaps" for kids at least 12 months old.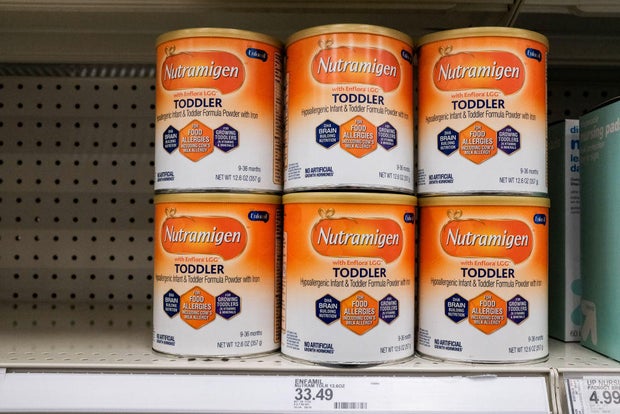 Dr. George Fuchs, a member of the AAP's nutrition committee, said older babies and toddlers should be given a balanced diet of solid foods and breast milk, fortified whole cow's milk and water after age 1.
"OIYCFs are not nutritionally complete," the authors write in the report, saying they are not appropriate substitutes for children who need medical nutritional therapy for malnourishment or other concerns. They are also not adequate for children with disease-specific requirements such as gastrointestinal disorders, food intolerances or allergies, they add. 
"A distinction should be made between OIYCFs and medically necessary pediatric formulas for oral or enteral use," the authors write. "For children at nutritional risk secondary to chronic gastrointestinal or neuromuscular diseases, medically necessary pediatric formulas (not OIYCFs) provide essential or supplemental nutrition."
This isn't the first time experts have cautioned about the use of such drink supplements, which have become a booming business in the United States in recent years.
A 2020 study found that sales of toddler formula in the U.S. rose to $92 million in 2015 from $39 million in 2006 as companies convinced parents their kids could benefit from the liquid boost.
Parents are often confused by the marketing for the formulas, according to a study led by Jennifer Harris, a marketing and public health researcher at the University of Connecticut. She found that 60% of caregivers falsely believed toddler formulas have nutrients that toddlers can't get from other foods, KFF Health News reported last year.
In focus groups, Harris said, parents report feeding their children toddler formula to fill nutritional gaps when a child isn't eating enough, a common concern among parents.
If parents have concerns about their children's diet, however, they should consult a pediatrician or family doctor, Dr. Stephen Daniels, chair of pediatrics at Children's Hospital Colorado told KFF. Although picky eating sometimes worries parents, he said, it is common among toddlers.
-The Associated Press and Christina Szalinski of KFF Health news (formerly known as Kaiser Health News) contributed to this report. 
Thanks for reading CBS NEWS.
Create your free account or log in
for more features.