Michael Cohen, Donald Trump's former lawyer and longtime "fixer," confronted his ex-boss face-to-face for the first time in five years on Tuesday, when he testified that the former president personally authorized the fraudulent inflation of his net worth and property valuations.
With Trump looking on, Cohen appeared at Trump's civil fraud trial in New York, where he told the court about his knowledge of the inner workings of the Trump Organization. Cohen was an executive vice president and counsel to Trump for years, and he alleged that he and the company's former chief financial officer "reverse engineered" Trump's financial statements to meet valuations that Trump "arbitrarily elected."
Trump and his co-defendants are accused in the civil suit of fraudulently inflating the value of assets for their own financial benefit. New York Attorney General Letitia James is seeking to recoup $250 million and is asking the court to impose a host of sanctions on Trump's ability to do business in New York. The judge in the case has already found Trump and his co-defendants liable for fraud, and the trial is proceeding on other accusations, including falsification of records, conspiracy and insurance fraud.
Cohen turned on Trump in 2018, when he pleaded guilty to federal charges related to campaign finance violations and lying to Congress. Given his years in Trump's inner circle, Cohen is a key witness against Trump in this case, as well as a separate Manhattan criminal prosecution. Trump and his other co-defendants have denied all wrongdoing, and say Cohen cannot be trusted to provide truthful testimony, given his prior convictions.
Michael Cohen's testimony
Wearing a dark houndstooth jacket and white button-down shirt with no tie, Cohen took the stand shortly after noon. Entering the spacious courtroom, he shot Trump a quick glance, which was not reciprocated.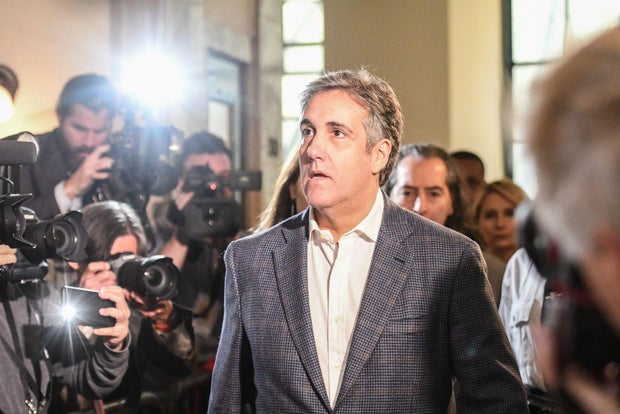 Cohen began by laying out various crimes to which he pleaded guilty in 2018. He told the court that he was employed by Trump when those crimes were committed. While some involved his own finances, he said he lied to Congress "for the benefit of Mr. Trump."
Under questioning from the state's attorney, Cohen explained that he wasn't part of the legal department of the Trump Organization, and only answered to Trump.
"I reported and only handled worked for Mr. Trump. I was his special counsel," he said. "Whatever created ire for him, he would bring it to me in order to resolve."
The questioning soon turned to so-called statements of financial condition, which provided a snapshot of Trump's wealth at various points in time. The state alleges Trump fraudulently prepared the statements to inflate his personal wealth in order to obtain more favorable loan terms. 
Cohen testified that Trump directed him to adjust the statements to arrive at a predetermined number.
"I was tasked by Mr. Trump to increase the total assets based upon a number that he arbitrarily elected. And my responsibility along with Allen Weisselberg, predominantly, was to reverse engineer the various different asset classes, increase those assets in order to achieve the number that Mr. Trump had tasked us," Cohen said, prompting Trump to shake his head and fold his arms across his chest. Trump mostly stared straight ahead at a monitor showing a live transcript of the proceedings and rarely looked at Cohen.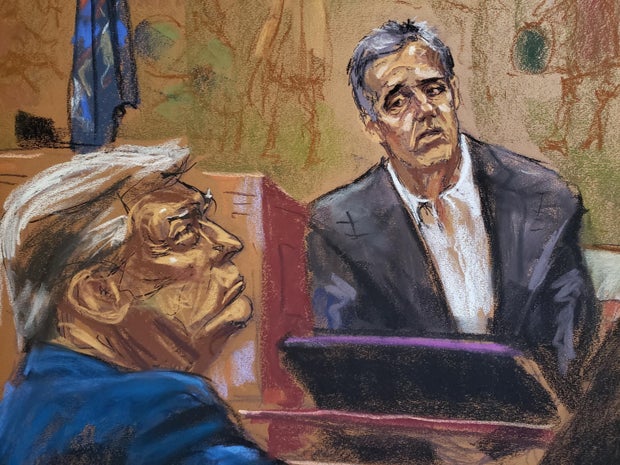 Weisselberg is the former chief financial officer of the Trump Organization and a co-defendant in the fraud case. He took the stand earlier in the trial and said he did not recall many key details.
Cohen appeared to attract Trump's ire himself when he said he and Weisselberg would "reverse engineer" statements to meet Trump's demands. He claimed Weisselberg would involve Donald Trump Jr., Eric Trump and Ivanka Trump in aspects of the process. Trump could be seen shaking his head in disbelief, and his attorney Alina Habba threw her hands up in apparent frustration.
Cohen later testified that Trump claimed his wealth was $8 billion in 2014, when he tried and failed to buy the NFL's Buffalo Bills. Deutsche Bank provided Trump a letter to support his bid, which Cohen said was based largely on a statement of financial condition. At the time, Trump was worth about $1.4 billion, according to the attorney general.
During cross examination by Trump attorney Alina Habba, Cohen said he lied under oath when he pleaded guilty to tax evasion. Cohen now maintains he didn't evade taxes. The testimony became combative, with Cohen answering "asked and answered" multiple times, referring to an objection lawyers sometimes raise, but witnesses cannot. Trump attorney Christopher Kise protested Cohen's behavior, saying, "This witness is out of control, your honor."
Exiting the courtroom during a break in his testimony, Cohen was asked by a reporter about seeing Trump again after all these years. "Heck of a reunion," he replied.
Susan Hoffinger, a prosecutor who leads Manhattan District Attorney Alvin Bragg's criminal case against Trump, was seen entering the courthouse in the afternoon. Hoffinger also led a 2022 case in which two Trump companies were found guilty of 17 felonies related to fraud. 
Another member of Bragg's staff was in the courtroom as Cohen's testimony began. Cohen is the star witness in the criminal case brought by Bragg's office, which stems from an alleged hush money payment paid to an adult film star before the 2020 election. Trump's attorney in that case and other criminal matters, Todd Blanche, was also present.
The case against Trump
James, the attorney general, has accused Trump, his adult sons and their company of using financial statements to falsify the values of Trump properties, and ultimately Trump's overall wealth, in order to gain undeserved loan terms that in fact did increase Trump's wealth by hundreds of millions.
The state is demanding $250 million from the Trumps and their company — a clawback of what it calls "ill-gotten gains" — and asking a judge to order sanctions designed to limit their ability to do business in the state.
Cohen was originally expected to take the stand on Oct. 17, but his testimony was delayed due to illness. Trump, who is not required to attend the trial, did so that day and mocked Cohen, telling reporters Cohen "didn't have the guts" to face him.
Cohen shot back at Trump in a text message to CBS News that day.
"If I was afraid of Donald, I wouldn't have written 2 NYT bestsellers, testified before the Mueller team, seven congressional committees, 23 appearances before the Manhattan DA, and provided information to the NYAG that is the basis of this trial. Looking forward to seeing you in court very soon!" Cohen said.
Cohen testified to Congress in 2019 that Trump artificially inflated his wealth. The testimony spurred both this civil investigation and the criminal investigation led by Bragg.
The criminal probe resulted in the first indictment of a former president in American history. Trump entered a not guilty plea in April in that case, in which he's charged with 34 felony counts of falsification of business records. 
Trump has denied wrongdoing in both cases, as well as three others in which he is charged, claiming a coordinated effort by prosecutors aligned with his political foes to prevent him from being president again. Trump is seeking a return to the White House in the 2024 election and leads the Republican field by a wide margin.
Trump and attorneys for him and his co-defendants, who all deny wrongdoing in the case, have derided Cohen as a flawed witness who shouldn't be trusted, due to his criminal history.
For years, Cohen was among Trump's most trusted employees and advisers — a "fixer" relied on to solve pressing issues both in and out of the public eye.
Cohen is now a fierce adversary of Trump. He hosts a podcast that frequently focuses on Trump's legal troubles, laced with biting, derogatory criticism of the former president. 
Ash Kalmar contributed reporting.
Thanks for reading CBS NEWS.
Create your free account or log in
for more features.