28 min ago
Ukrainian army has destroyed more than 1,000 Russian tanks, Zelensky says
From CNN's Hira Humayun and Masha Angelova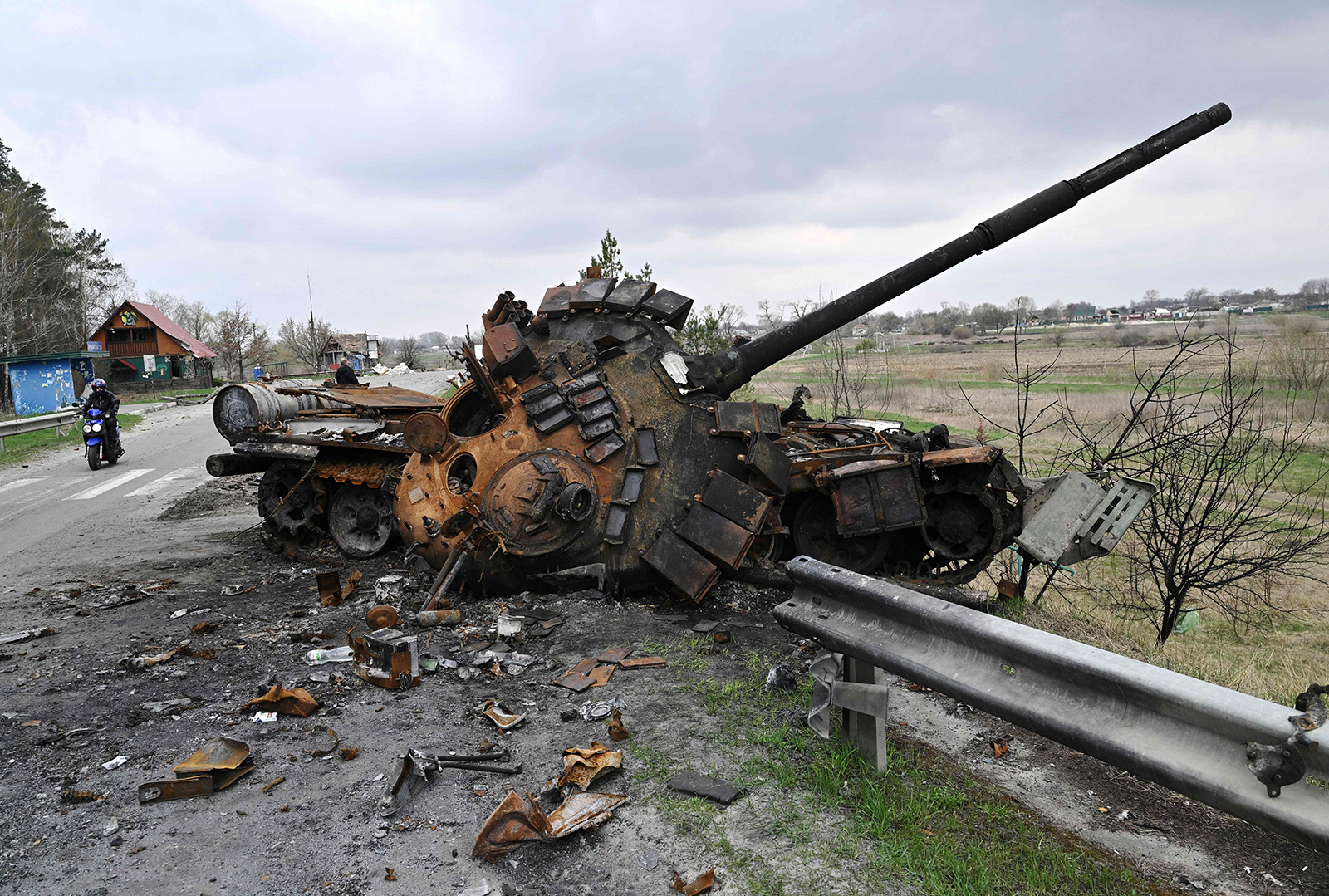 Ukrainian President Volodymyr Zelensky said the Ukrainian army has already destroyed more than 1,000 Russian tanks, nearly 200 Russian aircraft, and almost 2,500 armored fighting vehicles.
Despite these losses, Russian troops still have equipment to launch additional attacks, Zelensky said.
 "Of course, the occupiers still have equipment in stock. Yes, they still have missiles to strike at our territory," he added. "But this war has already weakened Russia so much that they have to plan even fewer military equipment for the parade in Moscow."
Russia plans to hold its traditional Victory Day parade in Red Square May 9, commemorating the German surrender to the Soviet Union in the Second World War.
The Ukrainian President also said Russia has already lost more than 23,000 soldiers since the invasion began. CNN cannot independently verify this claim. 
Russia has sporadically released casualty figures that are low and which observers deem to be a massive underestimate. Two days prior to Russia's update, two senior NATO military officials estimated the number of Russian soldiers killed in action in Ukraine to be between 7,000 and 15,000. Around the same time, other US officials had put Russian losses in a similar range — between 7,000 and 14,000 Russian soldiers killed — but they have expressed "low confidence" in those estimates.
Earlier in the month, Kremlin spokesman Dmitry Peskov briefly admitted Russia had suffered "significant" losses of its troops in Ukraine, calling the losses "a huge tragedy" for the country in an interview with Sky News. 
1 hr 39 min ago
Zelensky says Ukraine focused on rebuilding and recovery
From CNN's Hira Humayun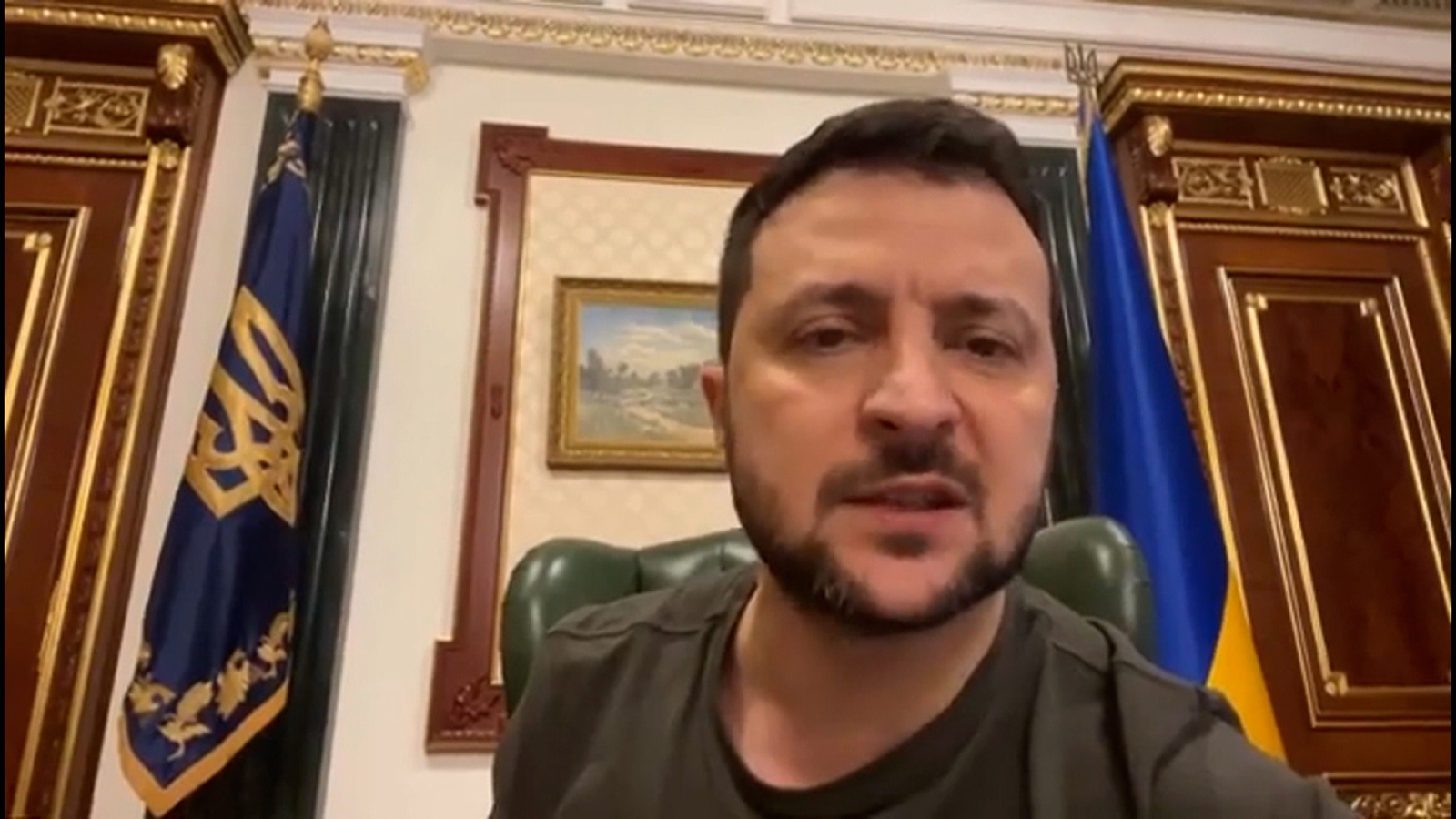 Ukraine's president struck a theme of resilience in his nightly address to the nation Saturday, saying the country is at work to rebuild and get back to normal in areas no longer held by Russian forces.
Ukrainian President Volodymyr Zelensky said 69% of de-occupied settlements in Ukraine now have "full-fledged local self-government" again.
"We are doing everything to return normal life to the de-occupied part of our Ukraine," Zelensky said in his Saturday night address, adding the work of humanitarian offices has already begun in 93% of liberated settlements.
"We are actively demining the liberated territory. Every day several dozen settlements are added to the list of those where demining has been completed," he said.
Zelensky also said officials are "doing everything" to restore roads and access to medical, educational and financial services.
The Odesa airport runway destroyed in Saturday's missile strikes will also be rebuilt, according to the president.
"Today the occupiers again fired missiles at the Dnipropetrovsk region and Odesa," Zelensky said. "Again and again, Russian troops prove that the people of Odesa are the same enemies for Russia as all other Ukrainians. The runway of the Odesa airport was destroyed. We will, of course, rebuild it. But Odesa will never forget such a Russian attitude towards it."
5 hr 25 min ago
Angelina Jolie speaks with refugees at boarding school and medical institution in Lviv
From CNN's Hande Atay Alam and Radina Gigova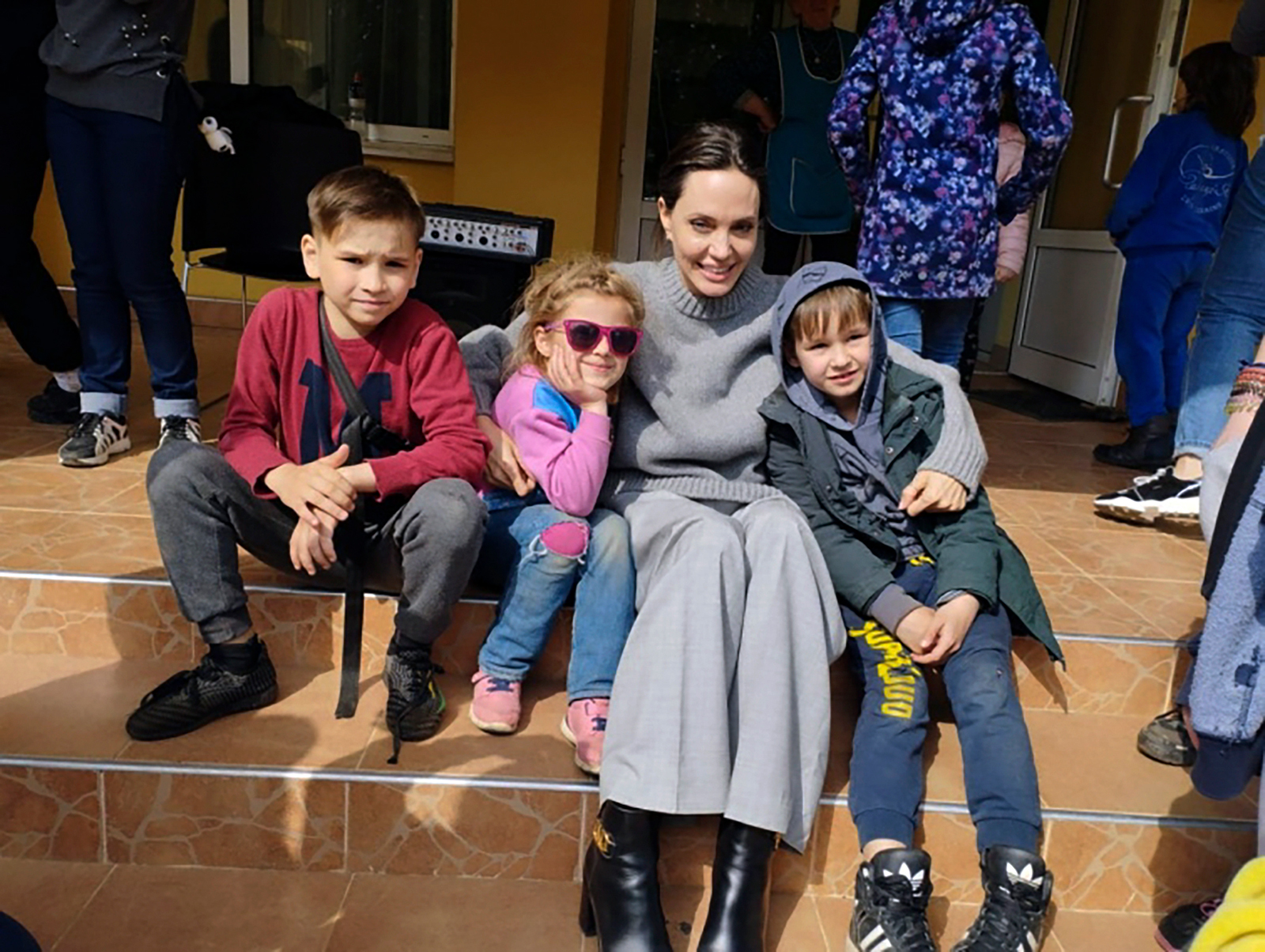 Actress Angelina Jolie, who is also a United Nations special envoy for refugees, visited a boarding school and medical institution in the western Ukrainian city of Lviv, according to Maksym Kozytskyy, the head of Lviv's regional military administration.
"In one of the medical institutions, she has visited children who suffered from a missile strike by the Russian military on the Kramatorsk train station. She was very moved by their stories. One girl was even able to tell Ms. Jolie about her dream privately," according to Kozytskyy.
When visiting a boarding school in the region, "she promised to come again," he said.
"She also took the time to talk to our volunteers who provide medical and psychological assistance at the Main Railway Station in Lviv. She thanked them for their work," he said. "She talked to people who managed to leave the zones of active hostilities."
"This visit was a surprise for all of us," Kozytskyy added.
UNHCR's Head of Global Communications Joung-ah Ghedini-Williams told CNN Saturday that "Angelina Jolie is traveling to the region in her personal capacity and UNHCR has no involvement in this visit." 
Earlier on Saturday, Jolie was photographed visiting a coffee shop in Lviv. CNN has reached out to Jolie's representatives for comment. 
5 hr 38 min ago
Ukrainian commander inside Mariupol steel plant says evacuations of civilians have begun
From CNN's Julia Kesaieva and Tim Lister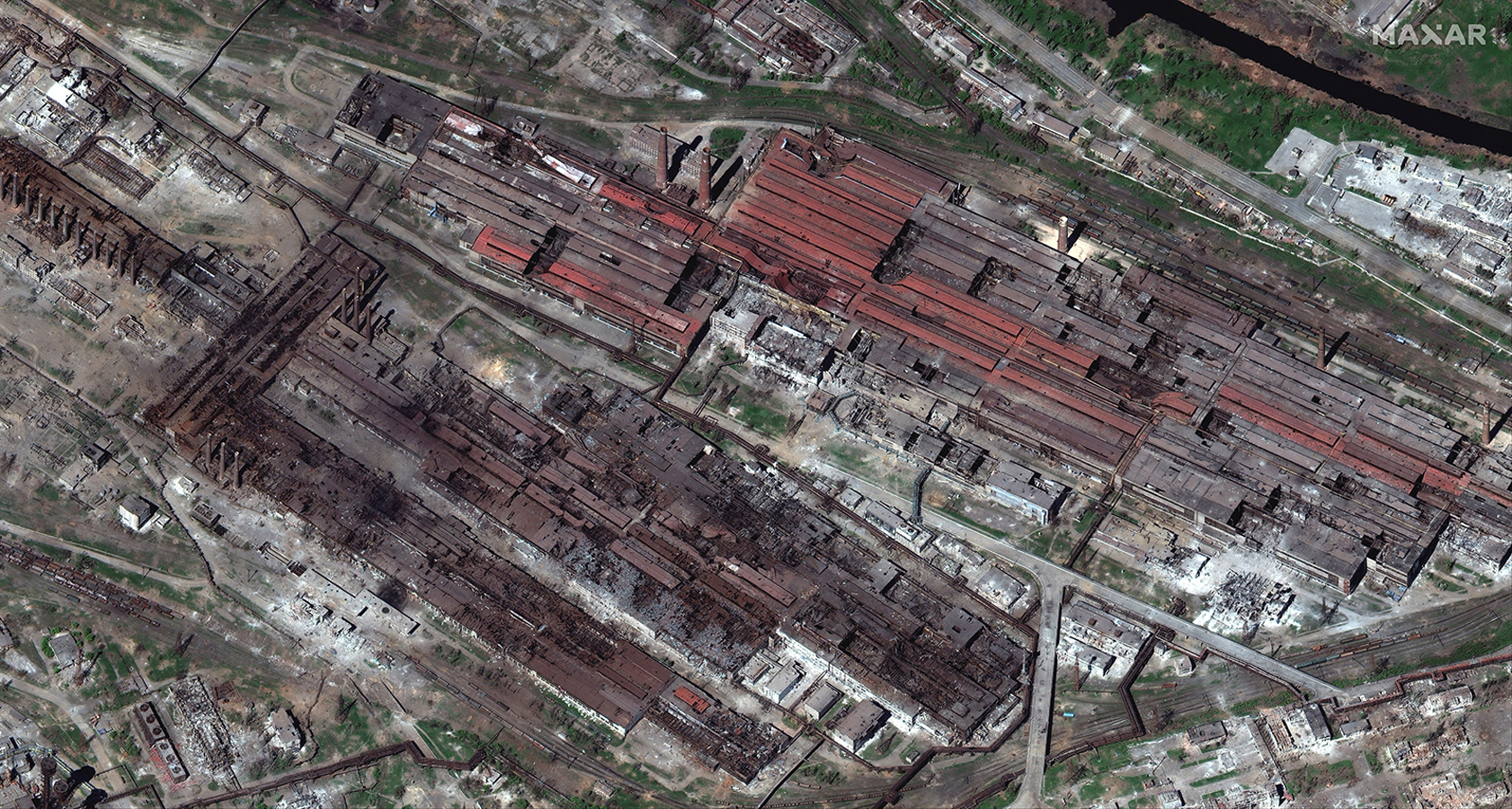 Some civilians have been evacuated from the Azovstal steel works in Mariupol after a ceasefire was introduced, according to a commander in the Azov Regiment, one of the Ukrainian soldiers trapped at the plant.
Capt. Svyatoslav Palamar, the deputy commander of the Azov Regiment, said the ceasefire, which was supposed to begin at 6 a.m. local time, ended up starting at 11 a.m. local time.
"As of now, it's the truth, both sides follow the ceasefire regime," he said.
The evacuation convoy was very delayed, he said. "Since 6 a.m., we've been waiting for the evacuation convoy to arrive, which only arrived at 6:25 p.m."
"We have brought 20 civilians to the agreed meeting point, whom we've managed to rescue from under the rubble. These are women and children. We hope these people will go the agreed destination, which is Zaporizhzhia, the territory controlled by Ukraine," Palamar said.
"As of now, the rescue operation is ongoing, conducted by the servicemen of Azov – we rescue the civilians from under the rubble," he added.
"These are women, children and the elderly," he said in a video message on the regiment's Telegram channel.
"We hope that this process will be further extended and we will successfully evacuate all civilians," he said.
"As for the wounded — those people who require urgent medical care — it is unclear to us why they are not being evacuated and their evacuation to the territory controlled by Ukraine is not being discussed," he added.
"I emphasize that we ask to guarantee the evacuation not just for civilians but also for our wounded servicemen who require medical care."
TASS, Russia's state news agency, said earlier Saturday that a group of civilians left the steel plant. A correspondent on the scene told TASS that a total of 25 people came out, including six children under the age of 14. CNN cannot independently verify the TASS reporting.
There are thought to be hundreds of people inside the steel complex, including dozens injured during an intense Russian bombardment over the past several weeks. The latest satellite images of the plant show that many of its buildings have been reduced to ruins.
The defenders of the Azovstal plant said that attacks on Wednesday night had hit the makeshift hospital inside the complex, greatly adding to the number of injured. 
Here's what a part of the plant looked like approximately six weeks ago:
6 hr 16 min ago
UN chief briefed Turkish president on his meetings with Putin and Zelensky
From CNN's Isil Sariyuce in Istanbul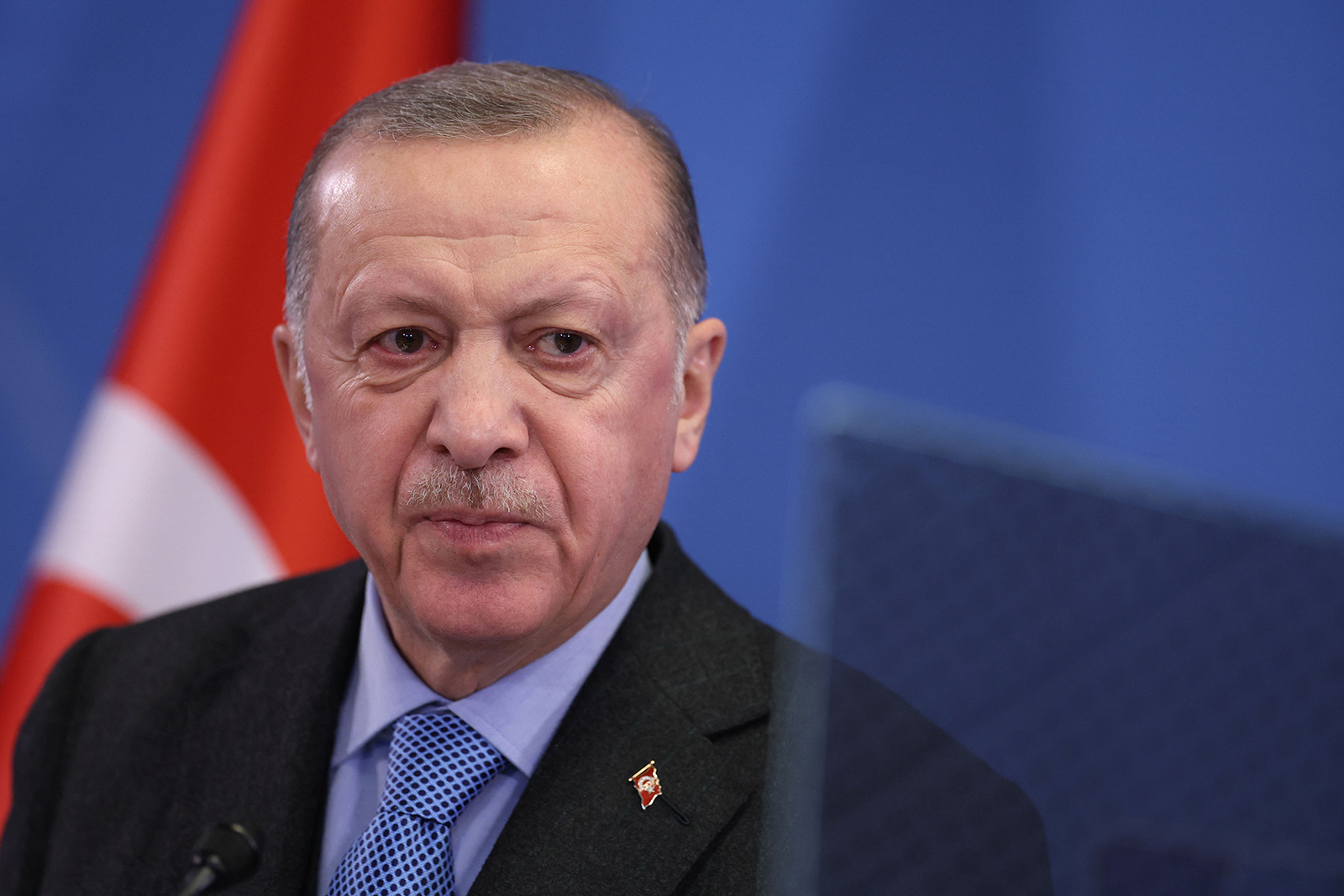 Turkish President Recep Tayyip Erdogan held a phone conversation with United Nations Secretary General Antonio Guterres, the presidency's media office said Saturday, where they discussed developments in the war in Ukraine.
Guterres briefed Erdogan about his meetings this week in Moscow and Kyiv, according to a statement from the Turkish Communications Directorate.
During the call, Erdogan said that Turkey is ready to support the UN-led work on both evacuations and humanitarian aid.
Stating that they will continue to encourage both Ukraine and Russia to act in common sense for reconciliation, Erdogan said that they will pursue peace, according to the statement.
Guterres said via Twitter on Friday that the UN would redouble its efforts to save lives and reduce human suffering in Ukraine.
His tweet came after his visit to Ukraine and meeting with Ukraine President Volodymyr Zelensky on Thursday following a visit to Moscow where he met Russian President Vladimir Putin on Tuesday. 
The Turkish president has previously held phone calls with his Russian and Ukrainian counterparts with the hope of meeting them both in Istanbul to end the conflict.
Turkey has a unique profile and position, as a NATO member that also has maritime borders with both Ukraine and Russia. Turkey is also Russia's largest trade partner in the Middle East and North Africa region.
The country has both competed and cooperated with Russia through conflict zones in Syria, Libya and Nagorno-Karabakh in recent years.
6 hr 28 min ago
Multiple explosions reported in Odesa
From CNN's Tim Lister and Julia Presniakova
Ukrainian media and witnesses are reporting multiple explosions in the southern city of Odesa soon after 6 p.m. local time. One witness told CNN that she saw at least one combat plane over the city.
The military's Operational Command (South) said on Telegram that the runway at Odesa's airport had been damaged.
The blasts were heard soon after air raid sirens sounded across the city.
A witness to the explosions told CNN she was about one kilometer (.62 miles) away from the airport when she heard two explosions. She said the attack lasted about 10 minutes and she was still experiencing hearing difficulties because of the noise from the impacts.
6 hr 11 min ago
It's 7 p.m. in Ukraine and more information about Mariupol is surfacing. Here's what you need to know
If you're just joining us, here are the latest developments in Russia's war in Ukraine, including what we know about the besieged city of Mariupol.
The Azovstal steel plant: Nearly every building on the sprawling Azovstal steel plant, the last Ukrainian holdout in Mariupol, has been destroyed, new satellite images from Maxar Technologies show. There are large holes in the roofs — the telltale sign of a military strike. Some roofs are completely collapsed, and some buildings have been reduced to rubble. Many of the residential and government buildings directly east of the plant have also been completely destroyed.
Evacuation routes are reportedly tentative: Russia has been rejecting all evacuation proposals for Mariupol, but now, there are signs of a possible breakthrough in securing at least one evacuation route, Mariupol city council said. Although the council is still waiting for confirmation, its post says the evacuation would be today (Saturday) from Port City, which is a shopping mall.
Russian assault: In other missile and aircraft strikes, Russian forces hit 10 locations housing Ukrainian troops and equipment, the Russian defense ministry said, killing up to 120 soldiers and destroying four tanks and six other armoured vehicles.
8 hr 57 min ago
Possible breakthrough in Mariupol evacuation, city council says
From CNN's Tim Lister and Julia Presniakova in Lviv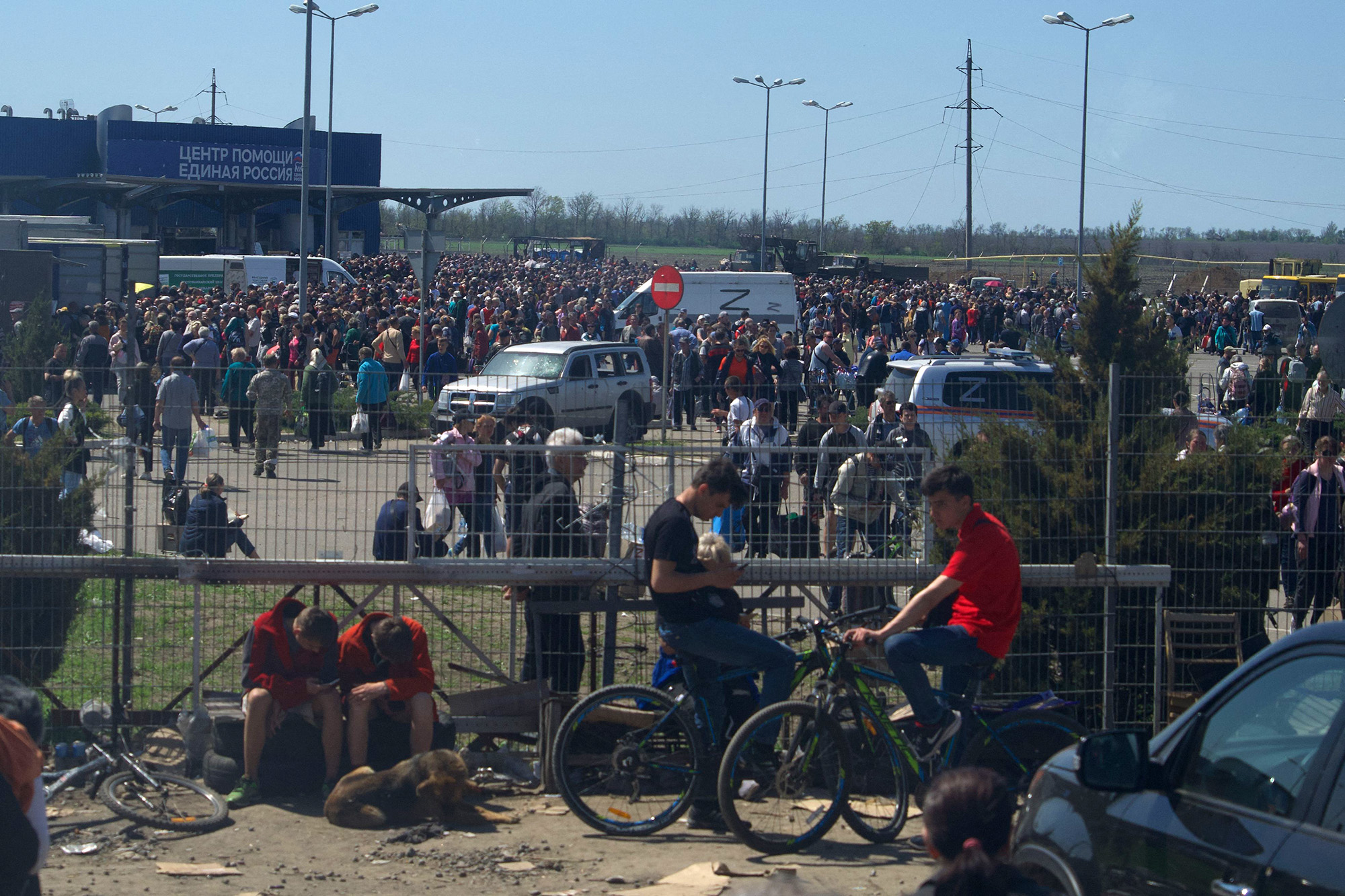 There are signs of a possible breakthrough in securing at least one evacuation route in the besieged city of Mariupol.
"There is hope for the evacuation of Mariupol residents to territory controlled by Ukraine," Mariupol city council said on its Telegram account.
Although the council is still waiting for confirmation, its post says the evacuation would be today (Saturday) from Port City, which is a shopping mall.
"The occupiers allowed movement between the Left Bank district and other districts of the city on the right bank. The movement is open across the bridge to Mukhino," said Petro Andriushchenko, an adviser to the Mariupol mayor, on Telegram.
At this stage, it's unclear whether any evacuation would include people trapped at the Azovstal steel plant complex.
Altogether, some 100,000 people are still in Mariupol, a quarter of its pre-war population.
10 hr 12 min ago
Red Cross and UN are involved in evacuation negotiations, Mariupol mayor says
From CNN's Tim Lister and Olga Voitovych
The United Nations mission and Red Cross are negotiating on securing the evacuation of hundreds of local people who are trapped in the Azovstal steel plant, Mariupol Mayor Vadim Boichenko says.
Speaking on Ukrainian television on Saturday, he urged "all international partners to unite for one goal — to save the lives of the locals, to save the fortress and those locals who are now hiding in the Azovstal bomb shelters."
"The UN mission and Red Cross are negotiating. We are waiting for the results of these talks. We are waiting [to see] that we will get this corridor and save the lives of hundreds of our Mariupol residents," Boichenko said.
The Ukrainian President's office said Friday it had a plan for evacuating Azovstal, but Ukrainian officials later said that the Russians had blocked access to the plant.