Our live coverage for the day has ended. Follow the latest Ukraine news here or read through the updates below.
3 hr 18 min ago
Macron and China's top diplomat discuss "shared objective" of bringing peace to Ukraine, embassy says
From CNN's Xiaofei Xu in Paris and Jessie Gretener in London
Wang Yi, China's top diplomat, met with President Emmanuel Macron in France Wednesday and discussed efforts in bringing peace to Ukraine.
"China values the role France plays as an independent great power," the Chinese embassy said after Wang met with Macron at the Elysée Palace.
"Both sides comprehensively exchanged opinions on the Ukraine issue. Wang Yi emphasized that on this issue, China insist on being objective and is always trying to promote peace and realize talks," the statement read, adding that China "is willing to work with France and the rest of the international community to explore political means to solve the issue in order to achieve ceasefire and the end of the war as quickly as possible."
An earlier statement by the Elysée Palace also stated both countries expressed "the same objective" regarding Ukraine, with Macron emphasizing "the consequences of this conflict on international peace and security as well as France's support to an aggressed country."
Wang also had dinner with France's Foreign Minister, Catherine Colonna, who tweeted that the pair had a "solid exchange on the Russian war of aggression in Ukraine and ways for us to work on resolving the conflict."
Wang will continue to meet with French officials on Thursday.
5 hr 20 min ago
Polish official says NATO can ramp up weapons production to support Ukraine's needs
From CNN's Isa Soares, Laura Ford, and Jessie Gretener
Polish Deputy Foreign Minister Pawel Jabłoński said Wednesday that "it is absolutely doable" for NATO members to ramp up ammunition production at the speed needed to support Ukraine. 
"It is feasible," Jabłoński said in an interview with CNN's Isa Soares. "It is a cost that we are bearing for almost a year. It's a cost that we need to bear if we want to avoid much larger costs. A cost of instability. A cost of war – all across Europe because [President Vladimir] Putin will not stop if we won't do it."
He added that "we have the resources… we only need the political will to use these resources." 
Jabłoński also said Poland was also increasing weapons production, not just to help Ukraine but to ensure its own military was well-equipped. 
As to whether Poland would provide fighter jets to Kyiv, Jabłoński said nothing should be off the table.
5 hr 37 min ago
Kyiv's electric transit system, halted due to Russian attacks on power infrastructure, to resume Thursday
From CNN's Maria Kostenko in Kyiv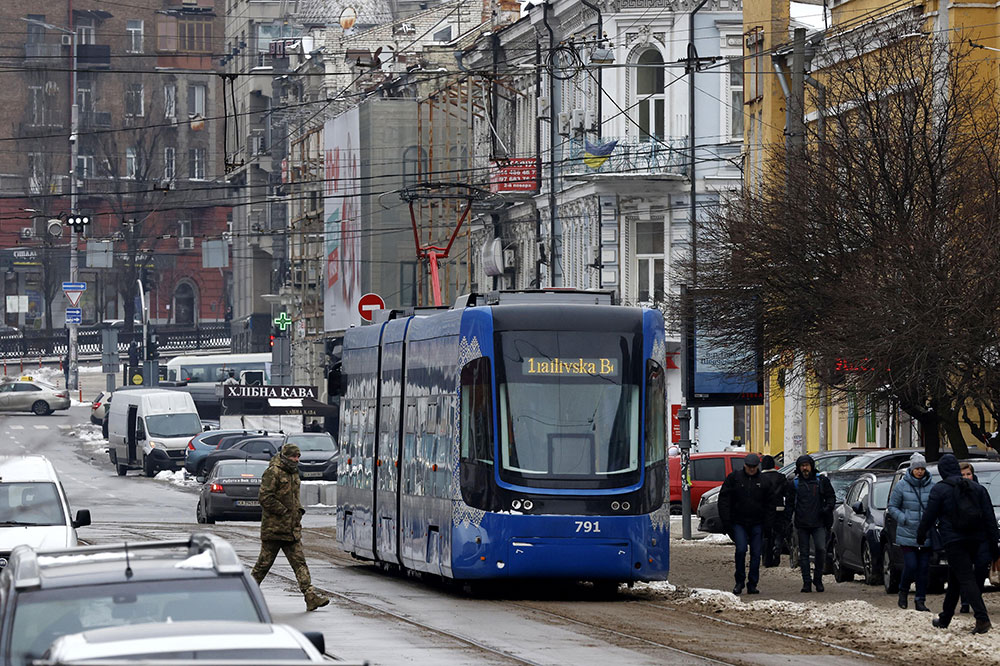 The city of Kyiv is gradually resuming electric public transit operations in the wake of Russian attacks on Ukraine's energy infrastructure, according to the mayor. 
A total of 186 trolleybuses and 157 trams will be operating from Thursday, Mayor Vitali Klitschko said in a Telegram post. 
Following missile attacks on Ukraine's energy infrastructure, electric-powered transit options such as streetcars were restricted due to a lack of power supply – and were temporarily replaced by bus routes.
5 hr 59 min ago
Death toll rises to 3 after Russian attack on apartments in Pokrovsk, Ukrainian authorities say
From CNN's Maria Kostenko in Kyiv 
Ukrainian regional authorities said three people were killed and 11 people wounded on Wednesday in a Russian attack in the town of Pokrovsk in the eastern Donetsk region. One of the severely injured civilians remains in the hospital. 
"Four multi-story buildings and a school were damaged due to the attack," the head of the Donetsk region military administration Pavlo Kyrylenko said in a Telegram post. "The rescue operation at the building destroyed by Russians is over."
In a video of the aftermath posted by the Donetsk region military administration, one woman says her husband died in the kitchen of their apartment. 
Fourteen residents of the building have decided to evacuate from the Donetsk region, while the rest will remain in Pokrovsk, according to regional authorities. 
The Ukrainian General Staff said Russian forces launched 28 Multiple Launch Rocket System attacks on civilian infrastructure in both the Donetsk region and the Kherson region.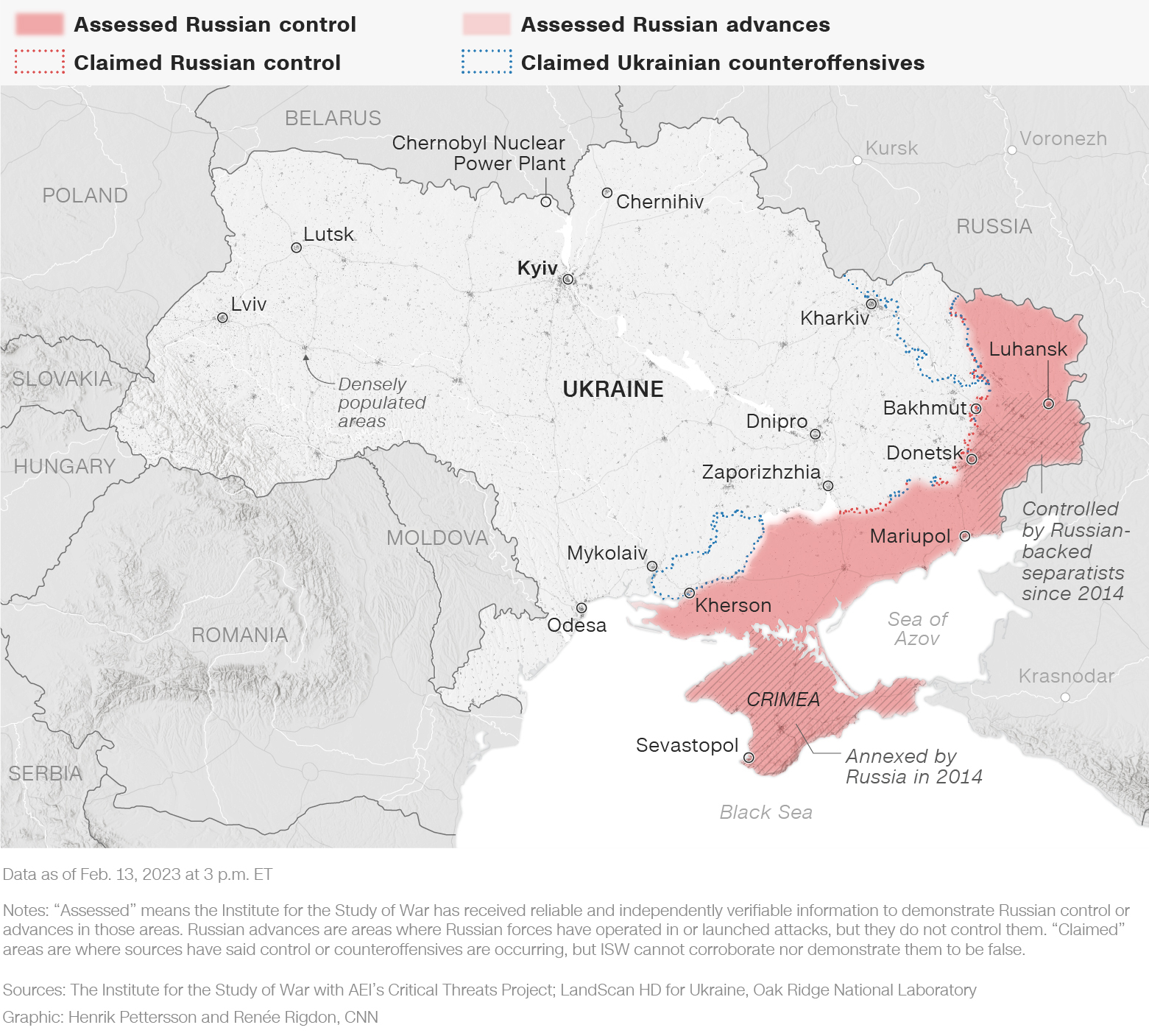 6 hr 37 min ago
Ukrainian forces say they destroyed Russian thermobaric weapon launcher near town in Donetsk
From CNN's Tim Lister and Maria Kostenko in Kyiv, and Lauren Kent in London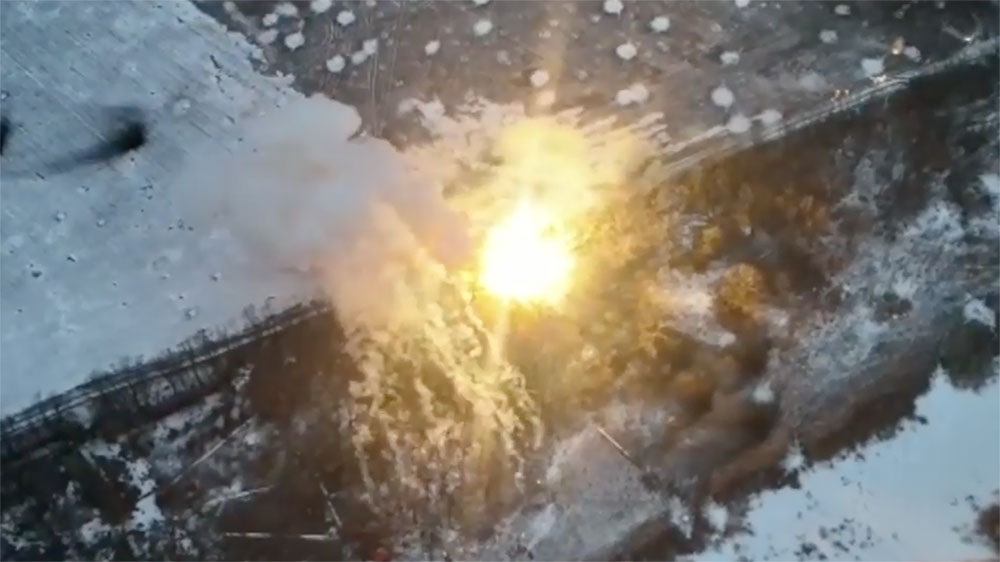 Ukrainian forces said on Wednesday they destroyed a Russian multiple rocket launcher that fired thermobaric weapons near the town of Vuhledar in the Donetsk region of eastern Ukraine.
The Ukrainian forces released a video of a powerful explosion they said resulted from the attack. 
"The enemy 'Solntsepiok' was grilled a little," the forces said on Telegram, using a nickname for the Russian TOS-1 multiple rocket launcher.
Russia's TOS-1 or TOS-1A multiple rocket launchers are capable of launching rockets with thermobaric warheads. 
About thermobaric weapons: These types of weapons do not use conventional ammunition. Instead, they are filled with high-temperature, high-pressure explosives. They are sometimes called "vacuum bombs" because they suck in the oxygen from the surrounding air to generate a powerful explosion and a large pressure wave that can have enormous destructive effects. 
CNN has previously reported on Russian forces moving TOS-1 multiple rocket launchers near the Ukrainian border and within Ukraine, including near Kharkiv.
The Head of the Office of the Ukrainian President Andriy Yermak responded on Wednesday to the video of the hit: 
"The 72 Brigade … have fried a Russian 'Solntsepiok,'" Yermak said on Telegram. "Nice picture." 
Translation by Olga Betko. CNN's Fred Pleitgen and Ivana Kottasová contributed reporting to this post.
5 hr 1 min ago
Situation is tense in eastern Ukraine during ongoing offensive, Ukrainian defense official says
From CNN's Lauren Kent and Maria Kostenko in Kyiv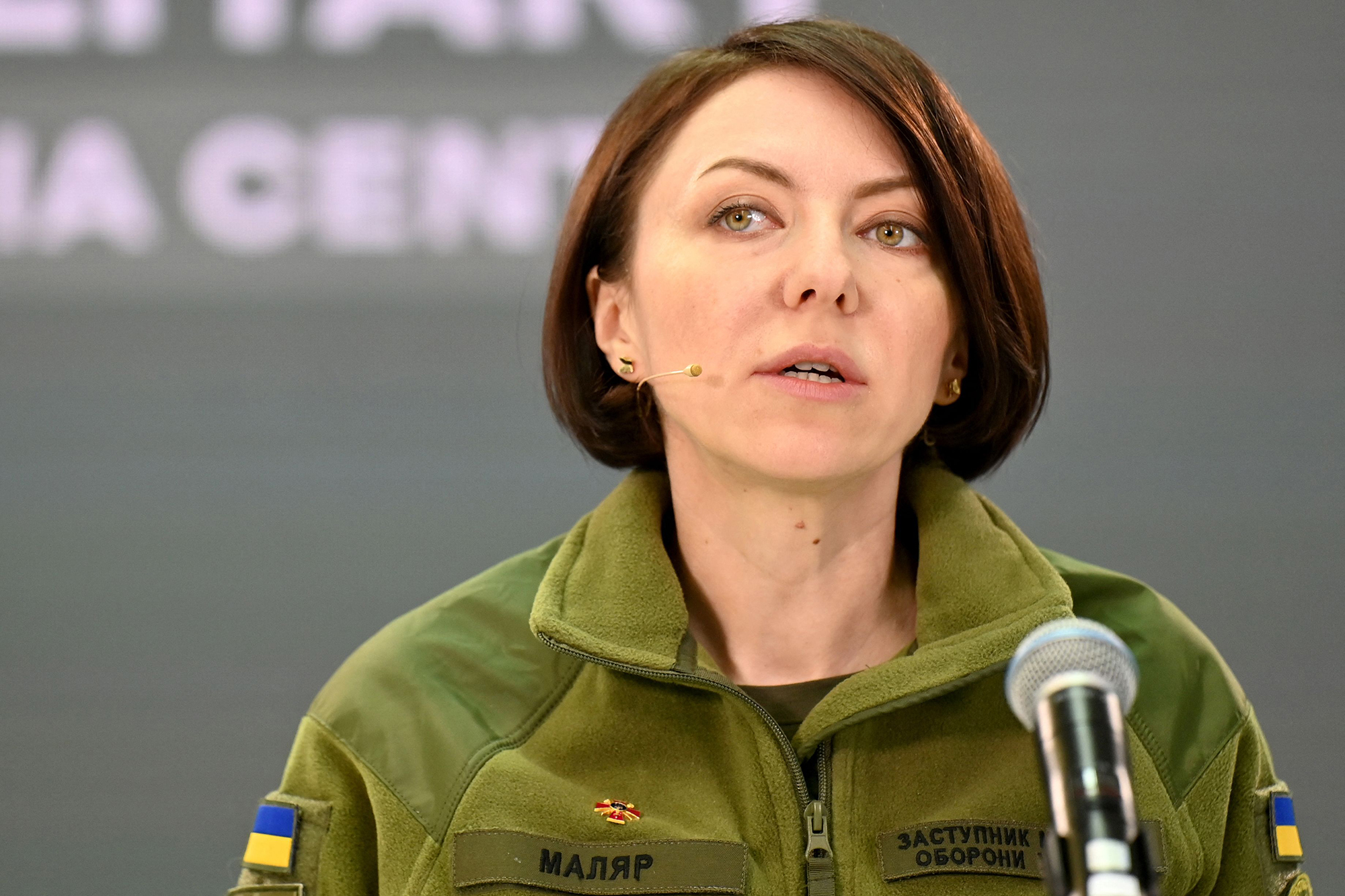 The situation in eastern Ukraine is "tense" as Russia's offensive is "ongoing," according to Ukrainian Deputy Defense Minister Hanna Maliar on Wednesday. 
"The assaults are day-and-night. The situation is tense," Maliar said in a Telegram post. "Yes, it's hard on our people. You can see for yourself what kind of war Russia is doing. Nevertheless, our fighters are keeping the enemy from reaching their goals and inflicting massive losses."
Maliar claimed that Russia is facing personnel losses of "up to 80%" in some of its army units and units of the Wagner private military company. CNN cannot independently verify those claims. 
"Evacuation of the dead and wounded by the enemy is limited or not performed at all," Maliar said. "More and more Russian soldiers realize their commanders inadequately assess combat situations on the battlefield." 
Maliar also reiterated Ukraine's claims that many Russian soldiers have a low level of readiness after undergoing "accelerated" basic training courses of only 14 to 21 days. 
1 hr 59 min ago
US has growing concern about Russia-China partnership amid Ukraine war, deputy secretary of state says
From CNN's Jennifer Hansler
US Deputy Secretary of State Wendy Sherman said Wednesday that the United States has "growing concern" about the partnership between China and Russia — and China's tacit support for Russia's invasion of Ukraine.
"My assessment is the PRC (People's Republic of China) is trying to both increase its standing in the international community by saying that it's willing to mediate and help bring this horrifying invasion to an end. And at the same time, they are committed to their no limits partnership with Russia," Sherman said at an event at the Brookings Institution. "And we have, certainly, concern and growing concern about that partnership and the PRC's support for this invasion."
She said that China is trying to "have it both ways." She also expressed concern about Russia's partnerships with Iran and North Korea.
However, Sherman said her message to those supporting Moscow is: "You're going to end up with an albatross around your neck."
"The Ukrainians are going to deliver a strategic failure for Putin. And that's going to create a lot of problems for those who are supporting this unholy invasion going forward," she said.
7 hr 56 min ago
NATO ambassador says US will continue to support Ukraine but currently has no plans to send fighter jets
From CNN's Eoin McSweeney
Although NATO allies "expect some sort of negotiation" with Russia over its war in Ukraine, they "are very focused on getting everything the Ukrainian military forces need" in the meantime, the United States ambassador to the military alliance, Julianne Smith, told CNN.
Regarding the United States specifically, Smith told CNN's Becky Anderson on Wednesday that she "doesn't see the US letting its foot off the gas. I see continued support." 
She added that NATO would not be backing down to Russian President Vladimir Putin, and "will do everything we can to continue to apply pressure on Moscow to affect his strategic calculus." 
NATO defense ministers are meeting in Brussels this week and a key topic of discussion has been dwindling ammunition stockpiles. Smith said allies would "continue to send strong signals to industry to turn on production lines where necessary," adding that NATO members are now looking at multinational or pooled buying of ammunition to "send an even stronger incentive to the private sector." 
With regards to fighter jets: Despite repeated requests from Ukraine, the Biden administration has flatly refused to entertain the idea of sending F-16 fighter jets to the embattled nation. 
"The United States does not have any plans currently to send F-16s or any other fighter jets," Smith reiterated. "We've also been clear in that each country needs to determine for itself what kind of contribution it wants to make." 
Finland and Sweden formally applied to join NATO last spring, just months after Russia's invasion of Ukraine. Turkish President Recep Tayyip Erdogan said at the time that he would reject the effort, accusing the two countries of being "like guesthouses for terror organizations." Those tensions have continued.
"This is a process we have to go through. What's been remarkable is the speed with which 28 other allies have gone forward with the ratification process," Smith said when asked whether any progress had been made in the ascension process. "But we want to continue to see those three countries come together and address some of the concerns that Turkey has raised."